Join In:
We interviewed Ronan Parke about cyber bullying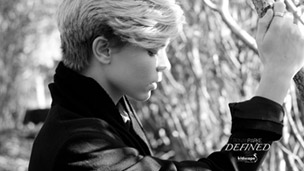 Oops! We can't load the video...
To view this content you must enable JavaScript in your browser and have the latest Flash plug-in installed. Please ask an adult for help if you cannot load the video.
Ronan Parke was 12 when he found fame on Britain's Got Talent. When he was on the show he was a victim of cyber-bullying. His latest song, called Defined, talks about how that felt. You can listen to a clip of the song above.
For this year's Safer Internet Day 2014 we asked Ronan some questions and included a few of yours as well.
Read his answers below.
CBBC asks:
What kind of online bullying did you experience?
I experienced cyber bullying, on social media sites the most.
CBBC asks:
How did you deal with the bullying and stop it from happening?
I was singing around the country and meeting so many amazing people who supported me. That was my release from everything else that was going on around me. I would say to people who are getting bullied, if you have a passion for something, take it up! It makes you feel strong again. I also told my family, friends and people I was working with, and they supported me and helped me through it.
CBBC asks:
Why did you decide to write a song about bullying?
I didn't write it myself, however I was in close connections with the writer and producer and I had told them my experiences with bullying and how I wanted the song to make people feel strong and feel that they could connect with the lyrics. What I think is so great about Defined is that it's not just a song that people will listen to and enjoy, it's got such meaningful lyrics that so many people can connect to.
OpalFireyDudette asks:
If you were bullied in the future what would you do based on your past encounters?
I would tell someone immediately. I have a very strong mum, so I get my independence and strong willed attitude from her. Overcoming bullying has also made me feel much stronger, therefore I don't feel as affected, but to be honest, I would probably plug my headphones in and listen to Defined.
AquaRockingHedgehog asks:
What do you do when someone's making fun of you? Would you fight or ignore them?
I am a very strong believer that people should speak their mind and stand up for themselves and others. I do that, however it's not always easy. I would most probably ignore it if it was just once or twice. If it was happening a lot, I would stand up for myself.
PeachGroovyFairy asks:
I am a big fan of you. When you were getting bullied, who did you tell?
Thank you. I told my family, friends and the people who I worked with. They all helped me and supported me, so I would definitely recommend telling someone you trust if you are getting bullied.
IvoryRandomBird asks:
Ronan, I think it is really inspiring that you would write a song on such a difficult topic like that and I think it takes a big person to do that. When you were bullied, did it affect your performance on BGT or did it just make you want to go out there even more?
Thank you so much. My fans inspire me so much too. It didn't actually affect me on BGT as I was so busy that I didn't actually take notice of what was going on around me. It was mostly after BGT that I saw the comments and then it was difficult. I was 12 and I couldn't understand why people who didn't know me would say such cruel things, however this song, Defined is my answer back to them. I just hope one day that bullying can be stopped as people experience awful cases and it's not fair. No one should be bullied because karma knows everyone's address!
BlueRainbowTuatara asks:
Did you cry when writing the lyrics for the song?
I didn't write the song myself, but listening to the song even now makes me feel overwhelmed as I'm just so proud that it's helped so many people through bullying.
NavyBlueSunshineToad asks:
Did the bullies knock your confidence? If so when did you get it back?
Yes I did begin to feel weak, however I had my amazing fans to build my confidence back up and I told myself 'at the end of the day, the bullies do not know me or what my music is about, therefore they have no right to judge me'.
MagentaNeonTurtle asks:
What would you say to the bullies today if you could speak to them?
I would say nothing. Defined is my answer back to them. I strongly believe in karma, therefore the people who hate for no reason will regret it one day I'm sure. Forgiveness is important, but I am having the time of my life, and I don't have time for people who are going to pull me down, because I have one goal, and that is to make my fans happy.
Related links
Comments
The CBBC comment forums are open 7:30am to 8pm
Jump to comments pagination
Comment number

19.

CBBC




6th February 2014 - 14:00

Comment number

18.

StarstoneCymbalMagnolia




6th February 2014 - 13:23

Comment number

16.

IvoryEnormousCurrant




6th February 2014 - 10:24

Comment number

15.

MaroonSummeryBasilisk




6th February 2014 - 8:39

Comment number

14.

GoldMassiveSatsuma




6th February 2014 - 8:25