19th January 2011
They may be riding high in the music charts but as soon as we mentioned the word 'webchat', Jordan and Harley of Rizzle Kicks couldn't wait to drop into CBBC HQ to answer a selection of your Messageboard questions. 
This is the place to get some exclusive and random info on the duo, such as the inspiration behind 'the hump' dance, which three items they'd take with them to a deserted island and where'd they choose to hide an elephant!
Ready? Then 'let's get down' to the questions (and answers!)
Jordan: What's going on people? It's Harley and Jordan from Rizzle Kicks ready to answer your questions!
I love your new song 'mama do the hump' but where did you get the crazy dance move from? - BeigeGroovyOctopus
Harley: Hi Simone, thanks for your question. The dance was invented on stage by accident after the song was made. Hah hah!
Hiya Rizzle Kicks , my question for you's is : how has you life's changed since becoming famous and what do you think the best part of beaning famous is - SapphireWavyBluebird
Jordan: Our lives changed in that we get recognised doing normal things - which is weird! And we get more cabs than we used to. We get to meet people we see on telly - it's pretty cool.
Who inspires you the most? - TealHappyLobster
Jordan: I was very inspired by the band Gorillaz.
Harley: I was very inspired by the Libertines.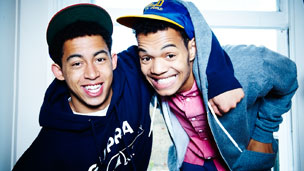 What was it like working with James Corden for your recent music video? - RedBlackMusicalCarrot
Jordan: Working with James Corden was great because he's very down to Earth, chilled out and definitely a funny person!
what are your top tips on rapping????? - CrimsonViolaPrincess
Jordan: Record as much as possible. No-one else has to hear it, but you'll find the experience helps you improve.
If you went to a deserted island and could only take 3 things with you, what would they be? - SilverWinteryBee
Harley: I'd take Mila Kunis, a keg of water and...
Jordan: An aeroplane!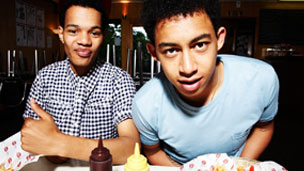 how do you think of ideas for your songs? do you sit at a desk for hours looking for inspiration or do the ideas come randomly? - EmeraldStrongViper
Jordan: Ideas definitely do come randomly. It's always a good idea to carry around something to make notes on, but we often find we gain inspiration from the music itself.
Harley: And from past experiences which have occurred.
this is a question for jordan
if u were given a elephant where would u hide it? - GingerRhymingBluebird
Jordan: I'm not quite sure why I'd hide it, but if I did I would put it in the middle of the room so no-one would notice it!
What gave you the idea for the music video of 'Down With The Trumpets'? - PinkTeenySeahorse
Harley: The video for Down With The Trumpets is just us hanging around in Brighton.
Jordan: The idea comes from the fact there's trumpets in the song so we thought we'd do a literal interpretation and have us buying a trumpet.
What is the weirdest face you can do?? - RedLaughingPeach
Take a look at Jordan's 'weirdest face' below...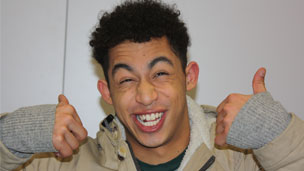 And here's Harley's...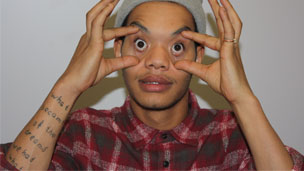 hi guys i love all your songs especially mama do the hump i just want to ask what was your favorite subject in school and your least favorite? - AmberCurlyWolf
Harley: Drama was my favourite. My least favourite was PE Theory.
Jordan: My favourite was English. My least favourite was Maths Statistics.
My question is: when did you find out that music was your real passion in life? - SunstoneCheesyDaffodil
Harley: Jordan was solo rapping and decided to bring me onboard and when people started giving the music appreciation - that's when I realised it's what I want to do.
Jordan: I don't know.
my question is.............. what's the worst thing about being in a duo? - GlassDancingPanda
Jordan: You have to share things.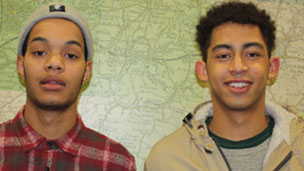 If a rabbit and a penguin had a fight, what would win? - MagentaSquashyOrchid
Jordan: The penguin would win because it would just sit on the rabbit and never move.
My question is: If you could have one super power, what would it be?? - FireOpalRandomHobbit
Harley: Mine would be to be a mimic. Which means anything I can see I can do.
Jordan: Mine would be telekinesis. I would move objects with my mind.
What made you come up with the name rizzle kicks? - WhiteSmallGoat
Jordan: Rizzle is a nickname I picked up when I was younger. And Kicks is because of football.
If you were an instrument, which one would you pick and why?? - BlueTitchyVampire
Jordan: I'd be drums so can always stay in with them.

Harley: I'd be a triangle because I'd have the easiest job.
If you were an instrument, which one would you pick and why?? - BlueTitchyVampire
Jordan: I'd be drums so can always stay in with them.
Harley: I'd be a triangle because I'd have the easiest job.
Harley: Big up everyone for your questions.
Jordan: Yes, thank you. Make sure you keep in touch and buy our single if you haven't. That would be lovely.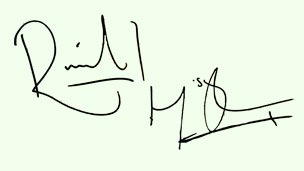 Thanks to everyone who sent in a question! Don't forget to keep an eye on the CBBC Messageboards for details of our next exciting interview...
Related links