23rd November 2012
Hobgoblin Randal Moon from Wizards vs Aliens has answered your wonderful questions on the nature of Magic. We sent them to his Chamber of Mysteries where luckily he was in a good mood and answered them between brewing batches of his pixie-wince potion.
Read on to learn more on grim magic and whether he can do the Gangnam Style dance...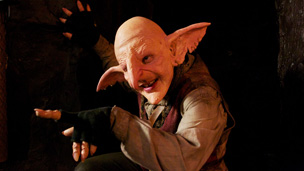 Where did Hobgoblins originally come from?
- RoseGlitteryCobra
I'll be glad you remembered the 'Hob' part, young imp! We Hobgoblins will have come from the Neverside, the dark and Magical realm from which all Enchanted creatures, friendly and fearsome, will be spawned.
Most of Hobgoblinkind will have been raised in the foothills of the Amber Mountains of Hobgelvia, beside the shimmering verdigris lochs of Glen Clardellom. By the shining eyes of the Elf Queen, it'll be the most beautiful of all the Neverside lands!
How did you start work at the Chamber of Mysteries?
- PearlHyperPeach
That'll be a tale to tell, and we'll not be having the time for all of its twistings and turnings today.  But many many many years ago, the great Caractacus Crowe, an ancestor of the Mistress, will have saved Randal Moon from being set a-sizzle by the Dragon of Moonfall Pass! 
I'll have sworn to always serve the Magical Line of Crowe ever since, and be bound to the Chamber and its Magic.  You'll be seeing what'll be left of the great dragon on the far wall of the Chamber- that would be showing you the power of Caractacus Crowe!
What is your race like back home?
- MustardPepperyGhost
Ah, you'll never be a-finding harder workers than the Hobgoblins!  We'll be mining amber for uses most Magical, and working great Enchantments to be a-keeping our lands safe.  But when we'll have finished, we'll be a-revelling as such you've never seen! 
As all who'll be a-knowing will be a-saying- 'There'll not be a party, as like a Hobgoblin party!'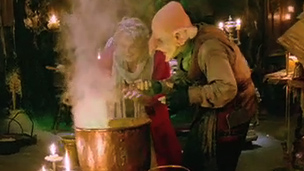 What was the first spell you ever did?
- BrownCreativeGerbil
As but an imp of a Hobgoblin, I'll have cast my first spell with my mother a-helping! I'll have conjured a change in colour for my pet gravel-cat. He'll have been brightened from a grisly grey to a blazing blue!
Why did you apply for Wizards vs Aliens?
- GoldRandomBat
Apply?!? Apply?!? I'll not be applying for anything! The Mistress Crowe and young Master Thomas will be requiring the wisdom of this Hobgoblin in their battle with the unworld ones- they'll be a-coming to me!
What is your favourite potion, and were potions the same one thousand years ago?
- MaroonOcarinaKestrel
There'll be nothing worse in all the realms, than a plague of puckish pixies!‼ So I'll be a-brewing a potion of pixie-wince to be keeping them far away from Randal Moon! That'll be my favourite- it'll have the mischief makers a-sneezing and a-splurting clouds of purple dust, haha!
And you'll be asking about potions of old- they'll not have been as potent. Over the many years hence, Hobgoblins and wizards will always be working to improve their potions!
Have any of your spells ended in disaster?
- RedVioletDiscoGrape
Oh, no, no, no, there'll never have been a disaster-making!  Randal Moon will be a skilled Enchanter!  Who'll never have been by misfortune or none turning himself into a moor-vole, and been a-finding his paws too tiny in nature to be a-casting the Charm of Reversal for returning to his normal self.  For the full passing of a week.  That'll never have happened!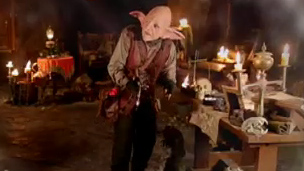 What would you rate your show out of 10?
- RedVioletMammothGecko
I'll not be using your Unenchanted means of counting.  I'll just be saying that never has there been a greater tale in the telling!  And that the stories of the bravest hero Randal Moon and his valiant battle against the unworld ones will be the stuff of legend and song, of this I'll be sure.  If you'll be wanting my name a-signed for you, you'll be making an orderly queue.
If you were an un-enchanted what would your job be and what would your name be?
- BlueRockingPheasant
Cat's claws and monkey's paws, imp! That'll be Randal Moon's WORST NIGHTMARE, and I'll be thanking you not to be a-bringing such notions to my head!
How did Ursula find you?
- TealCycloneLadybird
The Mistress Crowe will not have been finding me- I'll have been bound to the Chamber of Crowe since long long long before she was ever birthed.  Aye, and long before that.  I'll be remembering her as an imp, eyes a-widening the first time she'll have been seeing the Chamber! I'll have been with the Magical Line of Crowe for five hundred years.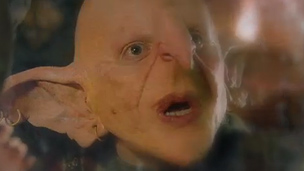 What is your favourite spell and do you have one that can help me with my homework?
- TealGlitteryDeer
I'll be a-thinking of the Spell of Three that Randal Moon will have cast with the Mistress Crowe and Master Thomas for spreading a Shroud over wizardkind to be hiding them from the unworld ones in their evil Sky-boat. That will be my favourite!  And no, young imp- you'll only be a-gaining wisdom if you'll be doing your own homework!
If you had to combine an elephant a donkey and a hippo what will you call it?
- RedVioletTennisTiger
I'll never be creating such a beast!  A creature of this nature will already be a-roaming the Neverside- it'll be called a heffpalonk, dim of mind and hungry for the purplepott flowers it'll be finding on the Wailing Plains. 
What is the difference between a Hobgoblin and a Goblin?
- SalmonGrinningDragon
By the warts of Galashmeil!  You'll even need to be asking that?!?  Goblins will be small of stature, mean of nature, and ugly ugly ugly!  They'll be having tiny ears and tiny eyes, that'll be finding you in the darkest of places so they can be stealing your sweet treats.  Bad little stinky beasts of murk and mud! They'll be nothing like the honourable Hobgoblin! Hob! Hob! Hob!
Do you have three spells a day as well? Because wizards do, but you're a wonderful Hobgoblin!
- SapphireGlossyOwl
Ah, you'll be a wise young imp! Hobgoblin's will indeed be wonderful, and being creatures of Enchantment there'll be no limitating the spells that we'll be performing.
What spell do you use the most and what for?
- YellowPizzaHawk
Although it'll not appear a spell of great power, I'll be using the Incantation of Sapidity many times in a day's passing to be a-making sure the Mistress Crowe's tangleweed tea will be always scrumptious on her tongue.
If you had to make up your own spell what would you call it?
- LavenderLightningLemon
Will you be thinking Randal Moon won't have been employing many an Enchantment of his own devising in his time, imp?  I'll have been performing often a great conjuration, the most of which will be indecipherable to an Unenchanted!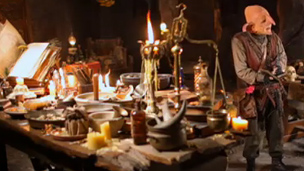 Can you do the Gangnam Style dance?
- WhiteCheerfulVulture
What'll be a 'Gangnam'?  Will it be like a chicken?  I'll not be dancing like a chicken- I'll be Randal Moon, and I'll be the master of the Moontime Jig!  I'll be hopping and swirling, then hopping and burling, then hopping some more til the sun will be breaking the moon's hold on the sky! 
If you could be a wizard or an alien what would you be and why?
- BlueBlackTwirlingBaker
I'll be neither, imp!  I'll be a Hobgoblin.  Hob! Hob! Hob!  And I'll never be wishing to be anything else!
What was the last spell you have done?
- OrangeSpottyZOOK
Only this dawn passed, I'll have cast a Charm of Calm on Michael of the Unenchanted.  He'll have been a-grumping when he'll have been losing the keys to his chariot and will have been stomping down to the Chamber with the Mistress Crowe to be placing blame on Randal Moon!  He'll not be a-grumping now!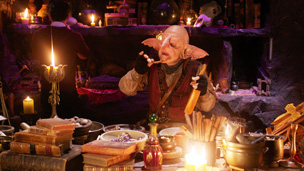 How old are you?
- BlueBlackFastFrog
That'll be a personal question!  You'll be an imp a-brimming with cheek!  All I'll be saying is that for more than 500 hundred years I'll have been Guardian of the Chamber.
If you could have a super power what would it be?
- NavyBlueDottyBat
What'll be a 'super power'?!?  Will that be technockery?  Will it be like Michael of the Unenchanted's 'drill of power' that won't be working in the Chamber?  I'll not be having a second thought on a thing like that!
Who is your favourite wizard?
- SunstoneSharpPanther
I'll be thinking that the kind Mistress Crowe, the best friend a Hobgoblin will ever be having, will be Randal Moon's favourite.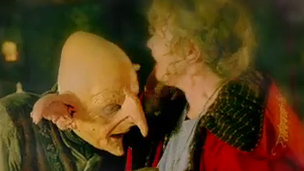 Can you tell me how I could be a wizard?
- LilacRockingLion
You'll need to be a-gaining the strength of Enchantment to be a wizard, young imp!  I'll never be hearing of an Unenchanted a-doing so, but that'll not be meaning it shall never come to pass…
Why is grim magic so dangerous?
- JetNicePenguin
Grim Magic?!?  Grim?!?  Where'll you be a-hearing of such things- it'll be bad.  It'll be worse than bad!  Grim Magic will be hurting Randal Moon, and it'll be hurting you too.  It'll be powerful, but won't be controllable, and it'll be hurting you more each time you'll be using it.  It'll be burning you up inside until one day you'll be burning away forever!  Never be using it- you'll be promising Randal Moon.  Never ever ever ever! 
Who was the first wizard you worked for?
- OpalSunnyGorilla
That'll be Caractacus Crowe, the ancestor of the Mistress Crowe and a great and powerful wizard who'll have saved the Dayside from the evil forces of the Dark Ones from the Neverside.
What is the silliest spell you know?
- PinkPopularMouse
Silliest?!?  SILLIEST?!?  Magic will never be 'silly'- Magic will always be a gift, and you'll never be taking it for granted.  Only a wizard who'll already be silly will be casting silly spells.  That'll be a waste! 
What do you think of the unworld ones?
- BerylCleverBoy
Randal Moon hates the unworld ones! They'll be having no place here. They'll be the biggest danger wizardkind will have EVER been a-facing, and we'll be doing everything we'll be able to stop them. They'll be evil, and they'll be greedy, and if they'll be taking all the Magic from the Earth, then the Earth will be dying! That'll be why Randal Moon is hating the unworld ones.
What's your funniest and most amusing spell?
- CrimsonSunnyPanther
When Randal Moon might be a-feeling in the doldrums, he'll be casting a Charm of Chuckles.  The whole of the Chamber will be a-filled with the sound of laughter, and it'll be so infectious he'll soon be a-joining it!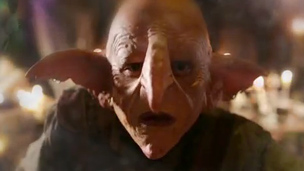 Related links
More Wizards vs Aliens Articles