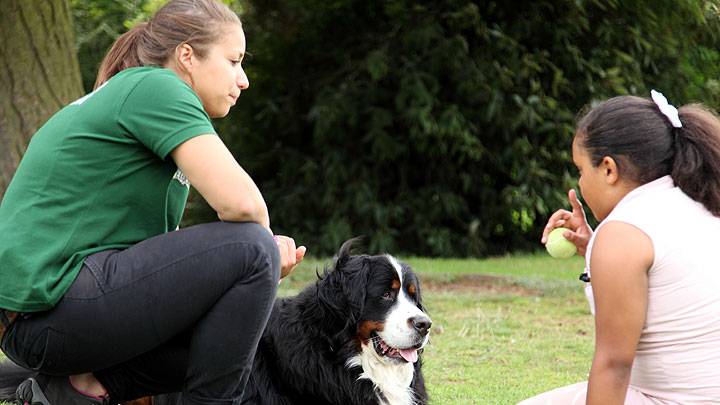 Marie is Pet School's resident pet expert (petspert!) You can find out more about her here.
Name: Marie
Job: Field & Small Animal Welfare Manager for Wood Green, The Animals Charity
Favourite Animal: Guinea pigs
Pets (and their names): Terrier cross called Brian, four guinea pigs called Rhino, Chaz (who has three legs), Loral and Hardy and two giant rabbits called Majick and Bertha
Favourite moment on Pet School 2: Chicken agility, forage time and the real life games.
How did you get into working with animals?
I was brought up on a farm with my mum and grandparents so was out learning about pets and wildlife from the age of 5. Then I went to 'animal college' and then started volunteering for a few animal charities until I found what I really wanted to do. When I started, the charity cared for around 20 small animals, I now manage around 500 animals and hold many pet care workshops.
What advice would you give to a child who wants to have a career working with animals?
Volunteer, volunteer and volunteer. Get as much practical experience as you can working with a range of species and attend lots of animal workshops to build on your learning all the time. There are hundreds of rescue centres desperate for volunteers. In many cases they do go on to offer volunteers paid jobs. 
Message to the Pet School audience:
Pet School is an amazing opportunity where everyone can learn and have fun at the same time. Pet ownership is a huge responsibility and should only be taken on when the whole family 100% feel they can give the pet everything that it needs. Millions of animals end up in rescue centres every year often because the pet was not right for the family. Pet School will really help the pet heads and the families find out if and what pet is right for them. If you are thinking about getting a pet visit your local rescue centre as they often have an expert ready to help you.
Related links