28th January 2013
Noah Marullo (who plays Gus in The Dumping Ground) answers your questions from the CBBC Messageboards.
Read on to find out if Noah is anything like his character Gus, whether he can really play the piano and what Dumping Ground bedroom he'd choose.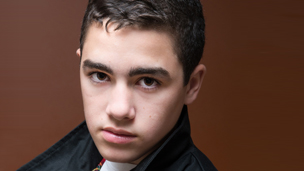 Other actors have said in interviews that they love Gus as a part to play. Why do you like the part of Gus so much? (PS. Gus has always been my fave).
BlueGreenPuffyGuava
Noah: I like the part of Gus because he isn't your average kid, he has Aspergers Syndrome which makes him quirky and different. I mainly like to play Gus because he is extremely hard to play and gives me a challenge.
If you had to play another Dumping Ground character, who would it be?
GingerBigStarfish
Noah: I'm not really sure of which character I would play but I think it would probably be Tyler.
Are you anything like your character?
OrangeSmileyBuffalo
Noah: No I'm not as he has Aspergers syndrome. But I do play the piano (and guitar) and love music.
What's it like playing a character that has Aspergers syndrome? Do you actually have it?
QuartzDreamyLily
Noah: It is very difficult to play Gus as I don't have Aspergers Syndrome and I can't do anything that is natural to me when I am playing him but it is nice to have a challenge like that as an actor. 
I can't believe your character has left The Dumping Ground! Did you get emotional about leaving as I was in tears?
BlackLeapingCroc
Noah: I loved everyone who worked on The Dumping Ground and it was sad to leave but it was a privilege to leave on such a well written episode.
If you could be any animal in the entire world, what would it be and why?
GreenPizzaSeaLion
Noah: I would be Leo my very crazy and strange Persian cat because I want to know what is going on in his head.
Do you ever get called Gus when your just out and about?
BrownCreativeFawn
Noah: Yes all the time but it mostly is someone saying "Look it's Gus from Tracy Beaker." On the whole, I like to be around my friends who all call me Noah.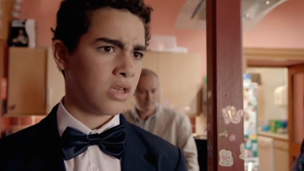 What is it like going back to normal life and school after filming a series of the show?
WhiteGrinningApple
Noah: It is hard to get back to school and concentrate but it's nice to not be working.
What is your favourite type of music?
CreamLoopyTailor
Noah: Classic Rock e.g Jimi Hendrix, The Beatles, The Rolling Stones and Michael Jackson.
I was wondering if you like the clothes that you wear on The Dumping Ground.
RedCheerfulCarrot
Noah: I wear the same thing all the time, but don't worry they do get washed, but no I highly dislike it. My personal style is very different!
Are you leaving forever? I hope you don't!
BrownNimbleCat
Noah: Yes. I would like to move on and play different characters, although I will miss The Dumping Ground cast and crew.
Did the film crew teach you how to play the piano or have you been playing all your life?
PinkFestivePanda
Noah: My granny is a brilliant concert pianist and she taught me everything I know, even if I am not that great! (I am much better at guitar, but playing Jimi Hendrix is probably not Gus's style.)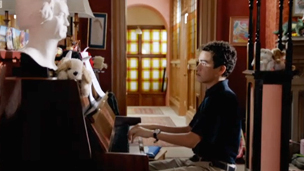 What is your favourite pudding?
OliveGamingParakeet
Noah: Cookie dough ice cream.
Who from TDG are you good friends with off set?
BlueVioletGigglyDriver
Noah: Everyone! We are all great friends.
Was it fun shooting the scene where you got covered in hair die and how many takes did it take to do it?
EmeraldFurryHedgehog
Noah: It was the worst day of my entire life, but I did get to take a lovely warm shower afterwards. It didn't take many takes because the crew could see I wanted the stuff off.
What has been your favourite Dumping Ground episode to film and why?
LimeCheekyKoala
Noah: My final episode because it was great to work so closely with a wonderful actor like Connor.
What was the most embarrassing moment on the set of The Dumping Ground or Tracy Beaker Returns?
FireOpalPoshMonkey
Noah: I don't really have any embarrassing moments on the set but the funniest was in the scene where we were trying to deflate a bouncy castle. At the end of each take it was blown back up and at the end of one take Philip (Harry) got stuck at the top and couldn't get back down it was very funny.
Who is the funniest on set?
FireOpalDrumstickKitten
Noah: Definitely Kay (who plays Gina).
How old were you when you got the part for Tracy Beaker Returns?
BlueGreenNimbleReindeer
Noah: I was nine when I got it but I didn't start to film it until I was ten.
I go to a stage school and I'm hoping to get some parts in things. I've been in a few things so far and I was wondering if you had any tips?
RedVioletDrumDaffodil
Noah: Get training from professional actors and work hard to learn your craft. I personally train at The Actors' Workshop in Bristol, where I have been learning since I was very young.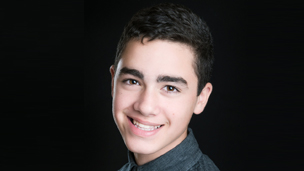 If you could have any other job in the world what would you do?
LemonGrinningBee
Noah: I would be a guitarist as it is one of my favourite things to do.
If you could have anyone's room in the Dumping Ground who's would you choose?
SardonyxPepperyElf
Noah: I love Gus's room in The Dumping Ground even if my room at home is a Dumping Ground!
Do you prefer jelly or ice-cream?
AmethystSingingWombat
Noah: Jelly even though as an American I call it Jello. 
Related links