Newsround's newest recruit dropped into CBBC HQ to talk about life as a journalist and answer some of your brilliant questions.

Keep reading for more on her secret musical talent, her ultimate guilty pleasure and wheather she believes in ghosts!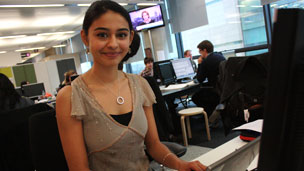 Nel: Hello! Thanks for coming online to have a chat with me so ask me any and all of your questions! Shoot! :)  
Was it scary being on television for the first time and why did you want to be a reporter? - CoralMuffinPrincess
Nel: Was I scared? I was absolutely petrified! So much so I could hear my heart beating! It was so loud! 
 I've wanted to be a reporter since I was 15 and the reason was because I wanted to do something that made a little bit of a difference and I wanted to share my opinions and things and that's what being a reporter means.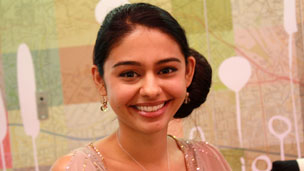 Iif you could combine any two animals, say cat and dog, what animals would you do and what would you call it? - FireOpalCheekyOtter
Nel: Cool name! That is brilliant! I would probably mix a hamster and a lion and call it a "Hion" - so its cuddly and furry as well as being strong so it can protect me.
Have you got a secret talent like singing or dancing? - JadeTromboneMonkey
Nel: My secret is being able to whistle to any tune! *she whistles the Postman Pat theme tune* I love to whistle a bit of Lady Gaga and Rhianna
What big news story you remember's the most when you were a kid? - GoldCloudyImpala
 You probably weren't alive when this happened but I remember coming home from school, switching on the TV and seeing 9/11 - it was such an important moment in history!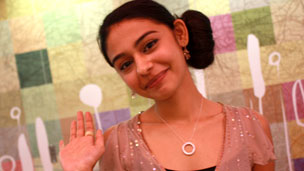 If you could invent any world you like what would it look like and be made of? Mine would be made of strawberries and marshmallows dipped in chocolate! - CarnelianRhymingReindeer

Nel: That would be a sticky world to live in for sure!  MY world would have to be made of foamy fluffy things with lots of suns in different parts so it was always summer and every town would have it's own activity so you would never be bored!
If you could back in any year, what year would it be and why? - CyanSmallDriver
Nel: I would like to be back in 1969 because my parents tell me that was the hippy days full of love and peace and flowers and I'd love to know what that was like! - I'd definitely be a hippy!
What is your guilty pleasure? - SapphirePoloDingo
Nel: My guilty pleasure would be a combination of a lovely mug of hot chocolate with cream and a pot of Ben and Jerry's Phish Food ice-cream - it would make me feel so cosy and warm and do nothing but sit on the couch
I heard u liked kings of leon so my question is who is your favourite from them - CrimsonViolaPrincess
Nel: I refuse to choose! I like each different band member on each different day of the week to keep them all happy! Then if I met one of them I could honestly say they are my favourite... Always keep your options open!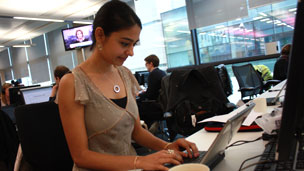 Do you believe in ghosts, if so, have you ever seen one? - TopazSilkyPigeon
Nel: I do believe in ghosts because if I didn't I'd be scared they would be mad at me and do bad things! I've never had the pleasure of meeting one but wouldn't mind if I did.... 
Were you shy or loud at school? I am really quiet but I would like to be a presenter when i am older, could this be possible for me?? - CreamGamingWhale
Nel: Don't let anyone tell you it can't be possible! When I was in primary school I was really, really shy and I wouldn't talk to anyone in the playground and when I went to secondary school that all changed and I became more outgoing and stuff. The most important thing is to be comfortable as people will know if you're not being true to yourself. If you want to be a presenter just be yourself because you will fit in somewhere!
Can you give me tips on how to work with the media because I want to be just like you when I'm older - GlassPlayingGhost
Nel: That's very nice of you! The first tip I can give is start now! Read everything you like, look at different TV shows and see what suits your personality. Once you've done that start writing for yourself or filming or recording yourself, just lots of practicing so when you do make it to deciding what to do you will be half way there!

What was the most embarrassing moment of your life, were you ever teased at school, did you have a best friend if you did is she still your friend, what did you get for your GCSE's? - CrystalLittleHobbit 

Nel: A: The most embarrassing moment was when I was messing around with one of my friends at school and it was just before the lunch bell and my friend just tapped me and I fell over really dramatically in front of 1000 kids.

B: I was teased at school for being different and people were a bit scared but once I got to know them and they knew who I was they became more accepting and didn't tease me - and those that didn't accept me I didn't bother with - you can't please everyone!

C: I've had a best friend since I was 12 years old - that is now 12 years since I've been friends with her - Fatima - I still speak to her and I still see her every weekend and I will never stop because she is the best person in the world.

D: I studied hard and did really well - the subjects that I really loved - Science and English - I got A's in.
How did you feel when you got told you were a presenter for the news round team and did you celerbrate? - CarnelianWigglingWriter
Nel: When I was told I was the new presenter of Newsround I screamed in the middle of Westfield shopping centre. Then I called everyone who mattered to me and screamed at them as well. And on the train home I was getting funny looks because of the big smile on my face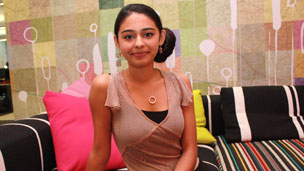 Nel: Thanks so much for your questions, sorry I can't get through them all - make sure you keep watching newsround and I'll see you when you watch!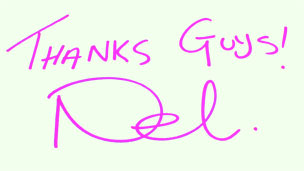 Thanks to everyone who sent in a question. Don't forget to keep an eye on the CBBC Messageboards for details of our next interview with your favourite stars!
Related links