Ask the Stars: Alexandra Burke
X Factor winner and singing sensation Alexandra Burke takes time out to talk to CBBC Music. Find out what it was like winning X Factor, who she would most like to meet and what special power she would most like to have!
What was it like winning the X Factor?
It was probably the most amazing experience I have ever gone through.  I still have to pinch myself that I won such an incredible show because… the acts from that year were of course very talented… So it is a real blessing to win such an incredible show and to those who voted for me I am very grateful.
Have you always wanted to be a singer or did you want to be something else?
Nope, I've always wanted to be a singer.  There was pretty much nothing else that I ever wanted more than to be a singer and be in the entertainment industry and become an artist.  If you work hard it pays off!
Who/What inspired you to become a singer?
Yeah, really it was my mum.  She was in 'Soul II Soul' [1980s British band] and I grew up with music, listening to Motown, to soul classics and to the amazing people who made music what it is today.  She introduced me to music and to singing.  But what I love about my mum is that she never pushes me… she used to just say to me, if you want something you've got to work hard, practice and go and get it.
Which song are you most proud of and why?
Hallelujah is an incredible song, but if it is my song it would have to be Bad Boys…  It was a great comeback song, it's fun and up-tempo and really explains who I am as a person in terms of it being bubbly and upbeat.  So yeah, I'm really proud of that song and what it has done for me and what it achieved.
If you could duet with any artist in the world who would it be and why?
I think it would have to be Aretha Franklin because I love her and she is my idol and she is the Queen of Queens – I love her!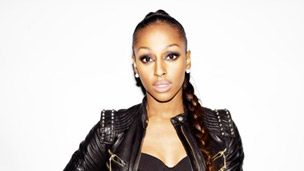 If you were a food, what food would you be and why?
Ohhh, that's a really good question!  Ok let me tell you, I would be a strawberry because you could dip me in chocolate and I would taste sweeter, you could dip me in white chocolate and I would be sweeter, you can dip me in sugar or have me on pancakes!  I would be very diverse if I was a strawberry!  That is probably the best question I have had in all 3 years of my career!
What do you do if you hear one of your songs at a party or on the radio?
I turn it up and I start dancing like a mad woman.  If I hear it on the radio and I am in the car then I'll turn it up and sing along.  But then sometimes, believe it or not, I'll be in a club and one time I remember Broken Heels was playing in my friend's club and I literally sat down in the corner because I got so shy and so self-conscious, because I was worried [what] people would think. But now I don't care – I enjoy it!
If you could invent something what would it be and why?
I would invent the time machine for anyone who wanted to go back in time to go and see a loved one or to cherish a memory, or cherish a moment that they wish they could have again.  I'd give them back that moment but they could only take that moment once in [their] life.
If you could meet anyone in the world, dead or alive who would it be and why?
 …Michael Jackson.  He is the be all and end all of everything I believe in, so I would love to meet him.
What were your best lessons at school and why?  What was your worst?
My least favourite would probably have been Maths... I always used to be like "why do I need numbers if I am singing? All I want to do is sing and you don't need to count" - but you do!  Apart from the obvious Music, Dance and Drama [my favourite] would be English.  I really enjoyed reading.  English was one of my favourite subjects.
Do you have any phobias?  If so then what are they?
I've got phobias of spiders, insects – all insects and moths!  I hate them!  Like, a lot!  I had a spider in my house the other day which was the size of my palm (maybe I am over-exaggerating) but my best friend… had to save the day and save the world because I wouldn't have gone anywhere in the house if he didn't get that spider out and set it free!
If you could have a special power what would it be and why?
To be able to turn myself invisible at any time, so when you can't find me I'm using my special powers!  Because whenever I want to sneak up on someone and see what they are doing, I could be invisible and they wouldn't know I was there, or if anyone annoyed me I could turn myself invisible and leave the room!
Make sure you keep an eye on the CBBC Music site for more great star interviews!
Related links