7th February 2013
Fierce Earth's resident storm chaser Mike Theiss joined us live from Miami, USA to answer all your questions about extreme weather! Read on to see what his scariest moments have been, what phobias he has and where he met an actual former president!
Mike: Hi Guys, I hope you are enjoying the show!
This is a great honour sharing this information about storms and weather with you the next generation. After all you will be dealing with weather your entire lives! For any of you that are listening you don't necessicerily have to want to become a meteorologist, you will need to understand weather no matter what life you lead!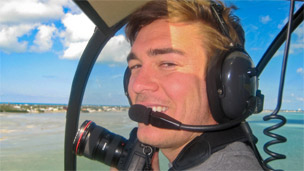 What/where was the worst challenge you have faced and would you go back there?
- BlueGreenBiscuitGerbil

Mike: The biggest challenge was when I documented Hurricane Ivan. I went to an Island via one Bridge, the only bridge that connected me to the mainland. Knowing that I would be trapped there after the storm and also knowing that it would be the most ferocious place to be. In essence I was stranded.

So next time I will make sure I have a better escape route. Because being trapped alone for three days is not fun!
How did you start getting interested in nature and earth?
- BlueVioletAgileStag

Mike: I started as a young kid getting interested because I grew up where hurricanes are very common. Hurricanes were always affecting my childhood. And I just had to learn more especially after Hurricane Andrew devastated my community when I was 14. I knew then that my future was going to be learning more about storms.

A lot of people have snow days in other parts of the world, well I had hurricane days when I was at school!
If you you could be any type of weather what would you be?
- DiamondMildCabbage

Mike: I would like to be them all. But if I had to pick one, I would be a tornado, as they are so powerful and mysterious!
How many storms do you get to each year?
- RoseGlowingPrince

Mike: I live season to season, I go from tornado season, to hurricane season, to water spout season, to blizzard season - so I stay busy all year round chasing all the storms! In fact I am leaving to film a blizzard in Boston in 2 hours, to do some more filming for Fierce Earth. So keep keep an eye out for that one!
Do you like poetry? If so, what kind?
- TopazFluteMosquito

Mike: I like poetry in music but I don't read poetry books. In fact musically I really like Jay-Z!
Which are you most scared of: Hurricanes or Tsunamis?
- Jade (StarstoneSewingSeal)

Mike: Tsunamis! They are unpredictable and just happen, they are more destructive and powerful. Though I have not seen one I have witnessed destruction similar to a Tsunami in the record breaking 28 feet wall of water from Hurricane Katrina in 2005.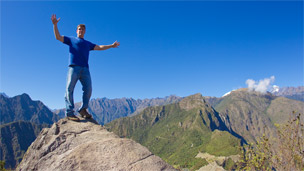 How many tornados happen every year?
- SilverCaramelGadget

Mike: Every year is different, on average I'd say 600 a year but 150 occurring in Texas alone!
Have you ever had a silly fear or phobia? If you did what was it?
- GingerSpringyIguana

Mike: Errrm, getting trapped in an elevator and my second biggest fear missing a big storm event!
What's the wettest rain shower you have ever been in?
- ApricotPancakeKangaroo

Mike: I'd say in 2001 in tropical storm Alison rained over 40 inches of rain for four days causing massive flooding in Texas and Louisiana.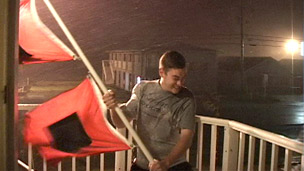 Who is the most famous person you have ever met and how did you meet them?
- BlueVioletSingingIguana

Mike: I met former President Bill Clinton at a book store, he was late because had to finish his game of golf! But he's a really nice guy.
What would be the scariest challenge for you to attempt?
- FireOpalPoshMonkey

Mike: I want to document an erupting volcano and getting close and feeling the ground shake!
How fierce is the earth on a scale of one to ten?
- SapphireBaseballRobot

Mike: There's no number you can put on it because it is off the charts. It's amazing! That's why I travel the planet to witness the amazing displays that the earth creates.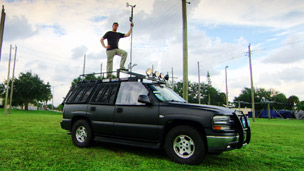 Mike: Thanks for your messages, I wish I had more time but I am off now to do some more filming!

Please keep watching Fierce Earth, and I promise to deliver some amazing sights in future episodes.

Remember the internet is the most powerful tool you have to learning more about the weather and your environment.

Keep your eye to the sky!

Mike.
Related links
More Fierce Earth Articles