Congratulations Loreen, winner of the Eurovision Song Contest 2012! How does winning the contest for Sweden with your song, Euphoria, make you feel?
It made me happy, mostly because I - together with my crew - created something that is not so typically Eurovision. It was different and I was happy because so many countries gave us points, even if it was 3 points, 1 point it didn't really matter, because each country that gave a point understood what I tried to say. It was simple but it worked.
It certainly did! What do you think made your performance so different?
What I did basically was not wear any make-up, the clothes were nothing special. I was barefoot. I didn't want to use any effects, light-wise. I just created this little podium, this little platform in the middle of a huge stage where I moved however I wanted...So that was basically my message to tell; "Look at me, I am standing here being true to myself but I don't need all these effects.  I am just simple and me."
And that's why all of Europe thought you were amazing! Have you always wanted to perform?
I always wanted to sing. Whenever I wanted to get away, I sang. My first public thing was eight years ago – Idols [A Swedish talent competition]. That taught me a lot of things, then after that I worked on my own way of singing. It took me eight years. I didn't want to come out of anything until I'd finished. So I am new, but at the same time I am not new.  Last year was my first single.
Euphoria is a really powerful and unique song. How did you find your individual sound?
It doesn't matter if you are an artist or not, we are all different in whatever we do. I like to create a fusion between club music, electronic sounds and organic sounds like acoustic stuff, like in Euphoria.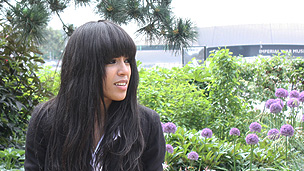 What would be your five top tips for all the budding singers, performers and musicians out there?
1. To sing or to create music is almost like a play-art. If you really want to become good, you have to play.   You have to let yourself goof. Fool around – do wrong things, good things, play around with it.
2. Be true to yourself. Forget about the fame part. If that is your focus then it probably won't go well.
3. You have to love what you do and have fun with it!
4. Freaky is good. You know, being different.  All those singers that might say – I don't sound like Whitney. That's good because Whitney is Whitney, you have to find your own sound.
5. It's ok to be nervous! Everyone has their own way of thinking and their own opinion. There will always be people who like my stuff and people that don't like my stuff. I can't really hang on to that, I have to do my own thing. That's a good way of thinking.  There is only one of you - no-one is going to be able to do it the way you do it. I have my own way. So do it your way. Nobody else can do it your way.
Related links