Ask The Stars: Steve and Naomi
22nd October 2011
The Live 'n' Deadly presenters take time out from their filming to answer some of your questions from the Messageboards. For tales of terrifying creatures (think sharks, think spiders, think Steve Backshall in the mornings), read on, read on... it's the deadliest interview on the web!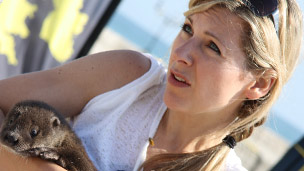 Hi, BIG fan! When did you start taking a BIG interest in animals, and is there any that you have a real phobia of? - AquaFlyingFlamingo
Naomi: I've always loved animals, but I have started taking a really BIG interest in them since I started working on Live 'n' Deadly. And yes, I have a real phobia of sharks and so I'm feeling very nervous about this weekend's programme as I'll be coming face to face with some big 'uns!
Steve: Yup, I'm looking forward to that; I love watching Naomi conquer her fears, she is a total heroine! I've been into animals since I could breathe. No phobias.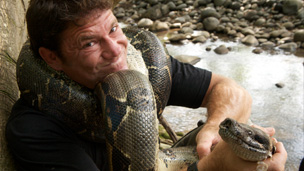 Hi Steve and Naomi, my question is what do you think the cutest animal is? - CoralWinteryHeather
Naomi: Recently I saw some baby pandas on a nature programme and I thought they were just about the cutest animals I had ever seen. As for the cutest animal we've featured on Live 'n' Deadly... I think it has to be the baby otter which was a little bundle of furry loveliness! :)
Steve: Baby mammals are generally cute central; the baby echidna once it leaves the pouch is crazy cute – they're known as 'puggles'.
What is the most endangered animal in the world and about how many is there left? - GreyWhizzingSealion
Naomi: Umm... over to you, Steve!

Steve: Lonesome George the Galapagos tortoise. He's the only one of his kind left.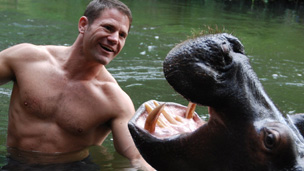 Hi steve and naomi, my question is: Which animal would you be and why? - OnyxSwimmingDoe
Naomi: I'd be a dolphin. Because I'd get to spend all my time surfing the waves (it would be awesome to be an absolute pro at that) and sharks would be afraid of me!

Steve: Probably a soaring bird like an Andean condor.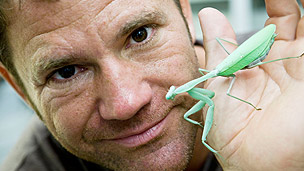 Hi Steve and Naomi i am your Number 1 fan. My question is "if you could have one of the animals on live and deadly as a pet which one would it be?" - AmberBubblyWolf
Naomi: Nothing that's deadly thank you very much and certainly not the house spider! It wouldn't be very practical but perhaps the baby otter - and don't start with the deadly chat Steve, it was dead cute!

Steve: I've had just about everything as pets over the years, geckos living behind my pictures on the walls, snakes, beetles, mantids, cockroaches, the lot. If I travelled less though my ideal pet would be a scrawny mongrel dog from down the pound. The more slobbery and crazy the better!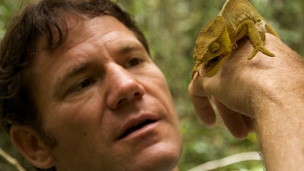 Hi Steve and Naomi what has been the most interesting thing you have done on live n deadly? - BlueBlackSkippingApricot
Naomi: Where to begin? I've been so lucky getting to do loads of things that I consider very interesting, but standing out as a massive highlight was my wing-walking experience. I don't think I've ever felt so excited and so terrified all at once! 
Steve: Watching Naomi handle everything from spiders to (this weekend) sharks, and knowing she is challenging herself all the time, and putting me to shame!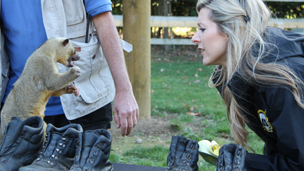 Dear Steve and Naomi. I would like to ask you something. Steve: What is the most SCARIEST animal that you have seen or filmed??? Naomi: What is your favourite animal of all time??? - BlueWaterDeer
Naomi: Hello! My favourite animal of all time, if I had to choose, would be dogs. I grew up with dogs and they are terrific companions.

Steve: Scariest animal was probably a humpback whale that popped up alongside my kayak when I was out night paddling alone in Alaska. When 30 tonnes of whale breaks the surface centimetres away from you in the darkness, it makes you jump I can tell you!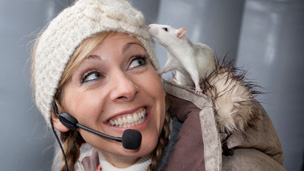 Hi, where is the most interesting and unusual place or situation you have ever been in whilst trying to spot wildlife? - LemonFlyingHippo
Naomi: That has to be my recent trip venturing in to a cave for the first time. I was sent underground to try and check out some bat roosts. It was dark, wet and pretty creepy.

Steve: Cities I guess. Everyone expects to see wildlife in the rainforest, but I've gone after crocs in city drains, coyotes and bears downtown, and spitting cobras on people's porches. It goes to show that if you keep your eyes open you can spot wildlife anywhere.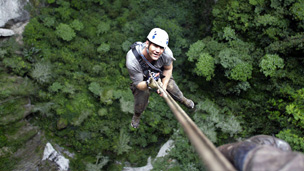 My question is for Naomi. what has been your best challenge so far ? and what has been your not so best challenge ? - IndigoAwfulTimelord
Naomi: My 'not so best' challenge was the caving. Squeezing myself through a long, tiny space in between the rocks, deep underground, was extremely tough and quite scary. I gave myself a big pat on the back for that one :)
My best challenge was sleeping on a portaledge on a cliff for the night to guard some eggs as if I was a gannet. It was a mild night and it didn't rain so what I was expecting to be quite a miserable experience turned out to be one of the best things I've ever done.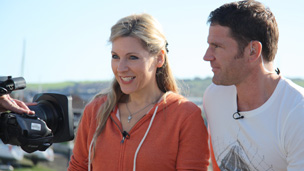 If you weren't a Tv star would you still want to work with animals? - AmethystShyOrka
Naomi: If I wasn't presenting telly programmes, I'd probably be teaching dancing and I don't think there are many animals that want to learn to dance!

Steve: Absolutely! When I was a kid I wanted to work on a game reserve in Africa.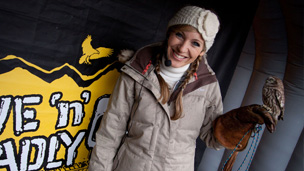 What is the most dangerous animal? - LavanderGiganticLOL
Naomi: I would never want to meet a Great White Shark face to face that's for sure! But Steve on a Saturday morning at 5.30am before he's had a coffee is pretty deadly!! ;)

Steve: Oi! Less of that Gnomes! Well to people the only really deadly animal is the mosquito because of the diseases it spreads.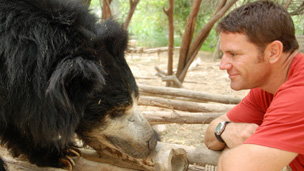 Do frogs swallow their prey whole or do they have teeth to chew them ? - DizzyGingerWolf
Naomi: I'm guessing they are like your granddad, eating their dinner with no teeth. Steve, what's the answer?

Steve: Most frogs have teeth on the upper jaw, and vomerine teeth on the roof of the mouth, but not in the lower jaw. Most true toads have no teeth. Both almost always swallow their prey whole, assisting the process by pushing their eyes back in their sockets to squeeze the food down the gullet!

Naomi: I can't get the image of a frog with a big set of gnashers smiling out of my head now! :)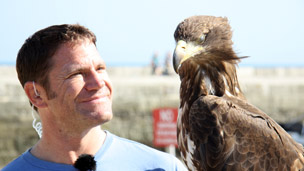 Would you rather have a horse-sized duck or a hundred duck-sized horses?Love Abbie - PurpleSunnyFawn
Naomi: One horse-sized duck please Abbie. Your question is completely quackers! ;)

Steve: Naomi is the queen of nonsense questions, so I'll stick with her answer (sorry Gnomes!) X
Naomi: Absolutely brilliant questions guys, I wish we had time to answer more of them. Thanks so much for watching Live 'n' Deadly. We can't wait to see you again on Saturday morning at 9am on BBC2 and the CBBC channel, when I will be facing my biggest challenge of the series so far!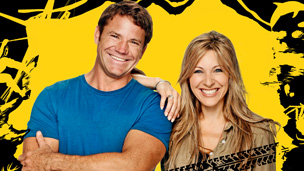 Thanks for all your questions everyone! Don't forget to keep an eye on the CBBC Messageboards for details of our next live webchat. Who knows, next time it might be your question that gets answered...
Related links