Newsround:
Newsround's Joe Tidy answers your questions!
During Joe Tidy's week of Newsround reports on Powering Britain, we asked you to send Joe your questions about energy and the environment. Joe picked his favourites to answer - see if yours is below!
Do you think it was difficult for people a hundred years ago to make power? (asked by AgateCymbalPrimrose)
The way we make most of our power has actually stayed the same, by burning fossil fuels like coal, gas and oil. Check out my report on coal here.
But back then, they wouldn't have had nuclear technology or renewables like wind turbines or solar panels. And a lot less electricity was being made, so it would have been a lot harder to get it to people's homes. Only the richest people could afford it.
Was it scary standing on top of the nuclear reactor? PS - do you ever get nervous working on Newsround? (asked by BlueSweetBluebird)
The idea of it was definitely scary! But when I got there they told us the radiation in the reactor is shielded by really thick concrete walls. Not only that, they also had something that measured radiation and there was no danger. It was pretty cool to be so close to something so powerful.
PS. I do sometimes get nervous, especially when I'm broadcasting live outside.
What kind of ways to make energy were the most efficient? (asked by RoseSpottyLettuce)
If you mean the number of houses supplied, the impression I got was that nuclear power could provide the most power in the smallest space. But it's a very good question because all power sources have their pros and cons!
For example, wind is free to use, but you need hundreds of turbines in a really big area to make it worthwhile.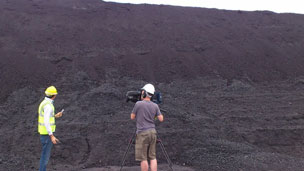 When did you decide you wanted to work as a Newsround reporter? (asked by ViridianNaughtyPrincess)
Ever since I was about 12, when I did work experience at my local paper, I wanted to be a journalist. If you want to know more, take a look at my page on the Newsround website here.
What is your favourite type of energy and why? (asked by DiamondFestiveKingfisher)
My favourite type is solar energy, collected by satellites in space and sent down to earth by laser! It's not happening yet but space companies are working on it. I think it's really cool to think that satellites could spin around earth collecting power and then beam it back down to us. See my report on algae and other technologies for more info!
If you could make up any power, what would it be? (asked by YellowGeekyOstrich)
Great question! I'd collect all the energy used in every single gym, playground and sports hall in the country to make sports power! Every time anyone ran on a treadmill or jumped up and down, that movement could be made into electricity.
Do you know what it was like in the Ancient Greeks? (asked by BlueVioletOriginalLemon)
I'm no history expert (unlike Rattus from Horrible Histories!) but I would say that because they had no electricity they would have used fire for heat, light and cooking, and horses instead of cars. They might have invented the Olympics, but they wouldn't have been able to watch it on TV, that's for sure.
I was wondering what is the best way on saving energy and do you save energy? (asked by PlumWinteryMeerkat)
The best way to save energy is to only use it when you need it. For example, I try and turn off lights whenever I'm not in a room and only boil the right amount of water for a cup of tea. The owner of the house in our final report about the Eco home, super energy saver Kate Kendall, said insulation and heat saving are really big energy savers in the home.
Are you scared of heights? And how did you feel standing on a nuclear reactor? (asked by LilacStarStarfish)
I'm not scared of heights but I prefer to be stood on the ground that's for sure! When I was stood on the nuclear reactor, I felt excited to be directly above such a hot and powerful source of energy.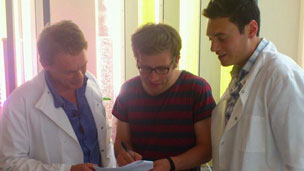 Out of ten, how Eco do you think you are? (asked by IndigoFunkyPorpoise)
I would say 6 out 10. I make sure to turn off lights, TVs and computers when I'm not using them. I have showers instead of baths because it saves water. I also turn off the tap when I'm brushing my teeth to save water, and I like to cycle instead of driving, to save petrol. I also like taking the train instead of using my car. But for a real 10 out of 10 Eco hero, you should watch our last Powering Britain report about Kate Kendall's amazing Eco home.
How much longer do you think we can use coal as a main power source? (asked by RoseAutumnAnteater)
Speaking to the experts, there are hundreds of years of coal left in the ground to power us. But because of new rules about the harmful gases coal powered stations produce, we could stop using it within 20 to 30 years.
What news story do you remember most from your childhood? (asked by YellowFeistyGrape)
My earliest news memory was when Princes William and Harry lost their mother, Princess Diana, in a car crash. It was really tragic, and I remember my auntie waking me up with the news and turning on the television.
In Linlithgow Loch, there's tonnes of algae - is it going to be harvested? (asked by PlumLoopyBobcat)
I'm not sure about that loch, but I dont think the algae in it will be harvested for oil. The reason for this is that scientists can only use very special kinds of algae to make biodiesel. Good question though!
What do you think it would be like when there was no power in the whole world? What would you do? (asked by PurplePartyBuffalo)
The idea of the lights going out is something I have definitely thought about, and it's quite scary. I think what I would do is head for a big forest and try and live like our ancestors would have done thousands of years ago. I'd make fires, hunt for my food and I'd probably build a nice big treehouse and invite all my friends to stay.
Can we help to power Britain or save power in Britain? If so how? (asked by BlushCheerfulGhost)
Nice question, and there things that we can all do. Two top tips would be:
1) In cold months, trap heat in your house by using draught excluders. These are things you can buy or make yourself to cover the gaps at the bottom of doors and prevent heat from escaping.
2) Put buckets in the garden to collect rainwater. You can use this to water your plants, instead of getting it from the tap.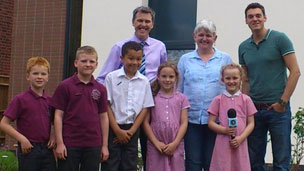 What type of energy do you think may help us in the future? (asked by FireOpalClarinetTiger)
Speaking to the experts, there won't just be one type. We're going to have to use lots of different renewable types like wind, wave, solar as well as nuclear.
But because we rely so much on fossil fuels like coal, oil and gas, we'll definitely carry on using them in some way for many, many years to come.
Would you use wind as your power source? And if so, why? (asked by MagentaMetallicHen)
Wind power is great because the wind is what they call a renewable energy source, meaning it won't run out. Some people think that wind turbines are ugly, but I quite like them. The only problem is that you need lots and lots of them to make any useful difference to how we power the country. For more on this, see our third report in the series about the biggest off-shore wind farm in the world, being built right here in the UK.
What is the largest power machine in Britain? (asked by CrystalEcstaticDevil)
If you're talking about size - it would have to be the London Array because when it's finished it will be made up of 175 turbines, all taller than the London Eye, connected together over 100 square kilometres. See our report here about how the build is getting on!
What is the best part of being a Newsround presenter? (asked by NephritePizzaLily)
The best part, by a long way, is that every day you learn about a new topic. Every day that we were out making Powering Britain,  I was learning so many things that I wouldn't have known otherwise. We also have a lot of fun off-camera as well as on-camera. Take a look at our behind the scenes gallery for the series.