Know your facts!
Check out all the great stuff Jedward learned while exploring the River Thames and other landmarks in London.
History of the River Thames
The famous River Thames is 215 miles long and runs right through the centre of London.
Today the river flows out to the North Sea but 25,000 years ago, when the island of Britain was still attached to Europe, it flowed into another famous river, the River Rhine.
Around 50 years ago the Thames was so polluted that nothing could live in it but today the river flows with clean water and is home to more than 120 species of fish!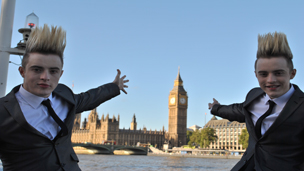 Monument
The Monument is a huge stone structure commemorating the Great Fire of London.
It is 202 feet high because it stands 202 feet away from where the fire started. It was built between 1671 and 1677 by the famous architect Sir Christopher Wren.
The Great fire of London was a huge fire in 1666 that started in a Bakery and burned for three days, destroying large parts of the city. Six people died and 13,000 houses were destroyed.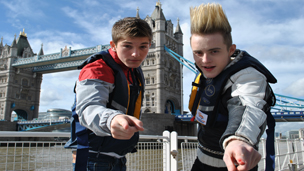 Tower Bridge
For a long time London Bridge was the only bridge that linked North and South London but over time, as London grew, so did the number of bridges.
In 1876 Parliament announced a public competition to design a bridge for East London. The winning entry was Tower Bridge.
Tower Bridge was designed by the engineer Horace Jones and the architect John Wolfe Barry. Tower Bridge was the first bridge that could be raised to allow boats passing underneath. It took 432 workers 8 years to build!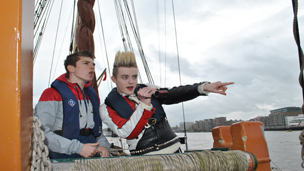 Cleopatra's Needle
Cleopatra's needle is an ancient Egyption artefact that was gifted to England to commemorate the Battle of the Nile and the Battle of Alexandria in 1819. 
It took 59 years to raise the money to transport the Needle to England by ship. The journey with the Needle was difficult and the ship almost sunk during a violent storm!
At the base of the needle are two Bronze Sphinxes. In the early 20th Century these were taken away to be cleaned but when they were returned, they were placed backwards! The Sphinxes now face towards the needle instead of away from it.
Related links
More Jedward's Big Adventure Articles