Sadie J:
Georgia Lock Answers Your Questions

Georgia Lock answers questions sent in by fans on the CBBC website. Read on to find out her favourite breed of dog and show she feels about brussel sprouts.
Hi guys! I'm here ready to answer your questions. Looking forward to it!
If you were queen for a day what would you do???
- RedVioletDiscoGrape
I would find a way to make trees grow chocolate.
What is your favourite breed of dog?
- IvoryNimbleFawn
Hello! My favourite breed of dog would have to be a miniature sausage dog or a Bichon Frise.
Who is the chattiest on set on Sadie J?
- LemonTamborActor
Probably me! Although Ronan would have to give me a run for my money.
I love you SOOOOOO MUCH. My question is: Do you make up all the funky words Sadie J says and if so how do you make them up.
- WhiteCricketSinger
I'm ashamed to say that someone makes them up for me!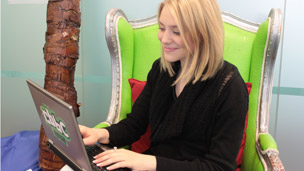 I'm a mega Sadie J fan I've watched all the episodes. What I want to know is, if you could invent a time machine which 6 people would you take with you and why?
- GingerIceLemur
Yay! Thanks for watching :) I'd probably take my four best friends and, if I could, I'd bring Mariyn Monroe to our time.
Do you like Doctor Who?
- OrangeWavingPossum
Cool name! :) I do indeed! I think my favourite Doctor Who has got to be David Tenant because I think he's a brilliant actor. Matt Smith's great too though.
I really love Sadie J and Friday Download. My question is where would your ideal holiday be and why?
- BlueVioletSmilingWhale
Yay, thanks so much for watching! My ideal would be on a beach somewhere with a nice clear sea and lots of sun!
If you had a magical power what would it be?
- BlueCoolButterfly
My power would definitely be to manipulate time. I think it would be fun to go back in time and also you'd get out of some pretty difficult situations!!
Are you anything like Sadie J in real life?
- TopazTeenyTomato
I think we're both quite confident however I like to think I'm nicer than Sadie, but we're just as clumsy as each other!
If you were a singer what would you call your first song and why? P.S. I love the new series of Sadie J!
- TopazDizzyPegasus
Pleased to hear you're loving the series! When I was 12 I wrote a song called Abracadabra. I'd love to be a singer one day. I sometimes put videos online of me singing!
You are sooo amazing in Sadie J. I love your show. My questions are:
1. What is the scariest part of an audition?
2. Have you ever gotten a chance to be on the other side of the table at an audition (watching, instead of auditioning)?
- RedSkatingPanther
Oooh! Good question! Thank you so much. Remembering the lines, I find very scary. Also when you have to make stuff up on the spot. I watched the auditions for a new character in Sadie J and it was to know I wasn't the one being watched.
I love your show it is totes amazing, your style is totally adorbz. I wish I were you! I have a quiz attack 4 U!
Q.Where Would You Rather Go:
A.Barbados.
B.Australia.
C.Ireland
Q2.Whats UR Fave Animal:
A.Panther
B.Snake
C.Lion
- MaroonGrinningLadybird
Thank you so much! I went to school in Australia when I was 8 so I probably fancy Barbados. My favourite animal of the three would have to be a lion because I love Aslan in Narnia :)
Would you rather be in Dani's Castle or in 4 O'Clock Club?
- NavyBlueCleverPrimrose

I love Dani Harmer but I'd probably say The 4'O Clock Club because I like the musical element.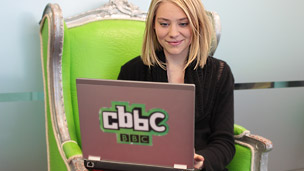 Who would you rather spend a day with, Niall Horan or Louis Tomlinson? And why?
- ApricotFlyingBluebird
Do I have to just choose between those two? If I had to I would choose Louis because my friend loves him and would never forgive him if I missed that opportunity!
Have you ever eaten brussel sprouts and did you like them?
- GoldIceDeer
Yes! I've got a lot to say about this. When I was 7 I made my parents promise to never feed me them again because they are disgusting. They're like a pathetic excuse for a cabbage.
Hello Georgia You are just my hero!!!!!!!!
1.What do you like to do when you're not performing?
2.Do you ever say Sadie words outside of performing?
3.Who is your favourite singer?
P.S I AM TOTALLY YOUR BIGGEST FAN!!!!!!!
- PlumSkippingDaisy
Hello totally my biggest fan!!! :) Thank you very much!
1. I've got quite a lot of school work on.
2. I have to admit they've started to creep in to my every day vocabulary!
3. My favourite singer would have to be Whitney Houston. I love her voice and her songs are incredible.
How many concerts have you been to and whose were they?
- RedSprintingHeather
I've never been to one! I'd like to go sometime. I'd love to see Beyonce.
Hiya Georgia,I absolutely LOVE Sadie J!!! My 3 questions are:
1. Were you really crying in the episode that Kit left or did you have to put them on?
2. Will Kit come back or reappear?
3. And finally, you know in Sadie J there is usually a band or singer that you are talking about, if you could choose a star that would actually come on the show, who would it be?
- BlueCoolButterfly
Pleased to hear you like the show!
1. Yes they were real tears. I was very sad that Kit had to leave.
2. Unfortunately Kit doesn't return in this series.
3. It would be pretty awesome to have Queen Latifah!
What was the best episode to film in this series and why?
- BrownFastDingo
I think the best episode of this series is the last one but I can't tell you too much about it. It was sentimental and I'll remember filming the last scene for a long time.
Thanks so much for all your questions!! Been great talking to you.
Love Georgia :) x x x x
Related links