After five years in S Club 7 (and a starring role in CBBC's Viva S Club), Tina Barrett is returning to pop in a blaze of fire...
Tina! It's been almost ten years since S Club 7! How lovely to see you after all this time. Where in the world have you been?
I have been in the studio working on new songs with lots of different producers and developing myself as a songwriter because I've always been really into song writing from a young age. I absolutely love music; whether it's the dancing or the singing. It's always going to be in me so I'm always going to be doing it.
What's the deal with your latest single Fire?
It's a pop track but has a dance vibe to it and I'm hoping it will make people want to dance to it! I'm not an airy fairy girl and I never sort of have been, I come in and make a big noise. I think Fire is my explosion!
It must have been hard to come back as a solo artist after almost ten years. How do you cope with all those people who are mean about your music?
I'm a feisty girl so I can take it, I'm very thick skinned. As a performer you have to be, you're on stage all the time and you have to expect people to have opinions, so that doesn't bother me at all. But of course I want people to like it!
How did you get into the music industry?
Before I joined S Club 7 I was a backing dancer and I did loads of music videos for big artists. I auditioned for S Club 7 at Pineapple Studios then got called back and that was it! It was quite an easy audition actually; there were no crazy dance routines or a mammoth song like in some auditions.
What always got me through auditions is self-belief, you always have to be confident, you're always told to not be full of yourself but with entertainment and auditions you have to think the opposite because you only have a small amount of time to impress so you have to go all out.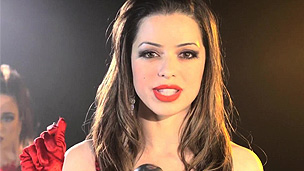 Do you think you're more confident now than when you were in S Club 7?
When you're a teenager you're still finding out who you are and doing all that in the public eye was really hard. Luckily, we did have each other for support and we did have the most amazing experience as well. I'm going into the unknown as a solo artist it's so fulfilling because I'm doing it all myself and you get a lot of satisfaction from that and creativity - I'm really enjoying it.
Who are you listening to at the moment?
I'm a real hip hop girl so I listen to a lot of the hip hop artists out there, Rihanna is cool…and obviously Beyoncé. How can you not love Beyoncé?
Uh-oh, just 21 seconds to go! Quick, Tina, choose between…
Pie or Pasty?
Pie.
Slugs or Snails?
Snails.
Morning or Evening?
Evening.
Sun or Snow?
Sun.
Books or Magazines?
Magazines.
City or Country?
City.
Eat or Sleep?
Eat; you can sleep when you're dead!