The Prof stopped by for some down time with da CBBC Massive to answer your questions from the CBBC Messageboards!
So, where did the name Professor Green come from?
The name Professor Green wasn't something I came up with, it was a nickname I was given when I was younger.
You've worked with some pretty cool stars! Who has been your favourite so far?
I have had a brilliant time working with so many people: Fink, Emeli Sandé… but out of everyone - Lily Allen - just because of the friendship that was spawned from it.
So what's your secret? Where do famous rap artists get ideas for their songs?
I get my ideas really randomly from all sorts of things, there is not any one muse I can name. They come at random times. Normally when I am just falling asleep or when I have just woken up.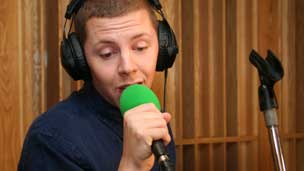 Ok, who was the person who really inspired you to become a rap artist?
Probably my mates, you know? It wasn't something I ever picked out wanting to do. It was only when I was 18, I was at my mate Alex's house and everyone was free-styling and I got put on the spot, I rapped a lyric as a joke. And everyone was like, "You can rap!" and I went bright red in the face and said, "Don't ever make me do that again!"
Let's take a trip down memory lane! What music did you listen to when you were a kid?
Jason Donovan, which was painful…I didn't choose to listen to it, my Nan made me!
I listened to a lot of reggae at friends' houses. I used to skate as a kid as well and I met a lot of people from very different places which really opened me up to other music as well. I started listening to a lot of rock.
 In Upper Clapton, if you listened to that music you were not cool. But I never really wanted to watch face so I started listening to all sorts – I think that really helped with the music I make today.
And back to 2012! Who are your favourite artists now?
That's like asking someone to pick their five favourite songs out of a million! My favourite music artist right at this moment? Lana Del Ray.  I think she says things in an incredible way; she's obviously got an amazing perspective.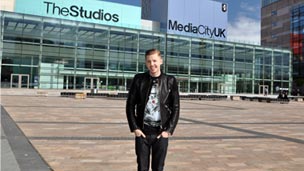 Any tips you can give CBBC viewers who want to follow your footsteps to fame and fortune?
I wouldn't say I got famous, I'd say I became successful in my music. Just work hard. Just know when you do get that opportunity, that's when the real work starts!
So, If you weren't a music artist, what would you be and why?
Strangely as a kid I always wanted to be a barrister or a lawyer, so we'll go with that.
What animal would you be and why?
I'd be a monkey because they've clearly got a sense of humour!
If you had any super power, what would it be and why?
Invisibility - so I could disappear from everyone, whenever I wanted to.
Oh no! Only 20 seconds to go! Quick, Do you prefer…
Cats or Dogs?
Dogs.
Cheese or Ham?
Ham.
Sweets or Cake?
Sweets, I think. No… cake!
Night or Day?
Night.
TV or Films?
TV.
Rats or Spiders?
Rats…
Left or Right?
Left.
Shoes or Hat?
Shoes
Moustache or Beard?
I struggle growing either!
And that is what happened in five minutes with Professor Green! Thanks to everyone who submitted a question on the CBBC Messageboards, don't forget to check the CBBC Music site for more music star interviews very soon!
Want to know more? Read Professor Green's artist page.