Super stylish singer and songwriter Paloma Faith took some time out of her busy day to tell CBBC Music all about her latest single, Picking Up the Pieces AND to answer some of your burning questions from the CBBC Messageboards.
Paloma! How nice of you to speak to us. First things first…is it true you used to be a magician's assistant?
Yeah…well, sort of on and off over a period of years, but it's not that regular work - it was a lot of sitting in boxes with rabbits!
From sitting in boxes with rabbits to chart-topping star! Did you always know you wanted to be a singer?
Singing just sort of chose me in a lot of ways…I started doing it as a hobby, as a bit of extra money because I enjoyed it.
I never really thought of myself as a professional singer, but then people started to come to my shows and say "you're actually really good". I started to take singing a bit more seriously then.
I actually trained as a dancer, but then I realised I had made a mistake. Which is fine; everyone makes mistakes.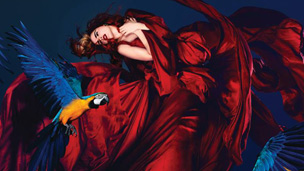 So, what we really want to know is, what is your latest song, Picking Up the Pieces, really all about?
Well, it's about being in a relationship with someone and being worried that they're still in love with someone else from their past. But the whole album is about turning sad a thing into hope; what doesn't kill you makes you stronger.
We LOVE your quirky fashion sense. Got any tips on looking so amazing?
I get inspired by old films and Marilyn Monroe in particular. I go to the cinema a lot. I recently went to see Moonrise Kingdom the new Wes Anderson film; I love the costumes in it.
What about your hair? It must take you HOURS!
If I do it myself, it takes about 45 minutes to do it in rollers, but if someone else does it, it takes them a bit longer because usually they're a bit better at it than me.
If you could collaborate with anyone, dead or alive, who would it be and why?
I'd really like to do a song with this rapper called Azealia Banks, I just think she's really cool and young and really like the production she uses and her tones and rapping.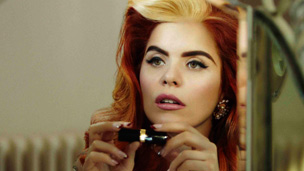 What's your favourite food?
Chinese Dim Sum.
If you had 3 wishes, what would they be and why?
No more violence and war in the world, to always be financially comfortable without having to worry and to have a lot of love around me.
Quick, five seconds left! Give us one completely bonkers fact about you that we don't already know!
Paloma means 'dove' in Spanish…or pigeon!
Related links