Hi Ricky and Simon! Your new album Souvenir has all your singles from the last 8 years! Which song are you most proud of?
The one that is closest to our hearts is Oh My God because it was the first one we wrote really as this band and it was the catalyst for everything else. It was the start of this band.
How do you think of ideas for your songs?
Ideas for songs come from just keeping your mind open, looking around you and seeing what is interesting to you. When we started we were writing songs about the town we lived in, which is Leeds in the north of England.
We found that even when we travelled to America or Australia, people understood what we were singing about because it related to them.
We weren't trying to relate to everyone, but I think if you talk about what is personal to you and what interests you, then it's bound to interest people too!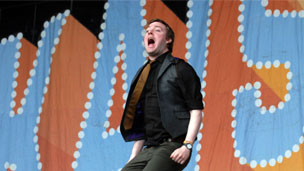 Kaiser Chiefs have been together for a long time.  How did you meet?
Three of the band; Simon, Nick and Peanut, went to school together and knew each other from a very young age – they were 11 when they met.
When we got a bit older and everyone went to university, Nick was on his own and he decided to start a band with some people.  That's where he met me (Ricky), Whitey and the band.
Then, when Simon and Peanut came back from college, we got them in because Nick liked them more!  And that's how we started; a load of friends making a racket together.
Did you always want to be in a band?
I always wanted to be in a band. It looks like a load of fun, you get to make lots of noise and dance around and everyone is looking at you. Simon doesn't like people looking at him though!
Do you ever get nervous before you go on stage?
I get very frightened when I go on stage; there are a lot of people out there and they are looking at you. If you fell over or something they'd probably laugh. So I always get scared something bad is going to happen.
But once you are out there you realise that everyone is on your side and they want you to do well, so as soon as you get into it then it's not scary anymore.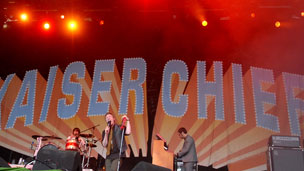 How do you feel when you hear your songs on the radio?
If I was dancing, I'd probably stop. It just looks like showing off otherwise. Although what I do for a living is basically showing off – I hate showing off!
Do you have any performing tips?
Make sure the audience are having a good time. Basically, if you look like you are having a good time; people will have a good time watching you.
You obviously enjoy what you do! What's the best thing about being in the Kaiser Chiefs?
The best thing about being in the Kaiser Chiefs is that it's just a load of friends that get together and travel the world and play our songs. And it means that we're our own boss as well, no-one tells us what to do, and we make up the rules as we go along!
Want to know more? Visit Kaiser Chief's artist page.
Related links