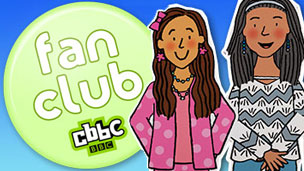 Oops! We can't load the video...
To view this content you must enable JavaScript in your browser and have the latest Flash plug-in installed. Please ask an adult for help if you cannot load the video.
Nelly and Gwen, the twins who will be in Series 3 came into the CBBC Office to talk to Chris and Hacker. Watch the clip above.
How have you scored in Snack Stacker and Knick-Knack Attack in the Dumping Ground Game?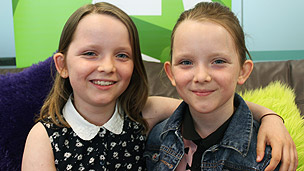 Nelly and Gwen are 9 years old and come from Hertfordshire. They've acted before on stage but never on TV. See them in The Dumping Ground in 2015!
Related links
Comments
The CBBC comment forums are open 7:30am to 8pm
Jump to comments pagination
Comment number

4866.

CreamBrightMango




17th July 2014 - 10:23

Comment number

4865.

CarmineWinteryGirl




16th July 2014 - 13:47

Comment number

4864.

CrystalSprintingQueen




16th July 2014 - 11:36

Comment number

4863.

GingerMegaClownfish




16th July 2014 - 11:11

Comment number

4862.

EmeraldCurlyMaster




15th July 2014 - 19:29

Comment number

4861.

AquaRollingPuma




15th July 2014 - 18:29

Comment number

4860.

CarnelianSwimmingTortoise




15th July 2014 - 16:56

Comment number

4859.

GreenRugbyWhale




15th July 2014 - 14:32

Comment number

4858.

MaroonMassiveConker




14th July 2014 - 15:34

Comment number

4857.

TopazIcicleGerbil




14th July 2014 - 14:16

Comment number

4856.

RoseCleverZebrafish




13th July 2014 - 17:07

Comment number

4855.

PeachEarthElf




13th July 2014 - 16:14

Comment number

4854.

BrownSunnyPanda




13th July 2014 - 15:32

Comment number

4853.

BlueSillyAvocado




13th July 2014 - 14:58

Comment number

4852.

CyanFizzyBoing




13th July 2014 - 14:00

Comment number

4851.

LimeCricketFootball




13th July 2014 - 13:33

Comment number

4850.

StarstoneFlyingLadybird




13th July 2014 - 12:40

Comment number

4849.

AquaSewingPrincess




13th July 2014 - 12:26

Comment number

4848.

GingerGlowingPlum




13th July 2014 - 11:04

Comment number

4847.

ApricotFuzzyMouse




13th July 2014 - 10:52