About me:
Hi, I'm Gina. I've worked at Elm Tree House for a few years now. Of course it's stressful - working in care always is - but Mike really knows how to run a care home and it's great working alongside someone with so much experience. Sometimes when our young people play up, Mike goes a bit easier on them than I would but that's about the worst you can say about him. I thought he'd had a rush of blood to the head when he hired Tracy, but actually that girl has the makings of a really fine care worker. Don't tell her I said that, she'll be impossible!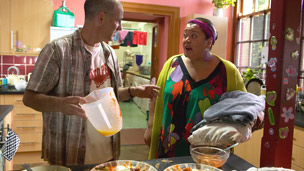 My life:
Me and my husband, Greg, we love kids. The house felt kinda empty after our two boys left home, so we started fostering. But Greg's at work all day and after a while I wanted a more sociable job, one that got me out the house more. Luckily I found the job at Elm Tree House and I've been working here ever since. I like it better in a care home rather than fostering, because this way I get to work with more young people at once.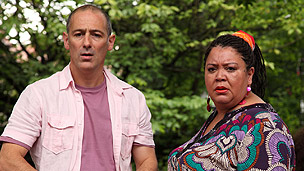 On the Dumping Ground:
You see all sorts in my job. From angels to devils and everything in between. Honestly, some of the stories would break your heart. I always think if I've helped a young person feel a little bit better about themselves during my shift, then I've done a good day's work.
Related links
More Tracy Beaker Returns Articles