About me:
I'm Cam, Tracy's mum. It's funny how things works out, isn't it? I always thought I'd spend my life focussing on my writing. Never dreamed I'd have kids, yet here I am with a grown up daughter. I'm so proud of Tracy. She had such a hard time when she was growing up, but she just kept on battling through and look where it's got her - qualifications, a great job and a wonderful life.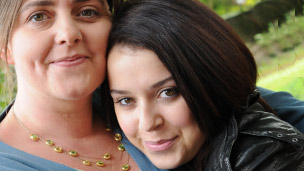 My life:
I think that's why I felt ok about going off to work in New York, because Tracy's so independent. And now I'm back, it's a happy and sad time for me. I'm happy Tracy's grown up enough to stand on her own two feet (and amazed we're both alive to tell the tale!) And I'm sad, because I know it won't be long before Tracy wants a place of her own and we won't be living together any more.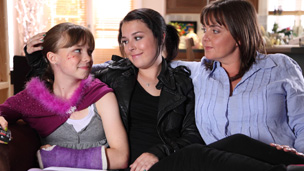 Tracy and me:
Still, that's a mum's job, isn't it? To help your child learn and grow, until they're strong enough to fly the nest. And wherever Tracy flies to, I'll never be far away because the two of us, we're family - and nothing's ever going to interfere with that!
Related links
More Tracy Beaker Returns Articles