Richard Whisker and Cel Spellman from Friday Download dropped by the CBBC Office and answered some of the questions you sent in on the CBBC Messageboards.
Read on to find out who their favourite Friday Download guests have been and what they like best about each other!

To Richard: If you could swap bodies with someone who would it be and why?
To Cel: Have you ever pulled a prank on someone and was it a very funny one?
PeridotBakingElf

Richard: Floyd Mayweather. Because he's tonk.
Cel: The best pranks for me are just jumping out on people and making them jump. I do it all the time.

What are your favourite TV shows? Mine are Tracy Beaker Returns and Hero squad!
SilverPoloLemon
Cel: Firstly, why isn't your favourite show Friday Download? ;-) Mine is Wolfblood.
Have you read the Hunger Games? If so, who is your favourite character?
WhiteSoftBaker

Cel: I've read the first book. My favourite character was Haymitch. 
Can you do the Gangnam Style dance? If so, do it! Please. I love your show and all of you are AMAZING!!!!!
SardonyxShyBear

Richard: No, but did you see it on Friday Download?
Cel: I cannot do it.
Hi Richard. I am your BIGGEST fan EVER! And I think you are the best out of Cel and you (no offence to Cel). My question is: What is your favourite hobby?
GoldRandom Bat

Cel: I didn't appreciate that! LOL. Joke.
Richard: I like to play basketball and write music.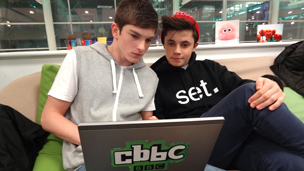 Do you ever get nervous just before you go on air?
CrystalAirQueen

Richard: Nope. I just feel comfortable because I know the fans are there and they're going to enjoy the show.
Cel: I do.

To Richard: What is your favourite part of Friday Download? Mine is Weekend Download (with you in).
SilverDottyOstrich
 
Probably the Sing Download and the Music Download for meeting the music artists.
Who has been your favourite guest on Friday Download so far?
FireOpalAwfulDuck

Richard: Rita Ora or Professor Green.
Cel: I'm gonna say Chris Hemsworth.
Where's the best place you've been on holiday?
VioletGentleGirl

Richard: Los Angeles. We went to Venice Beach and watched LA Lakers and ate loads of food.
Cel: Florida 2011 with my family, when I went swimming with Dolphins. I had the best time of my life.
To Cel: What is the most gross and disgusting thing you have eaten? I love Friday Download it's the best.
JetDivaCabbage

Cel: Them sandwiches I had to have on Friday Download were quite disgusting.
Can you sing?

GreenRockingTimelord
Richard: Yes.
Cel: I can hold a tune.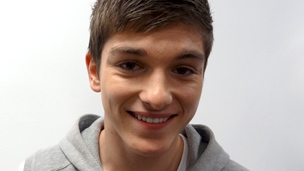 If you could go on a TV show which was a game show, what would it be?
BlueGenerousSpaniel

Richard: Probably I'm a Celebrity.
Cel: Deal or No Deal
Richard: Yes, I'd like to do Deal or No Deal!
Cel: The Cube.
Richard: Yes, I'd love to do the cube!
To Richard: Do you sleep with a teddy bear? I do! By the way I love Friday Download and can't wait for it to start.
EmeraldAirSeaLion
 
Richard: No.
Cel: Yeah you do, tell them about your teddy bear. When I was little I slept with a blanket called Biddy.
To Cel: What is the best thing you like about Richard Whisker?
To Richard: What is the best thing you like about Ceallach Spellman?
CornelianTitchyVampire

Cel: I like his hair and his accent's great. And he's my brother from another mother.
Richard: Cel's very funny, he's like my sidekick. He's a charmer.
Hey Cel and Richard! I'm a massive fan! How long does it take you to eat 7 pancakes?
BeigeSparklyFalcon

Richard: I actually had pancakes the other day. About a half hour.
Cel: It'll take a little while. Especially if my Mum's making them and I have to share them with my brother.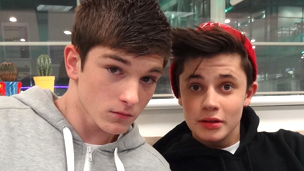 Can either of you ride horses?
JetFloweryKing
Richard: Yes! I learnt to ride one in Spain.
Cel. I can too. I learnt in Edale on a school trip, a PGL trip ('parents get lost').
I love Friday Download. You guys are my favorite presenters. Do you prefer spiders or snakes and why?
LimeKiteMango
Cel: Snakes.
Richard: Snakes because I used to have one.
Cel: Snakes are big so I could deal with them. Spiders are too small to catch.
What would you rather do, kiss a frog and turn into a princess or jump in crocodile-infested water?
BluePuffyOrchid
 
Cel: How long would I turn into a princess for?
Richard: Crocodile-infested water.
How old are you and what's your star sign?
LemonPerkyMagnolia

Richard: I'm 17 nearly 18. My star sign is Aquarius.
Cel: I'm 17. And I'm a Virgo.
If you could have any star on Friday Download in this series who would it be and why?
MaroonLoopyRose

Cel: Johnny Depp. I don't even need to explain why.
Richard: Chris Brown. He's a great Rn'B artist.
What is your favourite cheese? Mine is smoked cheese.
ApricotSparklyOtter
Cel: Mozarella or haloumi.
Richard: I don't eat cheese. I don't like it.
To Cel: What is your favourite animal and why? Mine is cats. I have one at home, he's called Custard.
LavenderGuitarTurtle

Cel: Ooh, I have a few. One, my dog Bella. She's amazing. I love Dolphins. I used to adopt a Dolphin called Lightening. Horses are beautiful too.
Thanks to everyone who sent in a question. Don't forget to keep an eye on the CBBC Messageboards for details of our next interview with your favourite stars!