Amy-Leigh Hickman, who plays Carmen Howle in Tracy Beaker Returns', dropped into CBBC HQ to talk about 'all things Tracy Beaker' and answer some of your brilliant questions.
Are you ready for some more Beaker gossip? Well check out what happened when Amy-Leigh Hickman dropped by to answer your questions from the Messageboard . Find out.....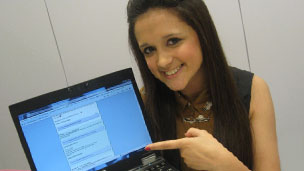 Amy - Leigh: Hi everyone, thanks for sending in your messages! I'll try and reply to as many of them as I can, sorry if I can't get to yours - but I'll try my hardest!

Let's get on with the questions! 
Who is your favourite character (Apart from yourself) and why? - VioletNuttyPrincess
Amy - Leigh: Umm.. my favourite character is Gus, because I love the funny lines he comes out with and what he gets up to in the Dumping Ground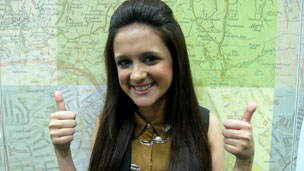 If you had to be anyone else in the entire world who would you be? - NavyBlueRockingMouse
Amy - Leigh: Thank you, glad you enjoy Tracy Beaker. I'd be Lady Gaga! I think she's really cool. She comes out with these crazy outfits and everyone looks at her like it's really cool. 

Although I'm not too sure about the meat dress...
Do you have any pets and if so what pets do you do you have?
Whats your favourite show besides tracy beaker returns? - GoldSpinningMeerkat
Amy - Leigh: I have five cats  They're called Cosmo, Fudge, Buttons, Kit Kat and Maggie. You may notice that they are all food names... apart from Maggie, because she's odd.

My favourite TV show besides TB is Friends, although it's old. It's one of those TV shows you can watch over and over again and it's still funny. Although I do watch quite a lot of Story of Tracy Beaker!
 
My Question is why are you so smiley ? - FireOpalRhymingGiraffe
Ha... I don't know, I'm quite a happy person in general and when I play Carmen I like to bring a bit of that to her character.

P.S  :D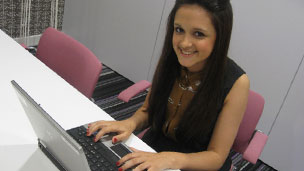 What was your most fun scene and eppy to film?!!??!! - BlueStarLadybird


Amy - Leigh: My favourite scene was the food fight! I got to throw water.... I was meant to throw it on Dani Harmer, but I actually threw it on Connor (who plays Mike). He wasn't very pleased about that.
What is it like working with Dani Harmer? - PeachBrainyPotato
Amy - Leigh: First of all, I love your username! Made me laugh.  :D 

It's really fun working with Dani, to begin with I was a bit starstruck by her, but I do love working with her. She's really easy to work with and is a lovely person in real life.

If you could star in any other series or films what would you like to be starred in??? - LavenderCheerfulBluebell

Amy - Leigh: Oooh, what would I be in?! I'd love to be in any film with Meryl Streep, she's such a good actress and I'd love to work with her. Especially in Mamma Mia, because that's one of my favourite films!
What is your best joke?- RedVioletMegaPigeon
Amy - Leigh: The one about the banana! My family hate me telling this joke. Okay...
Q: Why did the banana go to the doctors?


A: Because he wasn't PEELING well!!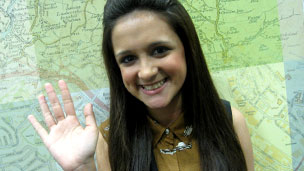 What do u like to do in ur spare time? - VioletAwfulPanda
Amy - Leigh: I like dancing and singing. I also like going swimming with my friends, and rollerblading. Oh yeah! And of course shopping.
What's your favoutite cheese? - VioletCupcakeLadybird
Amy - Leigh: Cheddar. I don't really like cheese, especially blue cheese. Ew.

If you were stranded on a desert island, what three items would you take with you? - DiamondQuietStarfish
Amy - Leigh: Good question! I would take...

1. My music.
2. My mum.
3. A pot noodle :)


How did you get into the acting business?
because i would love to be an actor and do you have any tips?  P.S:on the new series how did you get that glue out your hair! - BlackWaterSeaLion

Amy - Leigh: I got into acting when I started going to a saturday theatre school, and then an agent came round and he decided to sign me up to his agency. He started putting me forward for any auditions that came up and it went from there!

I would say, whatever character you're playing try and research that character and bring a bit of yourself to whoever you're playing. And that would be my top tip!

Oh, and I was actually wearing a wig that day, so I just took it off!
What do you think you have in common with Carmen? - PearlActingWombat
Amy - Leigh: My mum thinks I'm just like her! She's very chatty and very girly like me, and she likes her own kind of fashion - I do too, but I don't wear as much pink as she does.

Out of all the episodes of TBR which has taken the longest to film? How long does it take to film a series?
When filming, when has been the latest you have ever stayed up to film? - BrownFrizzyZebrafish

Amy - Leigh: It usually takes about a week to film an episode. The stunt that I did on the bridge took two days to film, because they had to film me and the stunt lady on the first day, and then on the second day they had to film all my close up shots on the bridge that they built on set.

Thanks for your questions!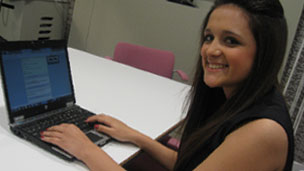 Carmen seems to love pink. is it your favourite colour and do you have a say in what carmen wears? - PurpleBubblyLily
Amy - Leigh: I have a say sometimes like when she goes to parties, but it's mainly by the costume department. At the end of the series, we're sometimes allowed to have some clothes. I bought one of Carmen's tops, not to wear, just as a keepsake. In fact, the top I'm wearing now was actually Dani Harmer's in the series.

Pink is my favourite colour, but not to wear - it's the colour I like my bedroom to be.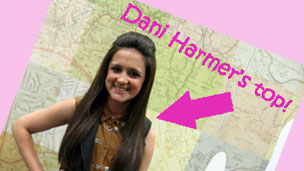 I love the characters Carmen and Lily. Therefore i want to ask you this question: Who is your Best friend on set? - SepiaKindDolphin 

Amy - Leigh: We're all like a big family, but my best friend is Mia who plays Tee. I keep in touch with her the most outside of filming, we're like a female Ant and Dec - you don't get one of us without the other.
Amy Leigh: Thanks everyone for sending in your questions! Sorry to those I didn't get to answer. Stay tuned and keep watching Tracy Beaker Returns to see a different side to Carmen.

Thanks again :D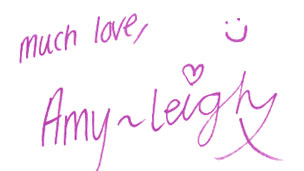 Thanks to everyone who sent in a question. Don't forget to keep an eye on the CBBC Messageboards for details of our next interview with your favourite stars!
Related links
More Tracy Beaker Returns Articles