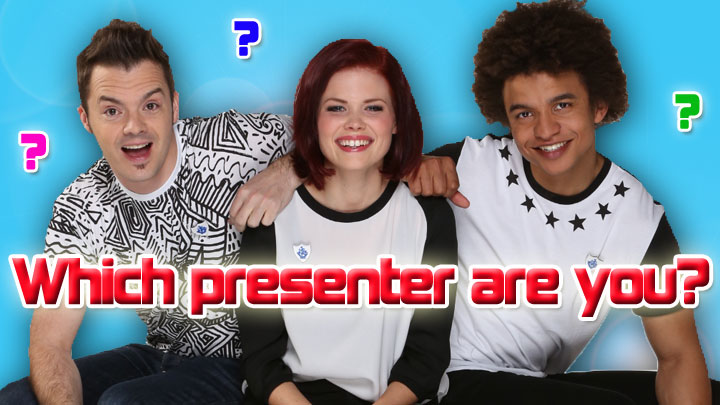 To find out which of the Blue Presenters you are most like, do the quiz below.
There are 18 questions to answer. Add up how many  A's, B's and C's you get along the way then all will be revealed at the end.
Are you ready??
Question 1.  
If you were a singer, or played in a band, what would you be doing on stage?
A.  Play the drums
B.  Play the saxophone
C.  Sing like a soul legend
Question 2.
What do you never leave home without?
A.  My phone
B.  My music player
C.  My camera
Question 3.
What song would you always get up and dance to?
A.  Michael Jackson - Billie Jean
B.  Beyonce - Crazy in Love
C.  Bon Jovi - Living on a Prayer
Question 4.
You are about to be abducted by aliens and they grant you one last meal - what would it be?
A.  BBQ ribs and chips
B.  Halloumi cheese
C.  Roast dinner
Question 5.
 You've got a day off - what do you do?
A.  Sleep
B.  Exercise and drink cups of tea
C.  Take photos
Question 6.
If you were a super hero what would your super power be?
A.  Fly
B.  Time travel
C.  To be invisible
Question 7.
What is your favourite flavour of ice-cream?
A.  Lemon sorbet
B.  Mint choc chip
C.  Chocolate
Question 8.
Which country would you most like to visit?
A.  Jamaica
B.  Morocco
C.  Korea
Question 9.
 Which cartoon character do you most identify with?
A.  Raphael - Teenage Mutant Ninja Turtles
B.  Little My from the Moomins
C.  Tazmanian Devil
Question 10.
Which famous person would you most like to meet?
A.  Muhammad Ali
B.  Beyonce
C.  Rachel McAdams
Question 11.
If you could pick any challenge what would it be?
A.  Base jumping
B.  Skiing tricks
C.  Learning to fly
Question 12.
What are you scared of?
A.  Rats and sharks
B.  Whales and sharks
C.  Frogs
Question 13.
What is your favourite colour?
A.  Silver
B.  Turquoise
C.  White
Question 14.
Best subject at school?
A.  P.E
B.  Drama
C.  Music
Question 15.
What type of music is playing in your headphones?
A.  Hip-hop
B.  R n B
C.  Indie
Question 16.
What is your favourite show on CBBC?
A.  MOTD Kickabout
B.  Hacker Time!
C.  Horrible Histories
Question 17.
What makes you laugh the most?
A.  Impressions
B.  People tripping up
C.  My family
Question 18.
If you were a biscuit which one would you be?
A.  Shortbread
B.  Choc chip cookie
C.  Chunky chocolate with marshmallow
Now add up which letter A, B, or C you have the most of then CLICK HERE
Mostly A's = You are Radzi!
You are a hip-hop loving, shortbread biscuit who is scared of rats and sharks. YIKES!
Mostly B's = You are Lindsey!
You are a minty, music loving time traveller who loves munching cheese, but you're not keen on swimming with sharks and whales!
Mostly C's = You are Barney!
You are a cheeky, chocolate flavoured marshmallow who loves taking photographs but you're scared of frogs! Riiiibbiit!