Blue Peter:
Read Laura Dockrill's fantastic 500 WORDS story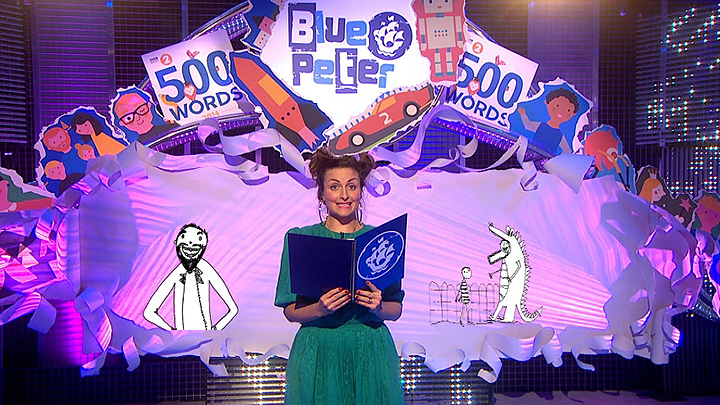 Find out what happens in Laura's 500 words short story below... and if you want to enter the Radio 2's 500 Words competiton click here for more information.
The Smile That Was Left At Home by Laura Dockrill
Joe had left his smile at home. He was only out with Dad so he wouldn't need it. He put it underneath his favorite comedian - Ali-Greater's joke book. It would be safe there.
Dad sighed, disappointed. 'I made sure you inherited my dazzling smile and what do you do with it? Leave it at home. You never know when you might need a smile… And we're at the zoo today.'
Of course. How could Joe have forgotten? He had been so wrapped up in the Ali Greater book that it had slipped his mind. What a stupid day to leave his smile at home.
There was so much to smile at. Penguins waddling, meerkats standing upright like electrified teddy bears, pigs snuffling, monkeys pulling faces.
They reached the alligators, when Joe heard a voice he recognised.
'Isn't that…' Dad started to say.
'ALI-GREATER!' Joe squealed. He was right there, in the zoo, doing some filming for his TV show. He was dressed as an alligator and was being hysterical, as always.
'I don't believe it!' Joe gawped. 'He's my favourite!'
'Go over!' Dad nudged, 'Get an autograph!'
'I'm so excited!' Joe flapped over, with Dad following, all jumpy, behind.
'Stand back kid! We're filming!' grunted a bossy man with a clipboard.
Ali-Greater smiled; he really was a nice man.
'I'm your biggest fan!' Joe gushed. 'I know all your jokes! I read your book every night!'
Ali-Greater laughed, 'Awesome! Why don't you jump in a scene with me? I'm filming something for my show, be great to get you in.'
The bossy man with the clipboard didn't seem too happy but Dad seemed proud.
'I'll say a few jokes and you laugh. Cool?'
Not cool. Not cool at all. Joe began to sweat. Dad gulped. They both knew that Joe had left his smile at home.
But he couldn't miss this chance with his hero.
'Cool,' Joe nodded and the camera began to roll.
'What do you call an explosive bumblebee?' Ali-Greater beamed… 'A BOMB-le bee!'
Joe tried to smile, he squeezed his cheeks and pushed his jaw out as far as it would stretch but it was no good.
'Let's try another…' Ali-Greater was patient but he was a little insulted.
'What do you call a chocolate-covered sheep?'
Joe trembled.
'A chocolate baaaarrr!'
Joe flushed a deep shade of embarrassment. Ali-Greater was fuming.
'You're making me look bad; I thought you were a fan! Forget it, let's ask that boy over there instead, him, the one making the fart noises with his arm pit.'
Joe trudged home with his head hanging low.
'Don't worry Joe,' Dad reassured him. 'I'm sure you will meet him again, you didn't embarrass yourself.'
'I did. I only cared I left my smile at home when I couldn't smile for Ali-Greater, when really, you are the person I should be smiling for!'
'No.' Dad smiled. 'You should be smiling for yourself.' And Joe put his smile back on and never took it off again.