The intergalactic Dani's House duo talk about space, bathrooms and eating soup in zero gravity...
Dear Zang and Zark (or Zark and Zang), how good is the TV signal up there in space? It must be hard putting up that satellite dish with no gravity! Sophie (CrimsonShyBear)
Hello Earthling Sophie. We get a really good TV signal because we have the biggest satellite dish in the galaxy on the side of our spaceship. We were worried the neighbours might complain. Then we remembered we don't have any neighbours.
Hi Zang and Zark, if you could choose any human food what would it be? Jenna (RoseSpottyLettuce)
Greeting Jenna. Your earth food is quite strange. You have a thing called beetroot, which is a funny purple colour and tastes of mud. We like the food you call 'pizza' because you can put lots of different things on top of it.
Dear Zang and Zark, you say that dani's house is your favourite human show but have you seen any other human show??? (ApricotSwimmingWombat)
We watched a show called Blue Peter. It was good, but nobody on it was blue. Or called Peter.
Hi It's Holly! (LimeSweetUnicorn) Zang and Zark. Which human in Dani's House is the strangest or the funniest?
We love them all the same Holly, but Jack is very funny. We even zapped him up to our spaceship once!
If you had to spend a Christmas with any Dani's House character who would it be and why? (ZirconPancakeWolf)
What is Christmas?
What are space bathrooms like? Or don't you have one? (AgateNetballChicken)
They are as long as ten football pitches but only as wide as an actual football.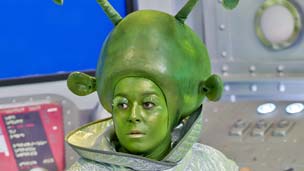 Hey Zang and Zark, What is it like in faraway space?  (CrystalChocolateCanary)
It's excellent fun. You get to shout as loud as you want because nobody can hear you!
Hi zang and zark, if you could come to earth and meet anyone in Dani's house who would it be?? p.s i think you are really funny and i love Dani's house too!!! Emily (RoseSuperZebra )
Hello Emily the Earthling! We might get to pay a visit to Earth to see Dani and her friends…but you'll have to watch the last episode to find out more about that!
Hello Zang and Zark my question to you is, when are your birthdays? If yes what was the best birthday present the other one gave to you? (BlueVioletWaterPanther)
Hello Panther. This is Zark here. My birthday is on the 237th of Octember and Zang's birthday is every Tuesday until the end of time.
Hi Zang and Zark! Have you ever had any accidents on the ship? If so, what happened? (LemonCricketGiraffe)
Well, we press the wrong buttons in the spaceship quite a lot. We don't actually know what half of them do. We did once open the main door by mistake and nearly ended up getting sucked into space!
Hi Zang and Zark. Living in outer space must be really cool and seeing stars, planets so close up and seeing the wonders of the universe must be great. But are there any ups and downs in living in space or is it just absolutely perfect? Love Megan (RedBlackDiscoCabbage)
Hello Megan. Sometimes having no gravity can be tricky. We can't eat soup, because it ends up on the ceiling. But space is a lovely place. You should come and visit us!
Hi zang and zark, do you ever get tired of watching dani's house? (JadeRockingPrimrose)
No, never! It's our favourite!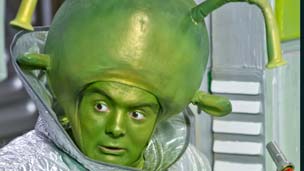 If you were a super hero instead of an alien what super power would you have? (BerylTeenyTiger)
Hmm. That's a good question co-ordinator Beryl. I'd like to be able to turn things to chocolate and Zang would like to be able to be able to make people breakdance.
HOW IS YOUR PET OCTOPUS? (CarmineDizzyOrchid)
Hello Carmine. Our pet Octopus is fine thank you. In fact, it is steering the ship while we type these answers.
Dear Zang and Zark, I tried meeting you in space last half term on that nice hot planet Mars. I didn't see you there. Strange. Anyway, have you seen my spaceship up there? It's the one that is shaped as a dancing banana and is hot pink. :P (BlackBassUnicorn)
Ah, co-ordinator Unicorn. Yes, sorry about that. We had a problem with our ship so we couldn't make it. I have seen your ship though. Very sporty. We're thinking of trading our old ship in and getting one just the same.
Dear Zang and Zark, What is your space ship called? i think it should be called Zank because it's both of your names put together! Xx from kiki! (LimeCoolElephant)
Hi Kiki. That's a very good suggestion. But the spaceship is actually called Kevin.
SapphireKeyboardMosquito - what is it like in space down here on earth we need to do boring homework, do you have to do homework?
We do. Our homework is watching Dani's House so we can learn all about you humans. You are very funny. Homework is the best way of learning things.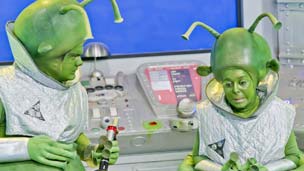 Question for Zark: What's your favourite restaurant in outer space
Question for Zang: Do you like to exercise?
(AzureBongoPeach)
Zark: Hello Bongo human. There's a restaurant just the other side of Saturn that serves excellent spaceburgers. You should try it.
Zang: Yes, of course. I do lots of exercise – that's how I stay in such good shape. Pear shape.
Have you ever been to Pluto Zang and Zark? (IvoryBigBanana)
Hello co-ordinator BigBanana. Yes, a few times. We have friends there. It's quite chilly though.
If you were a human would you be friends with Dani? (BlushDrawingBasilisk)
We hope so! We actually got to meet her…but you can see how that works out in the final episode. It was so exciting!
Related links
More Dani's House Articles