Broadcast & Communications BEng (Hons) Engineering Higher Apprenticeship – Industry Sponsored Degree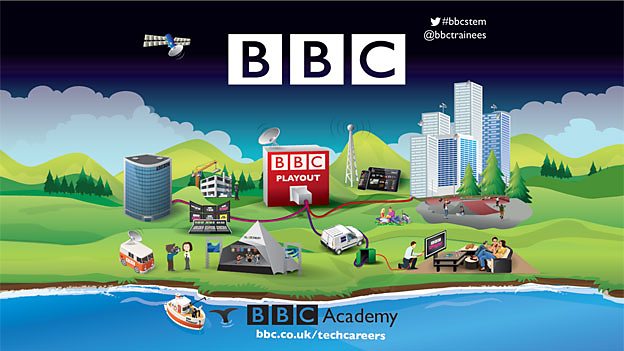 This scheme is now open for applications. You can apply here
Are you fascinated about the way things work?
Do you love solving problems?
Do you want an amazing experience, a salary, and get to go to university as well?
This is an exciting opportunity to get into the world of work, earn money, and gain a BEng degree.
The degree is fully funded, including your accommodation whilst at university.
Where: UK-wide (Belfast, Birmingham, Cardiff, Glasgow, London, Salford). Induction and training may be delivered away from base.
When: 34 month contract starting in September 2018.
What you need to apply: The scheme is open to anyone who is 18 at time of commencing employment in September 2018 (You can start applying at 17+).
You need a minimum of 120 UCAS (2017 Tariff) credits which must include maths and another science (or equivalent), or
120 UCAS credits undertaking a BTEC or City and Guilds Extended qualification in Electronics, Computer Science or other relevant technology based qualification.
During the interviews and assessments you will be assessed for maths and your technical understanding.
Salary: BBC Apprentices start on £12,500 (£17,015 including London weighting). There are annual increments.
Your degree
You'll study for a BEng (Hons) – with tailored courses in:
Computer networks, networking and IP distribution
Electronics, power and transmission
Software programming, application development and databases
Audio and video signals and systems, processing and encoding.
Through a series of university taught modules and industrial experience we will prepare you as the new generation of Broadcast Engineers to help build and support the future business. You'll develop an excellent theoretical and practical understanding of operational and technical systems and equipment and their use in the fast-moving broadcasting industry.
Your work placements
You'll have a main BBC base, but you will spend periods away on study.
To start with, you may be based in technical support teams, working on shift with teams responsible for fixing and maintaining studios and equipment. By the end of three years you may be working on special projects.
You will have the opportunity to work with not only the BBC, but also:
Arqiva
BBC StudioWorks
British Forces Broadcasting Service (BFBS)
BT
Dock10 Studios
Hat Trick Productions
ITV
STV – Glasgow
We're looking for people who love solving problems and seeing how things work. We're not looking for work experience but throughout the application process we'll be asking for evidence that shows your passion for technology.
As this is a degree scheme we need strong academic performance. The minimum academic criteria is at least 120 UCAS points (300 if before 2017), including a Maths A level or equivalent qualification or closely related subject.
Where could I go next?
The purpose of the UK broadcast engineering and communications sector is to design, create and manage broadcast systems in the production, post production and distribution of media content.
The broadcast engineering and communications sector encompasses a number of diverse and specialist job roles.
Broadcast and/or Communications/ Engineer
Junior Outside Broadcast Engineer
Project Engineer
Project Manager
Junior TV/Radio Technologist
Systems Specialist
Editing Support Specialist
Newsgathering Technologist
Spectrum Planner
Distribution Specialist/Manager
Broadcast Production Systems Specialist
Junior API Platform Developer
Database Systems Specialist
How applications work
You can start applying for the 2018 schemes from 1st November 2017 and applications will close in January 2018.
We do not accept CVs, instead during your online application you will complete a BBC Careerhub profile. You will need to provide a written statement of why you think you are suitable for the role.
If you progress to the next stage you will then be invited in for an assessment centre which takes place in Birmingham around March 2018 or earlier.
We aim to inform all candidates whether they are successful or not by end of March 2018.