Broadcast & Communications Operator Apprenticeship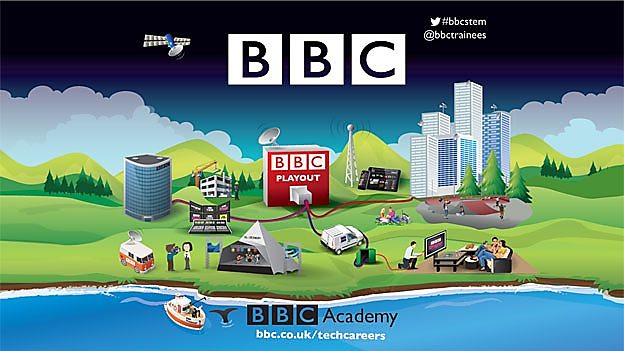 The BBC's Local and Regional Broadcast services are at the heart of communities across the UK; telling stories that matter to people close to home, on TV, radio, online and via our wider digital services. Many of today's media industry leaders started out their careers working on the BBC's local and regional programmes. Through this apprenticeship opportunity, you could be part of the next generation.
Working alongside our journalists and programme makers are a dedicated team of Broadcast Technical Operators who make sure our broadcast equipment and technology side of our business runs smoothly. This Apprenticeship is an exciting entry level opportunity to join the BBC in towns and cities right across the country; helping to sustain the reliability and quality of the BBC's services to over 300 million people worldwide.
Main Responsibilities
You will gain the following skills via a combination of classroom based learning at College (and with the BBC Academy) and via on the job 'learning by doing'.
On successfully completing this level 3 apprenticeship, you may wish to progress your career-path into the following specialisms:
Camera Operations/Floor Management
TV Vision Mixing
Radio Sound Operations
Technical Directing
Sound & Vision Editing
Network Monitoring,
Master Control Room Operating,
Support Technician
Shoot/ Edit Multi-skilled Operator
Media Managing
The Ideal Candidate
This apprenticeship is all about being part of the action; whether that's behind the scenes of a live broadcast in a studio, or behind the camera and knee deep in a muddy field. You'll be a fast problem solver and multi-tasker. You don't need to have previous work experience however we would love to see examples of transferable practical skills through extra curricular activities and volunteering.
We'll teach you the rest!
This is an apprenticeship role ideally aimed at school leavers. You just need to be over 18 at time of starting in September.
How applications work
You can start applying for the 2018 schemes from 1st November 2017 and applications will close in January 2018.
We do not accept CVs, instead during your online application you will complete a BBC Careerhub profile.
If you progress to the next stage you will then be invited in for an assessment centre which takes place in Birmingham around February/ March 2018
The BBC welcomes applications from individuals from all different backgrounds (i.e. social and cultural background, age, gender, disability, sexual orientation or religious belief).
The BBC welcomes applications from people with disabilities. For more information about the support we can provide during the application process and while you are on our new talent schemes please go to the Extend Hub.
We aim to inform all candidates whether they are successful or not by end of March 2018.