Production Trainee Scheme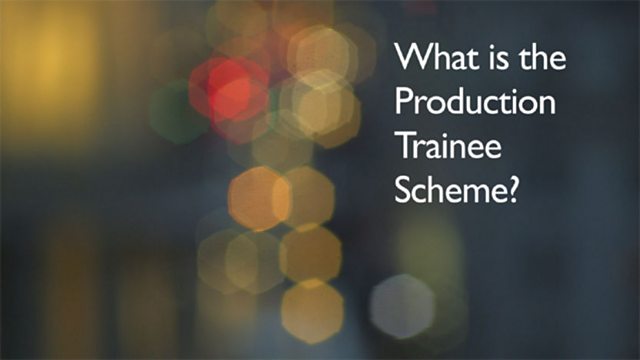 Applications for PTS 2014 are now closed.
To be a great Production Trainee you need to:
Be passionate about television, radio and online and keen to develop a career at the BBC
Be creative and have strong programme ideas
Demonstrate audience awareness and have the ability to critique the BBC's output
Have the desire to make great television and radio
Have the ability to work flexibly and move around to work in different BBC bases
Be a great team player and be able to muck in
We are looking for creative, passionate people with great ideas, but not necessarily people with academic qualifications or production experience. So don't talk yourself out of this great opportunity.
The Production Trainee Scheme is the BBC's fast track traineeship.
If you gain a place on the Production Trainee Scheme you will be given a 12 month contract, and during that time we'll train and develop you for a career in the media. You will be sent on three different work placements across the UK, in Radio and Television. You'll be mentored by a senior BBC Manager, and by the end of the scheme you'll have the skills to turn creative ideas into brilliant programmes.
Past placements have included Eastenders, Dr Who, Radio 1 Big Weekend, CBBC, Radio Scotland, The One Show, Woman's Hour, The Chris Evans Show, Radio 4 Documentaries, The Culture Show, Crimewatch, Coast and Dragons' Den - to name but a few.
To be a Production Trainee, you must be able to work flexibly. You will be required to move productions every few months, and spend at least one of your work placements in a BBC production centre outside London in Cardiff, Bristol, Belfast, Glasgow or Salford.
If you are interested in learning more about making programmes, visit the BBC Academy's College of Production website.
For up to date information on apprenticeships and trainee schemes please follow @bbctrainees on Twitter.
Latest tweets
Content from Twitter. Learn more about content from Twitter.