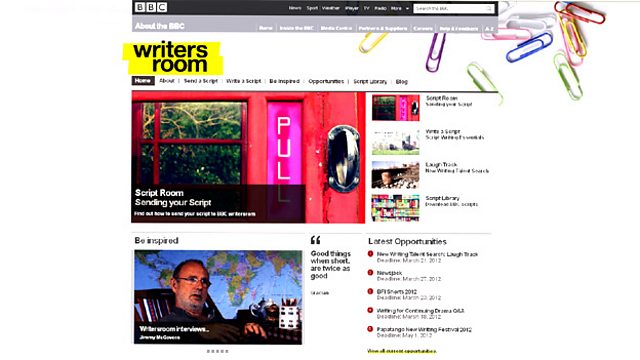 Writersroom website
Established writers talk about how BBC writersroom can help new writers.
We've improved our Opportunities section - where you can search for new writing opportunities from the BBC and beyond, and our Script Library - where you can read and download BBC TV, radio and film scripts.
The new site is the result of the hard work of a fantastic team. A big thanks goes to - our Developer/Technical Project Manager (and sometimes camera man!), Paul Thomson, our Producer/Project Manager, Neil Taylor, our design agency Kent Lyons (who also supplied all the original imagery on the site), the whole of the BBC writersroom team and all of the writers who allowed us to interview them.
Have a browse around the new site and tell us what you think - either here on our blog, or via our Twitter.
Stay tuned to the site during March as we'll be launching several exciting new opportunities for writers throughout the course of the month.  If you're interested in writing for comedy - don't forget that our Laugh Track New Writing Talent Search is open for entries until March 21st.