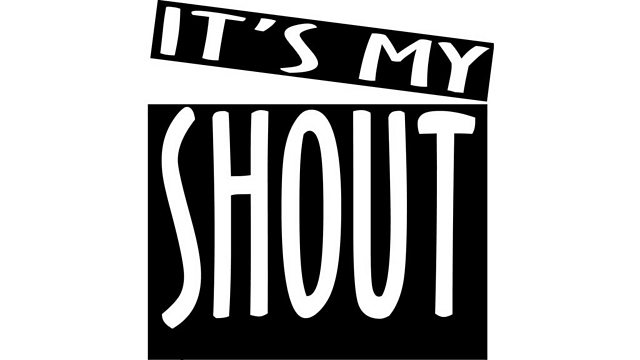 I have been a lecturer in Performing Arts for many years. Happy, fulfilled and inspired by my students. So much so that one particular project devised with the students four years ago about a girl with multiple personalities developed into a feature script. I thought I had struck gold. I thought I would be grasping my statuette and thanking God and my parents the following March at the Dolby Theatre. Was I in for a shock!
Learning to write a script is like learning to land a space shuttle. The only way to learn is to drill down and study. So for the next two years I immersed myself in Three Act Structure, Field, Snyder, Vogler, outlines, log lines, character development, beat-sheets and so on. Slowly but surely I honed my craft. However, as I live deep in the Valleys there are not many opportunities to network. Until one day I met Roger Burnell. His production company, It's My Shout Productions, gives people in the most deprived parts of Wales opportunities to train with industry experts in film production. This is done through a series of short films focusing on Wales and Welsh life. The series, 'Made In Wales' has been shown on BBC One and many other channels around the world, with two of the films winning Baftas. They were looking for writers as well as actors and technicians. I happened to be drafting a short about an autistic girl's flight from a devastating event. I wanted to experiment with the narrative, 'Memento'-style, to reflect the fractured nature of the girl's mind. Out of over two hundred scripts, 'Which Way Is Ireland?' was chosen to be produced along with eight others.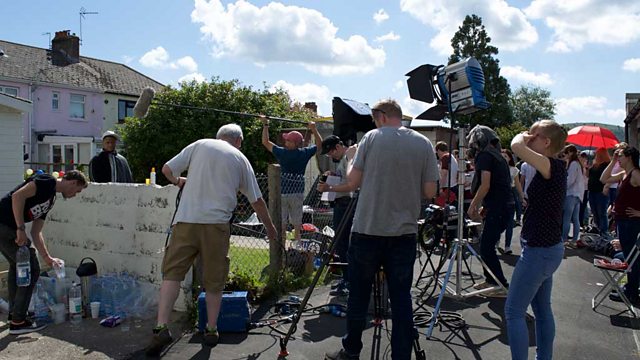 It's My Shout - filming
Suddenly I was on the other side of the looking glass. The development process, the re-writes, the creative differences, casting, production meetings, location scouting, financing. I had read and read but never believed it would happen to me. I had to bring all that reading into sharp relief and act as though I knew what I was doing.
The first meeting was at BBC studios in Cardiff with the director, the producer, the location manager, the line producer and the advisor on script development, Gert Thomas, who is senior script editor on Casualty and Holby City.
No pressure.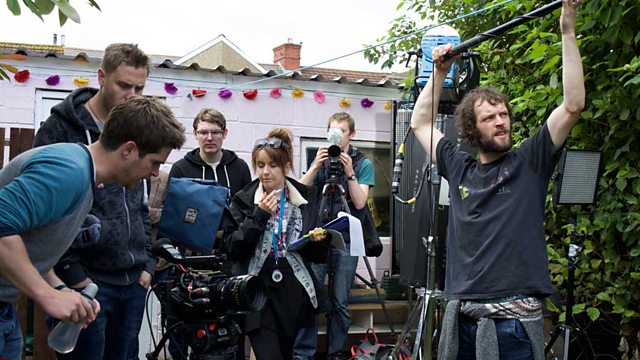 It's My Shout - filming
The first thing that struck me was ownership. Again this is something I had read about time and time again. It's my script therefore I should have control over the characters and the story. OR SHOULD I?! Within minutes it was clear that I had put my baby up for adoption and the new parents were going to raise it in a different way to how I saw it evolving. It was a feeling that no amount of reading could prepare me for. This was, of course, going to be my first film, my calling card. How much was I prepared to compromise? Do I risk alienating these nice people and therefore labelling myself as 'difficult'? By the end of that first meeting, the structure of the story remained intact but the dramatic thrust was evolving. It was a case of grab onto the rail and hold on tight!
In the end I loved the version of the script that was shot. The biggest hurdles were budgetary. Day instead of night. No rain. No dog. And never, never write a car splashing a character with a big puddle of water! All these considerations forced my creative juices to flow around the problems. How to retain the same sentiment without a barking dog. And all under time constraints. Re-writing is a skill just like writing. If you can anticipate as much in your early drafts as humanly possible you can save so much time later.
General rule is that the writer does not go on set while filming. That was the rule with It's My Shout. But I asked could I go on set and promised to behave myself.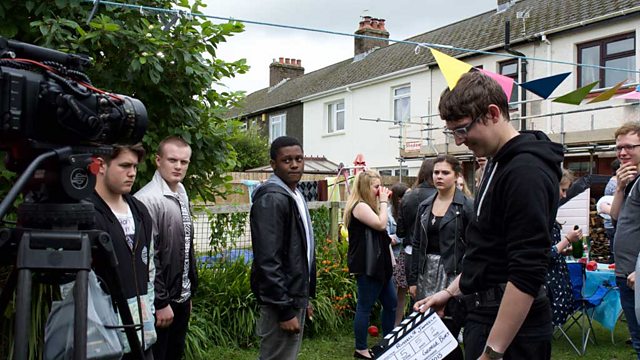 It's My Shout - filming
The shoot took place in North Wales on location and in studio. I deliberately stood well away from the action and was graciously accepted by the director and producers. I never felt the urge to interfere. Seeing the choices that the director made during the rewrite stage come to fruition during the shoot, reinforced my belief that the writer is one small cog in a great machine, and that each cog has its place.
I loved every minute of the shoot and realized I didn't need to go on a set again as a writer other than brief visits, as everyone knows what they are doing and there is no place for the writer. I strongly recommend every writer should go onto a set of some kind at least once, to see just how much work is involved and how hard all the fantastic people work in bringing to life a world which they all now share.
'Which Way Is Ireland?' aired on BBC Two Wales in November 2015 as part of the 'Made In Wales' series. I attended a red carpet premier and awards ceremony for the trainees in early November at the Wales Millennium Centre along with over two and a half thousand other people, including the first minister Carwyn Jones and stars of Welsh TV and film. It was wonderful watching my film on the big screen with my family and friends.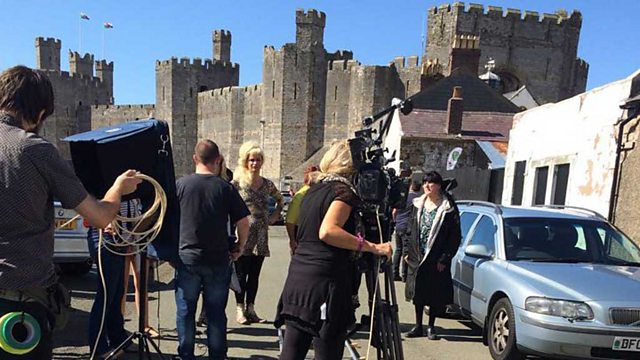 It's My Shout - filming