Writing the "Marvellous" life story of Neil Baldwin
Editor's note: Marvellous is a new film about the extraordinary real-life story of Neil Baldwin - a man who refused to accept the label of learning difficulties and confounds all expectations. It will be on BBC Two, at 9pm on Thurs 25th.
Marvellous, BBC Two: Toby Jones as Neil Baldwin
I was sitting in rolling fields in brilliant sunshine outside Stoke On Trent. An unlikely sentence, I know, but it gets unlikelier. A few yards away the industrious hum of film making could be heard. Sitting next to me was Neil Baldwin. He had an oversized clown's shoe on his lap which he was signing for a charity auction. So did I. I wasn't sure who the clown's shoe was for but Neil seemed in no doubt it was for something important. It was then I realised that I had spent two years gently preparing Neil for entry into my world of scriptwriting, filming, editing but what had actually happened was that he had willed me and an entire film crew into his world. It is what Neil does.
I first encountered Neil Baldwin through a newspaper article in the Guardian. A man tagged at school with the "learning difficulties" who then went on to become a Circus Clown, Lay Preacher, unofficial student greeter at Keele University and Stoke City kit man. 
Watch the trail for Marvellous
Patrick Spence (our Executive Producer) and I went to visit Neil at Keele University and two things stood out from that first visit. Firstly, the protectiveness of those around him, the students who were members of his football teams to the dinner ladies in the refectory, the Vice Chancellor through to the University Porters. Secondly, that nobody seemed in the least surprised that Neil was going to have his life story made into a film. In those early days Neil used to introduce us as, "The BBC, doing my life story." And nobody batted an eyelid. If anything they seemed bemused that it had taken so long for the BBC to come calling. Neil and I chatted over a few months. He was open about his life, the good and the bad - and his relentlessly upbeat philosophy. I spoke to his friends, friends of his Mum, and members of the Church to try and piece together a narrative that was both Neil's and mine.
When you mention Neil to anyone who knows him the anecdotes come pouring out. Lou Macari, Malcolm Clarke, Vic Trigg, people who have been involved with Neil for decades, delighted in explaining how Neil went about his life but also delighted in trying to work out how he does it.
 
But, as we all know, anecdotes aren't story. I liked Neil a lot but wasn't sure how the drama was going to work. Then he got out one of his many scrapbooks and I saw that his fluid and open ended attitude to living - making his life read like a fantasy and making his fantasies become his life - invited an unconventional structure that reflected that. It was Julian Farino, our wonderful Director, who suggested a scrapbook rather than a linear narrative was the right form for this film.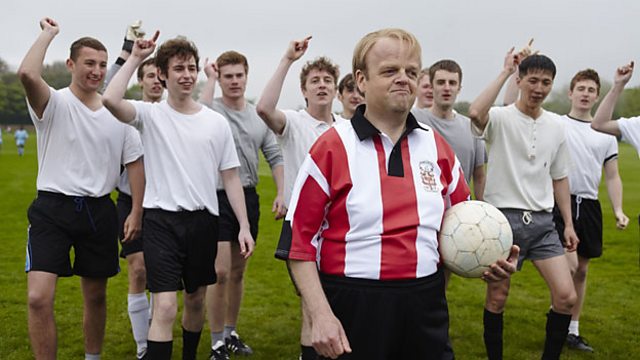 Marvellous, BBC Two: (front centre) Toby Jones as Neil Baldwin
So the form - which surprisingly hasn't been much mentioned - dips in and out of conventional narrative realism. We have a chorus in the form of a choir and ukulele orchestra that, to reflect the inclusive nature of the film, is a combination of three choirs including one from Hanley - the M.Y. Inter Theatre Choir - for adults with disabilities. The choir itself I invented and called the Neil Baldwin Orchestra. At first they standalone as a chorus but they are slowly integrated into the story and then the fictional Neil actually joins their ranks.
To those Brechtians amongst you (and I'm sure there are many) the exposure of the means of production within the production will of course be a familiar trope. I actually borrowed it from Lindsay Andersons' forgotten classic, "Oh, Lucky Man" where Alan Price appears in the recording studio with his band to provide the soundtrack. There was something about the visual impact that I liked, and, as I said already, it seemed to complement the intersection of fact and fiction.
Similarly, the real Neil Baldwin appears from time to time to have a chat with the fictional Neil Baldwin played by Toby Jones. As does Lou Macari who appears in scenes with Tony Curran playing Lou Macari. Confused yet? More confusing still, occasionally the real Lou Macari and the real Neil Baldwin appear together to confirm the veracity or otherwise of certain moments. I borrowed this device from a wonderful film called 'American Splendor' the biopic of comic book author Harvey Pekar. Again, it seemed to me to emphasise the disconcerting truth about Neil's life, that the more unlikely the story he was telling you, the more likely it was to be true. So occasionally I have Neil appear to tell the audience that something that was just in the film didn't happen that way. To act as a chorus, if you like, on my work, pointing out my lack of reliability as a chronicler of his life.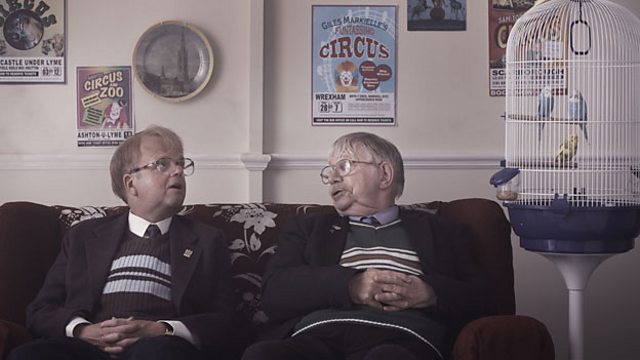 Marvellous BBC Two: Toby Jones as Neil Baldwin with the real Neil Baldwin
If all this sounds like it may be disappearing up its own self-reflexive fundament then fear not. Marvellous is heartwarming, optimistic, funny and I hope celebratory. In the hands of the genius that is Julian Farino we managed to produce something that was adventurous in form while having a big heart. It's a tribute to both Julian and his team and Katie Swinden, the Producer, that they embraced the nature of the piece and made it their mission to deliver a film that, like Neil, takes on the world very much on its own terms.
Marvellous programme page – Watch clips, read interviews and find out more about the film.
BBC TV Blog - Q&A with Lou Macari (former manager of Stoke City FC) on contributing to the making of Marvellous, and seeing himself played by Tony Curran.