Seeing my script being filmed and brought to life on the set of Fright Shorts
I don't think many people consider that writing a script for the BBC could lead to you searching Google Maps for where to find "Rubber Johnnies", but that's exactly what I found myself doing one morning in late September; and my search suggestions have never been right since.
Perhaps I should explain.
I'd written a script for BBC Writersroom's Fright Shorts, where six writers from Northern Ireland got to have their Halloween-themed comedies produced for BBC iPlayer (Martha, another of the writers, has written a great blog about the development process). My story, "Costume Drama", was set in a fancy dress shop, where the employees are confronted by some supernatural visitors with a complaint. We were lucky enough to film in a working fancy dress shop in Belfast, and that shop happened to be named Rubber Johnnies. (As this is the BBC, I probably should point out that other fancy dress shops are available, though few have such, er, memorable names.)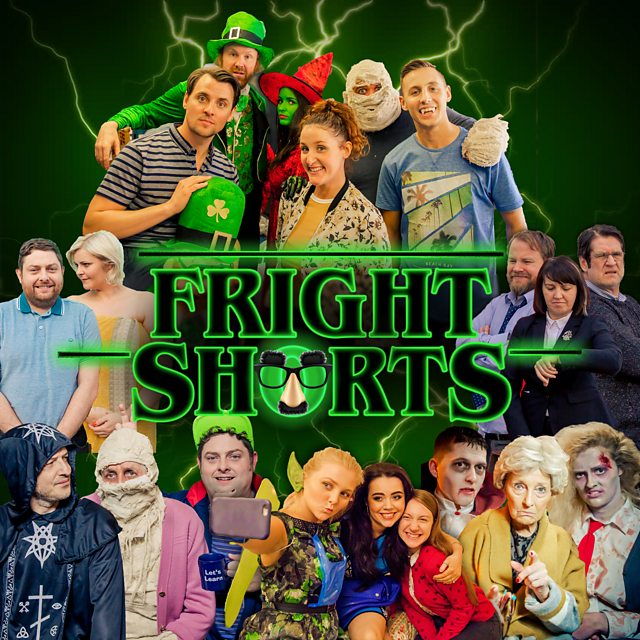 The crew – assembled by Belfast-based start-up Nice One Productions, in partnership with Retort – had the unenviable task of filming all six shorts in six days, and my script was the final one to be filmed. Given the large amount of work, the short amount of time, the many moving parts and many moving people, it would have been understandable if the production team had asked the writers to just leave them to it – but each writer was invited to visit to their shoot, as long as we followed an important rule: no meddling!
The shop was a hive of activity when I arrived; the crew had been filming since 8am. Downstairs, actor David Elliott was being wrapped in bandages (he hadn't been horribly injured, he was playing a mummy) and having his eye make-up applied. Upstairs was no different. Director George Kane and a producer were having a discussion on the stairs, while the sound recordist was tucked into a small nook on the landing behind his equipment. On the first floor, the assistant directors, camera assistants, director of photography, lighting gaffer, and actors were moving amongst the masks and costumes, getting ready for the next shot. In a connecting office, producers sat by a monitor, while another make-up person put the finishing touches to actor Karen Hassan's impressive witch make-up. I had two thoughts when I saw this: first, that it looked great (when you casually write that a character has green skin, you never know if and how it will work out); and second, that it was going to be a pain to scrub off. There's always a human cost. (Sorry, Karen.)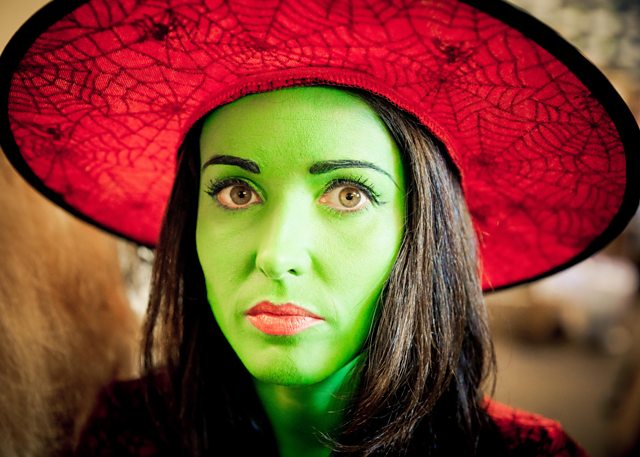 Costume Drama by Dave Kinghan with Karen Hassan as Witch
All in all, there must have been more than 25 people working in this reasonably small space. I'd been on sets before but had forgotten quite how many people it takes to make even a short piece of film or television, and everyone had their own individual job to do that was vital to the production. Well, apart from me. My job mainly seemed to involve getting in people's way, and I was sure that at some point someone was going to ask just who I was and what exactly I was doing there. Luckily, Executive Producer Keith Martin was on hand to introduce me, and I was genuinely delighted and impressed that everyone there, though busy, under pressure and tired at the end of a six-day shoot, was friendly and welcoming to someone who was literally just taking up space. They all chatted away, made sure I was ok, and despite my many neuroses, made me feel like I belonged.
But my abiding memory of the day must be walking into the office and seeing comedian and actor Jason Byrne sitting dressed in full leprechaun gear, which was both as funny and unsettling as I had hoped it would be. Jason only had three lines, as his part was basically a cameo, but he gave them his all and added his own spin to each one – and was kind enough to ask me if this was ok beforehand. I had no problem with this, and was only hesitant because of the "no meddling" rule, as I didn't want the finger pointed at me if the director asked, "Who the hell told him to say that?" But Keith was there to check with and make sure that things wouldn't go completely off-piste. Of course, as you would expect from a seasoned stand-up, his additions made the lines much funnier. I'd love to tell you I wrote better jokes than Jason Byrne, but it won't be today.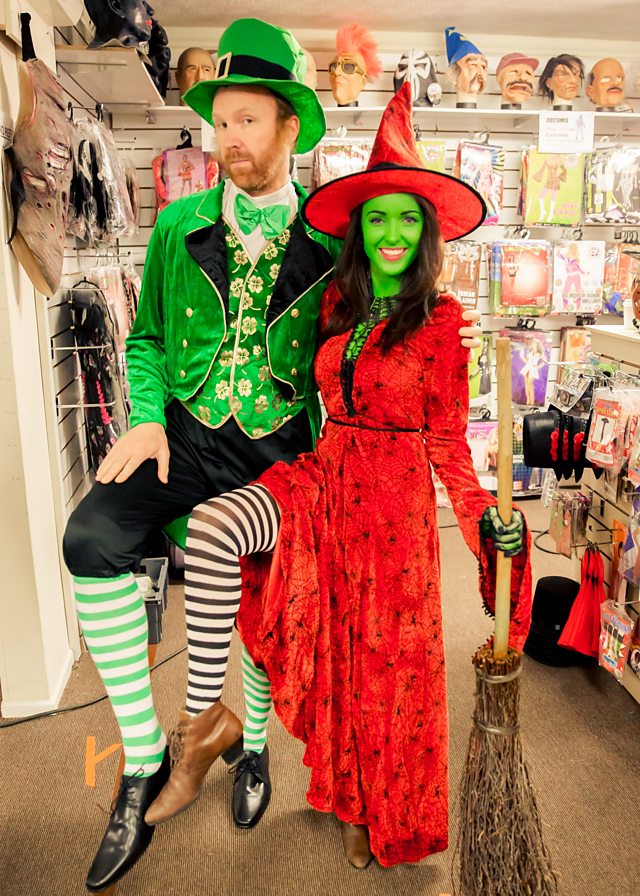 Jason Byrne as a Leprechaun with Karen Hassan as Witch in Fright Shorts Costume Drama
All the cast were brilliant – in addition to Jason, Karen and David, we had Bronagh Waugh, Peter Campion and Shane Todd, and they all did a great job of breathing life into their characters, even though some of those characters didn't breathe and weren't alive (and also, in the case of the mummy, could only communicate with groans). One of the things I love about being on set is watching what the actors bring to their roles; it's almost always different and almost always better than what you envisioned when writing.
Some common questions you may get asked when you're fortunate enough to get your writing produced are, "What's it like to see your work come to life?" and "Is it how you imagined it?" And, for me, the answers are usually, "It's amazing" and "No, it's not how I imagined, but that's great." By the time it gets to production, you've hopefully done your best to make the script as good as it can be, and now it's time to turn it over a new set of talented people to see what they do with it. Things will always change, bits might be added to make things clearer, or cut for time or practical reasons, but everyone is working to make the best possible version of the story. It's a process that, while sometimes challenging, is one I enjoy and is always rewarding.
Filming continued until around 7pm, with everyone involved doing a magnificent job getting through what I believe was quite an ambitious script to be filmed in one day. The crew weren't even distracted when the BBC's Controller of Comedy Commissioning and the Comedy Commissioning Editor for London and Scotland dropped by on their way to the airport to see what was going on. It was quite surreal to see them huddled with the producers around the monitor, squeezed in next to shelves filled with boxes of various fancy dress items, watching something I'd written be filmed. My only disappointment from the day is that, despite everybody present having phones on them, not one person managed to take a photo of these very important BBC executives sitting right beside a cardboard box marked "Fetish". I'm sure the Daily Mail would have given you at least a pound (though probably an old one) for that. Oh well.
As the last shot was completed and the day declared a wrap, everyone applauded – pleased to have finished not only that day's shoot, but the six-day block filming all the Fright Shorts. I'd had a great day too, watching all the many different elements and people come together to make a shot, then a scene, and finally a story. It's an experience that I thoroughly enjoyed, and perhaps, if I'm lucky, I might get to do again in the future. (Probably need to watch it with the fetish jokes about BBC comedy commissioners though. Another sitcom idea down the drain.)