I recall a Controller of BBC1, when hearing I was working on a science-fiction series, advise: "Don't bother with that. You want to do a cop show or a medical drama." He probably had something fairly conventional in mind. In a recent post on the Guardian website, Mark Lawson wrote that viewers are entitled to fear there can be nothing new to say or show about the police.
A few years ago, having been hooked on The Shield, I became taken with the idea there was a way to do the cop show that broke the mould in the way my medical dramas had, most recently Bodies. My first, Cardiac Arrest, had been produced by World Productions. Long after that series ended, they kept inviting me back to their Christmas parties. Over a number of these parties, two maybe three, I discussed the idea of a cop show with World's Creative Director and fellow Brummie, Simon Heath. World have an admirable track record in this area – The Cops and Between the Lines to name but two. We agreed that, like the medical drama, the cop show was a crowded genre. But, paradoxically, that would make it feel a safe choice for commissioners. The trick would be to get them interested in a series that dealt with the dark underbelly of policing. Ostensibly, this seemed possible, given there have been successful series in the past (as opposed to medicine, where it's hard to come up with any). This all happened about three years ago. 

Recent controversies inspired my thought process, the most vivid being the death of Jean Charles de Menezes. Amid the noise of pro- and anti-police propaganda, I saw a precinct drama. It took guts for those firearms officers to enter the tube train. They genuinely believed de Menezes was a suicide bomber. They got within a few feet of him fearing he could blow them to bits, but they did it anyway, to protect the public. But at the inquest the police didn't trust the public to judge them fairly. The coroner even referred to the lies of two police witnesses. It took guts for those officers to board that train, guts most of us don't have, and they deserve our respect and admiration; but the lies dishonoured the service. This dichotomy made me realise it's possible to have contrary opinions about the police even in the context of a single event. And this is the way to create a precinct drama that plays with the audience's empathies. They can root for the hero and they can root for the villain, because ultimately the difference between the two can boil down to a couple of bad decisions.
I didn't want to do a police bashing series. As in my medical dramas, I wanted to explore how decent people, who generally enter public service for idealistic reasons, could somehow slip off track and commit misconduct, even commit crimes. In the past, corrupt officers were on the take. Now that's relatively rare. Corruption as it exists today leans more towards so-called process corruption. And in many cases it results from a miasma of cynicism circulating round the processes of law enforcement. 
Our research revealed that modern policing is a far cry from the familiar world of most police dramas. Police procedures have been transformed by a target culture that dictates which crimes get investigated – and which don't. Forces across the country routinely drop one in three reported crimes to concentrate on cases that can be solved within a workable timeframe by workable manpower. Temporary initiatives prioritise certain offences; once targets are met, these offences are downgraded so resources can be directed towards meeting the next initiative. Meanwhile whole departments are dedicated to monitoring these fluctuating crime figures. These revelations provided the perfect setting for a thriller, the less familiar precinct wherein the police police themselves.
In 2009, we took the idea to Patrick Spence at BBC Northern Ireland. Patrick liked the idea and commissioned a pilot script. Work on the pilot script took about six months. There were a good number of drafts and polishes, but only one major change during the development process. It was felt the piece would be more original if it dealt less with conventional organised crime and more with white-collar crime. (This led to the creation of the character of Jackie Laverty, played by Gina McKee, the mistress of the cop under investigation, played by Lennie James.) Ben Stephenson, Controller of Drama Commissioning, approved the pilot script in early 2010 and in December we got the green light for production of five hours for BBC2.

The remaining scripts were written in the first half of 2011. By then, Stephen Wright had succeeded Patrick Spence at BBC NI. Stephen and Simon were the executive producers and Kirstie Macdonald was the script editor. We also involved various police officers, mostly retired, as technical advisors.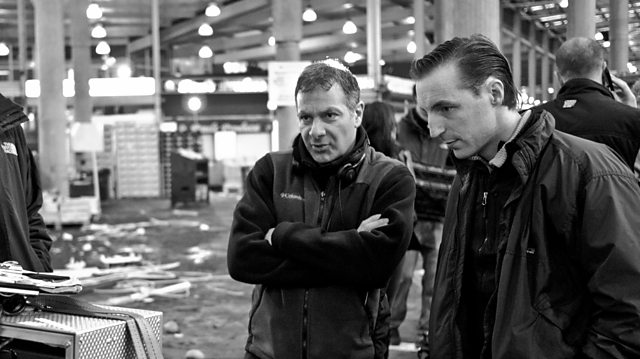 Jed Mercurio with Line of Duty's Director of Photography, Ruairi O'Brien.

I would deliver outlines to the production team and receive their notes before moving on to the first draft of each script. The outlines were usually about 5 pages long and would list each major event/scene of the episode. I took the approach that the series should be written in a way that closely modelled how the audience would watch the series. Therefore, when I was working on, say, Episode 3, I wouldn't reveal to the team what happens in Episode 4. Episode 3 would have to work in its own right. It couldn't be slack or slow with the excuse that things pick up in the next instalment. Once the scripts were in good shape, we sought further technical advice and legal advice.
In real constabularies, the relevant department that is the subject of Line of Duty is called Professional Standards. However, Line of Duty is set in a fictional anticorruption department, AC-12, in order to prevent any unintentional resemblance to actual units, cases or individuals. Furthermore, although the series was shot in Birmingham, it's set in an unspecified British city; nor is the constabulary ever named. One of the most pleasing aspects of the production was to shoot in locations familiar from my med school days. It was a strange feeling, filming a night scene in Selly Oak High Street with a television crew and famous actors in tow, when twenty years ago at that time of night I would've been stumbling around in search of a kebab.
AC-12 is headed by the zealous Superintendent Ted Hastings (Adrian Dunbar), who recruits Detective Sergeant Steve Arnott (Martin Compston), veteran of an ill-fated counterterrorism operation (the de Menezes connection). Arnott took an ethical stand against colleagues who wanted to conspire in a cover-up. Ostracised as a result, Arnott is seen by Hastings as the perfect candidate for anticorruption work. AC-12's target is the gifted, charismatic Detective Chief Inspector Tony Gates (Lennie James), whose unit returns the best crime figures on the force. Gates appears to be an exemplary police officer, but Hastings is convinced Gates' results are too good to be true (the process corruption connection). Over five hour-long episodes, Arnott and Gates become embroiled in a cat-and-mouse thriller. Every time Gates seems cornered, he finds a way to turn the tables. But all the time he's digging a bigger hole for himself, plunging irrevocably into a moral abyss.
Police counter-terrorism officers have been involved in a surveillance operation on a suspected terrorist cell.
Line Of Duty is first and foremost a thriller. But I hope it will also be seen as a revisionist commentary on 21st century policing. I have a lot of respect for our police forces. They are generally honest and effective. However, I also think that, as an institution that's undergone such radical changes in its practices over the last decade, the police shouldn't be above being examined in a serious drama.

Although it's written in serialized form, Line of Duty is conceived as a returning series. The format would be that the story of the police officer under investigation resolves by the end of the series, but that the anticorruption team return in a second run to pursue another high-profile antagonist.
Jed Mercurio is the writer and creator of Line of Duty - a brand new 5 episode thriller airing on BBC Two on Tuesdays at 9pm.  Watch Episode 1 back on BBC iPlayer.
You can now download the script for Episode 1 of Line of Duty from our BBC Script Library.
Comments made by writers on the BBC writersroom blog are their own opinions and not necessarily those of the BBC.