When I explained to my family that I had been invited to join the BBC Writersroom some thought it was actually a room, somewhere within the BBC, where we would all hang out on sofas eating vegan croissants, drinking tea and discussing characters. If the room did exist, then my idea of it would be a dimly lit bat-cave in the basement with a secret entrance via the Doctor Who Tardis in BBC Broadcasting House reception, (someone should definitely look into making that a thing).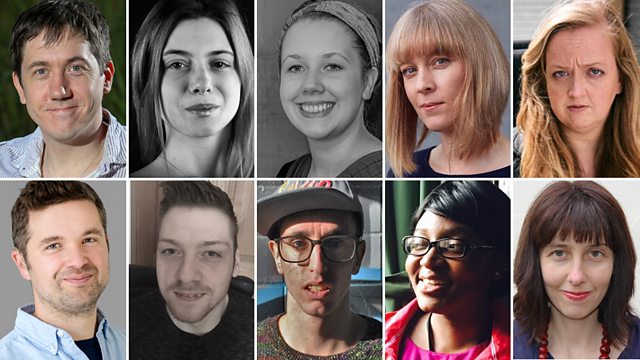 The 10 writers in the Writers' Access Group including David Proud (top left), Amy Bethan Evans, Rebekah Bowsher, Sophie Woolley, Athena Stevens, Charlie Swinbourne, Michael Southan, Ross Willis, Matilda Ibini, Nicola Werenowska
I fell into the industry thirteen years ago as an actor in a CBBC Drama called Desperados and made my way to the BBC Writersroom via EastEnders' Albert Square, playing a bad boy in a wheelchair with a very dodgy haircut. Along the way I became obsessed with storytelling and bringing a more authentic portrayal of disability to scripts. So, thirteen years later I sit in the Writers' Access Group writers' room (not a bat cave), drinking tea (Earl Grey) and eating biscuits (not vegan croissants). I am surrounded by hugely talented disabled writers and we are treated to two days of an utterly brilliant BBC Drama workshop.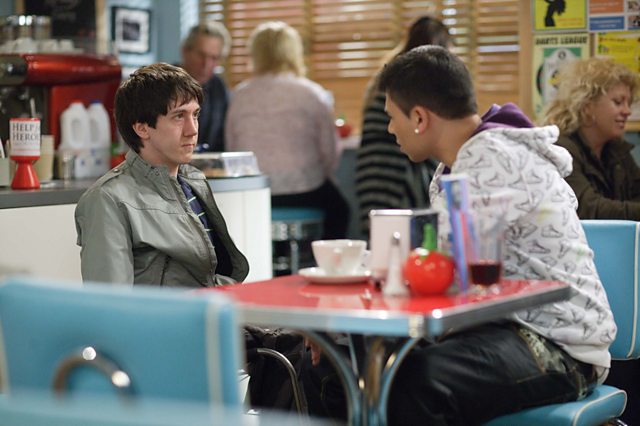 David Proud (l) in EastEnders
Day One:
Script Editors Danny Takhar and Clare Batty negotiated the disruption on the Victoria line to come and introduce themselves to the group. Each member of the Writers Access Group (WAG) will be paired with a script editor to work together over the coming months. It was great to chat over and find out more about the relationship between writer and script editor.
The group were then treated to a talk by Simon Harper the Executive Producer on Holby City and Casualty. By the time Simon left I think everyone wanted to write an episode of Holby or Casualty just to be able to work with him, he was so lovely and spoke so nicely about the collaborative nature of writing for continuing drama.
Our last session of the day was with Roanna Benn and Kirstie Swain discussing the new series Pure on Channel 4. We learnt about the producer–writer relationship and how it evolves during production. It was clear to see why Pure is so utterly brilliant, the offscreen dynamic of the creative team sparkled as much as the show does.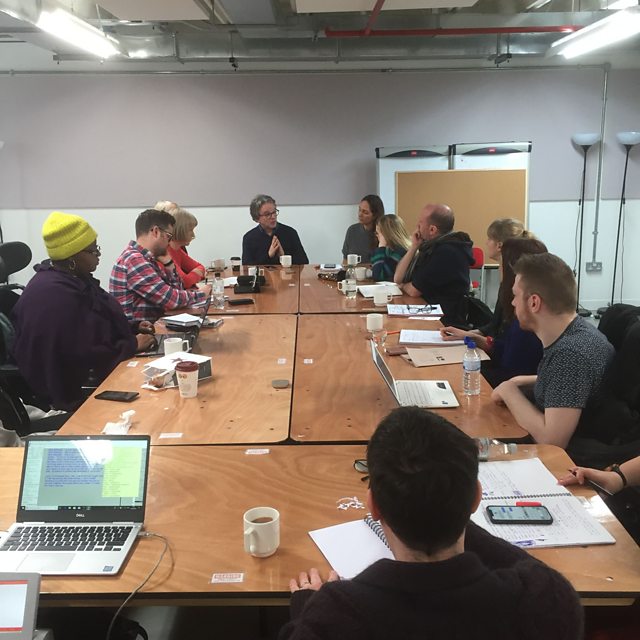 Frank Spotnitz with the Writers' Access Group
Day Two:
Still on a high from the day before we rocketed into an amazing session with Frank Spotnitz who explained how every episode of the X-Files was developed. I immediately purchased a cork board, some sharpie pens, index cards and pins, my storyboarding game was raised! I could have listened to Frank talk about the craft all day, what a lovely man.
Next up it was time to meet Ben Irving and Liz Kilgarriff from BBC Commissioning. Hearing about writing from their perspective was eye opening, to know just how many projects they are pitched a week. As a group we bombarded them with so many questions and they were very generous with their time and experience.
Last but no means least was Marco Crivellari who spoke to us about Factual Drama commissioning. Having worked on a great number of hard hitting projects including Murdered by My Father it was interesting to hear how those projects are tackled and how the story is developed and formed.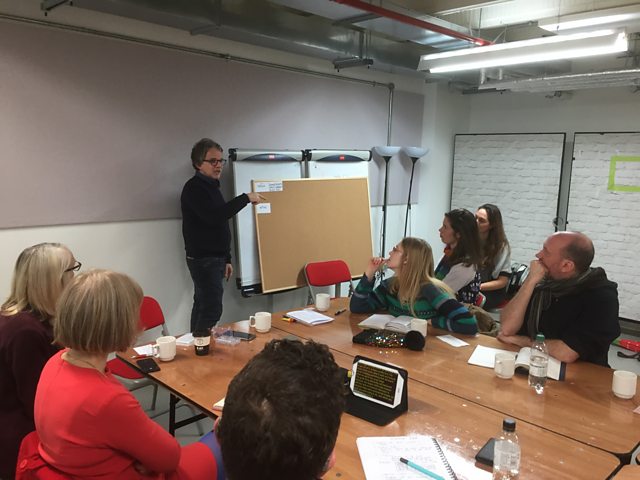 Frank Spotnitz explains the US writers' room system used on shows like the X Files - breaking down the story's beats and acts on a cork board using cards.
We rounded off the two days having a chat about how we are all finding the Writers Access Group. Bringing together a group of disabled people with differing needs is not easy, it is one of the reasons as a minority we are often fractured and isolated. I am always amazed at the magic that happens when a group of disabled people are brought together, that collective understanding and ambition is like an energy you can feel in the room. I am so grateful to the BBC Writersroom team, Anne Edyvean (Head of BBC Writersroom), Charlotte Moore (Director of Content for the BBC) and Piers Wenger (Controller, BBC Drama Commissioning) for championing the voice of disabled writers. The door of opportunity has to be opened a little wider to allow for disabled access, thank you to all those at the BBC who are kicking it open for us.
If the writers' room bat-cave idea does happen I will of course see you all there, we will take it in turns to bring the croissants.
Follow David Proud on Twitter
Follow David Proud on Instagram