John le Carré's novel The Little Drummer Girl comes to BBC One as this autumn's big new drama for Sunday evenings following the success of the adaptation of The Night Manager. We spoke to writers Michael Lesslie and Claire Wilson about their careers and how they approached adapting the novel for the screen.
Watch the trailer for The Little Drummer Girl
Can you explain a little about how you got started in script and screenwriting? Did you always have a desire to be a writer even as a child or was there a moment or catalyst when you thought 'I could do this for a living'?
Michael: I was always into theatre and film and watched loads of films and was in school plays so I knew I wanted to be in that world and making stories on stage or screen. The most visible entry point to the world is acting so I acted for a bit. When I was 15 or 16 I started writing plays because then you don't have to rely on other people and you have total control. Anyone can do that, it's very democratic in that way.
I made use of the amazing service at the National Theatre and sent in a play and they called me in and basically said "this is a terrible play but it has something, do you want to read other terrible plays that we get sent?" I did that for a couple of years and that was a real lesson in having to articulate what makes a play work and what doesn't. After that I took a play to the Edinburgh Fringe. Then when I was at university Patrick Marber was a visiting drama chair. I submitted a play to him and about six months later he called me in and said "this is sh*t' but I will teach you how to be a writer". He mentored me and we went through this play – I'm talking total rewrites - for example him saying "the protagonist isn't your protagonist".
Claire: I guess I've always wanted to be a writer, although probably not consciously for the first couple of decades of my life. I put it to the back of my mind while I daydreamed through my GCSEs. In my early 20s I started making short films while juggling three jobs. Because of that I wanted to go to film school but couldn't afford any in the UK so I looked internationally and ended up going to Vancouver. I came back from there with the confidence to try and make it as a writer and starting sending off scripts - getting the inevitable 30 rejections. I entered a script into the Bafta Rocliffe opportunity and got through the first rounds. Although my script was pulled apart in a rehearsed reading, fortunately one of the readers happened to be an agent's assistant who really liked it and from that I got signed by an agent. That script went on to be optioned.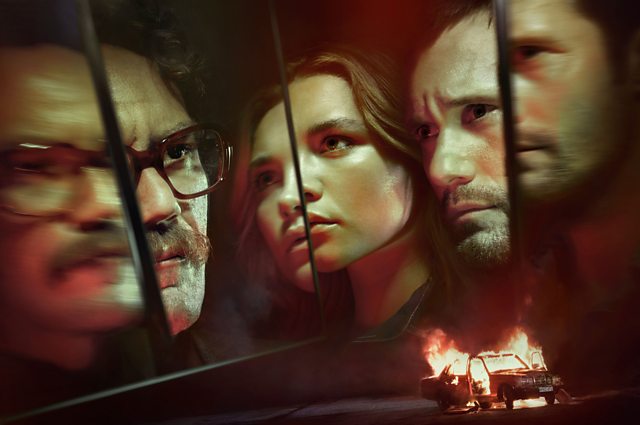 The Little Drummer Girl
What was your first break into writing professionally and your first commission?
Michael: Because I'd carried on doing script reports I got commissioned by the guys I'd been doing them for at the Donmar (who'd set up their own production company) to adapt the film of Swimming with Sharks for the stage. I think they asked me because it was for a small amount of money, they knew they could get me cheaply!
Claire: Well the first thing that actually got made was Partners in Crime which was made by Endor Productions for the BBC. It came about accidentally after knocking on doors for ten years. I was working at Endor on a different project and had built up good relationships there so they mentioned they had a BBC commission which involved writers working on blocks and they thought I would be good for the project and recommended me. It was a sped up process – 8 months writing to shooting, very stressful but very satisfying.
Claire, were you involved with a BBC Writersroom development scheme at one point – what did that involve? Was it a useful experience?
Yes, through the BBC Writersroom I was asked to go on a BBC Three New Generation Writers residential workshop. We were sent away to the country at Bore Place down in Kent - I remember Lucy Kirkwood was part of the group. I think the BBC has always been great at nurturing new talent. They wanted us to come up with the next big BBC Three show. I got paired with Gabriel Bisset-Smith and we developed our idea with Kate Rowland and Paul Ashton who were at the BBC Writersroom then. It went around for about a year and although ultimately it didn't go forward I formed lots of relationships and learnt a lot about writing at the time.
Mike, reading an interview with you from back in 2008 when you were 23 you seemed to have achieved an incredible amount. To what would you attribute that early success? Have there been any bumps along the way and how did you pick up from them?
Michael: Of course there have been bumps along the way. I was working as a screenwriter and playwright for several years before getting anything made. That can be incredibly dispiriting. It makes you feel like a fraud and I found that really tough. I used to think it was easier in theatre but I don't necessarily think that's true now. It's quite easy to lose heart and lose faith. I think the constant rejection and endless rewrites or dealing with variables like the fact that projects will only happen if x person signs on as an actor or director is incredibly hard. Sometimes if you are going through a development process you can lose objectivity. You kind of end up at the beck and call of a Development Executive so it's very important to take a step back. I would say you've always got to keep trying. There are stories of people who have written 100 scripts and the 101st gets made. There's no doubt it's a cruel process and even the biggest writers still feel the pain of passion projects that didn't get made.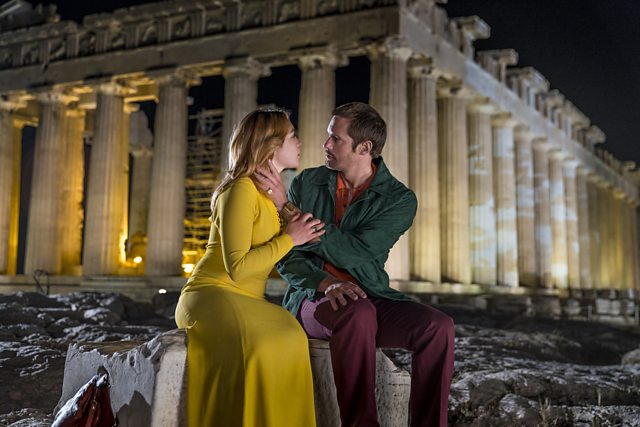 Charlie (FLORENCE PUGH), Becker (ALEXANDER SKARSGARD) in The Little Drummer Girl (Image Credit: BBC/Ink Factory/The Little Drummer Girl Distribution Limited. Photographer: Jonathan Olley)
Have you both written for theatre, film and TV and how would you explain the differences from a writer's point of view?
Claire: I've also written for films – I've just finished on one directed by Sarah Gavron which I co-wrote with Theresa Ikoko. It's set in London using non-actors and is about teenage female friendship. I've worked across TV and film with several scripts optioned. I've not done long form theatre but I have written short plays and monologues which have been performed at festivals.
Mike: There's definitely a difference with writing for stage. With stage the words create the world. One of the things I try and remember with stage writing is to think of a play being written for a black box theatre. You use the characters and dialogue to create the world. With film and TV you put that same emphasis on the images. You've got to strip back the dialogue and use the images. I love that. People mistake screenwriting for dialogue writing but the story and images are more of your job.
Another difference is that a whole act can be a single scene in theatre and you can remain in the same passage of time, but if you do that in film then viewers get restless.
With films and TV – it's a cliché but the landscape is changing. With film and TV at the moment increasingly broadcasters and commissioners get excited about stories sitting where it feels right for that story, whether that's in one part, ten parts or twenty-three parts. Boundaries are getting broken down. The Little Drummer Girl is a single story told through to its resolution, rather than ongoing. You need to find the right medium for your story. Another cliché about TV (which is true) is that it allows you explore story and character on a deeper and richer level, although audiences still expect the level of plot engagement that a film would have.
Watch a clip from Episode 1 of The Little Drummer Girl
The Little Drummer Girl follows the huge success of The Night Manager. Were you both aware of that show and of Le Carré's books in general? How did you get involved with this project?
Claire: Of course I was aware of the success of the TV adaptation of The Night Manager and really enjoyed it. I'd also read The Spy Who Came in from the Cold and adored it and a friend of mine had always said I should read The Little Drummer Girl, because it has this brilliant female lead character. Then my agent phoned to say Park Chan-wook was directing The Little Drummer Girl and I should read the book now – so I read it in 24 hours and then immediately sent an email to Stephen Cornwell the producer at Ink Factory with his brother Simon (le Carré's sons) saying "Please can I adapt it?" I then had to go in and beg in person! I knew Mike (Lesslie) was going to be the lead writer and I already knew him although I hadn't worked with him. I was texting him and badgering him and I think my passion came across and they offered it to me!
Mike: Again of course I was aware of The Night Manager, it was so gigantic and you can't be interested in the world of TV drama and not be aware of it – you walk into Ink Factory's offices and there are Night Manager posters everywhere.
I haven't read all of le Carré's work but I had read quite a few of his novels before. I'd talked about Little Drummer Girl with Ink Factory for quite some time so I re-read it. I'm a big big fan. Ink Factory and I had been talking about doing something for a while. When this came up and Park was attached, well I'm a huge devotee of his work and the chance to engage with a brilliant book and with Park steering it - it was a no brainer.
Mike – What did it mean to be 'Lead Writer' on the show?
Mike: I was Lead writer and an Executive Producer. I can only speak from my own experience but I think it means you have absolute full engagement with the scripting process across all the episodes, even the ones you don't 'write'. You are heavily involved with development and scene work. You steer the direction of the whole series. Claire is an incredible writer in her own right but if ever there's a disagreement (which actually almost never happened) the Lead writer steers that as they have been entrusted by the production company. It's a version of a writers' room and the showrunner role on a smaller scale, as you don't need twenty people in a writers' room for a 6-parter. Things are on a different scale in the USA.
It means engaging with the director, producer and broadcaster and synthesising all of their desires. It also means working across all departments, for example the need to change something due to production design or casting, there's a practicality involved.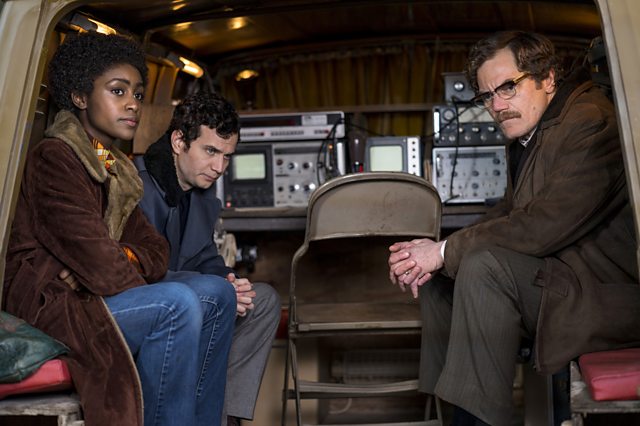 Rachel (SIMONA BROWN), Litvak (MICHAEL MOSHONOV), Kurtz (MICHAEL SHANNON) Image Credit: BBC/Ink Factory/The Little Drummer Girl Distribution Limited. Photographer: Jonathan Olley
The Little Drummer Girl has been described as one of le Carré's greatest novels. Why do you think that is? Is there something about the story, the characters or the themes?
Claire: I think you can tell how passionate le Carré is about this subject and story. It's his only female lead and she is such an original character and stands out in the landscape of spy novels and TV. The novel is written with passion and the prose is beautiful. The book is melancholic and tragic while also propelled by an exciting story. It's hard to drive people emotionally and also tell a twisty-turny spy story at the same time. Because le Carré had a lot of love for this story that has resonated with the people who read it.
Mike: It definitely punches out of the le Carré books because of Charlie as a character – I think it's the only one with a female lead and that gives it an element of difference. Also I think it drives right to the heart of lot of the themes of identity and theatricality in the world of espionage. There's the political background and a very human story that you can follow and see through that world, which I think audiences respond to. As is true of all of le Carré's work, he doesn't sacrifice intelligence for entertainment. So I think the character of Charlie is the first reason for its success, but also it has all of the great le Carre qualities in spades.
The themes of the Israel/Palestine situation and 1970s setting remain topical and highly contentious. How did you bring a balanced point of view to the politics in the story? What research did you undertake and whose advice did you seek?
Claire: In this story we are looking at a particular moment rather than tackling the history of the whole conflict. That moment is the late 70s and early 80s with the PLO bombing campaign in Europe and Mossad trying to take them out. The story focusses on a Mossad agent chasing a particular PLO agent. We started from the book, and the book has four principal characters who express the history through themselves and that was the way to approach it. It's very much about individual characters and we came in that way. The background comes in through those characters and feels personal.
I also read a lot about the subject and was already in tune with it. The source material of the novel had already involved a lot of research and we had researchers reading the scripts and coming back with notes. Because of this there was never any sense of tilting the view of the story any which way.
Mike: It's incredibly helpful having the source novel. It allows the characters to take you through the world. The humanity that le Carré brings to those characters in that political milieu ensures that the story is sensitive to the world. Also there was an incredible research team at our disposal.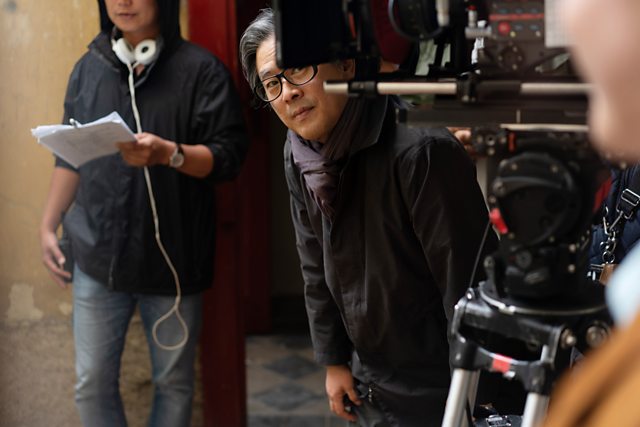 PARK CHAN-WOOK Director (Image Credit: BBC / The Little Drummer Girl Distribution Limited. Photographer: Jonathan Olley)
There are complex long-term issues and centuries of history involved – how do you bring that to a modern audience without it getting overloaded with exposition?
Mike: It really is about having the focus on character. Although this is an exaggeration it's almost that your story should bear out whatever political message it contains without any need for mentioning it in the dialogue. You've got to focus on the characters. The audience want emotional engagement and that comes from the characters so you should write what feels true to them in that world. Put the expository information out of your head and then if you feel you need more of it in there put that in a later pass through the script.
Claire: Hopefully it doesn't feel overloaded with exposition because that comes through the characters. Certain parts of the history of the story we (as an audience) have a general awareness of – for example the Second World War. Other parts we're not so aware of so that comes in via certain characters. An example of that is a great character played by Charles Dance who brings in the British history to the situation - through his fantastic performance and through argument and debate (which is another great way of getting out the exposition). Hopefully there's enough exposition that it will stimulate people to do their own research and find out more and look further into the background.
Adapting a novel always involves leaving material out. How did you decide what to keep and what to drop? Were there elements of the original book that had dated?
Claire: We didn't have to leave a lot out – it's very big book but because the prose descriptions and characters go into depth the narrative remained pretty much the same. Maybe we squashed a couple of characters together here and there but people who know the story should hopefully be pleased that it remains the same. With six hours of drama you really do get to do a lot. You get to tell a very in-depth story. Television is the novel and film is the short story.
Picton (CHARLES DANCE) in The Little Drummer Girl (Image Credit: BBC / The Little Drummer Girl Distribution Limited. Photographer: Jonathan Olley)
The Little Drummer Girl has an amazing cast. Did you know this when you were adapting the characters for the screen or have any involvement with casting?
Mike: Florence [Pugh] was confirmed from the start which was and remains a gift – she is a phenomenon. She embodies Charlie - I can't think of another actor who could play the role now. Knowing we had her involved was really helpful. We had heard whisperings of who else might be involved so you write to the image that you have in your head but we couldn't be sure. As the writing process continued and castings were confirmed we'd be working to particular actors.
Claire: We were aware of Florence potentially being involved when we got on board and I watched Lady Macbeth and was completely blown away – the character of Charlie is very complicated, three dimensional, angry and passionate and seeing Florence we just felt confident. It's really great to know you've got an actor who can deal with your dialogue. Michael Shannon also knocks it out of the park. Alexander Skarsgård is brilliant. Amir [Khoury] and Charif [Ghattas] play the Palestinians and brilliantly humanised their characters, it will be really interesting to see how they land with the audience.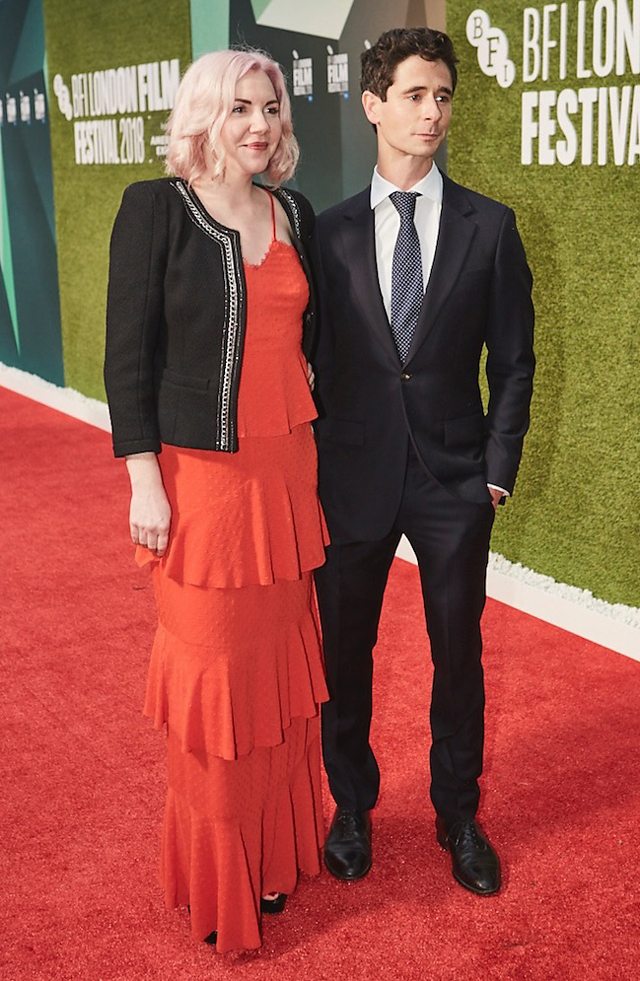 Writers Claire Wilson and Michael Lesslie at the London Film Festival
What key piece of advice would you pass on to someone who is trying to break into screenwriting or has been particularly useful to you?
Claire: I think it's just hard work and my motto as a writer was to never have a plan B - never finding another skill to fall back on as it's so tough in this career that you will end up falling back on that skill if you need it. I feel that's finally beginning to pay off. Read and watch as much as you can and take every experience you can in the writing world as it will make you better and even if you're not successful in that moment those experiences will help you evolve as a writer.
Mike: One of the dominant things is write – there's nothing like learning on the job and don't be afraid of imperfection. A friend of mine tried to write a screenplay and couldn't get past the first scene as he needed everything to be perfect. In fact you need the whole story out before you can know if each part is correct. You've got to write without punishing yourself. Get it out of you and get to the end and then go back and rewrite.
Also share it - it's an audience centric medium. Writing for those mediums is for the audience and not about the writer. Sharing work and getting feedback is crucial. Screenwriting is a collaborative job and getting responses, even if they are from friends, will train you into the process of getting notes and feedback and using those to improve a script. Also it will train you to know your own mind if you really disagree with a note.
The Little Drummer Girl begins on BBC One on Sunday 28th October at 9pm and on BBC iPlayer
Read the complete scripts for The Night Manager in our script library