EastEnders: E20 - My first writing job
E20 was the first piece of professional writing I had ever done and I was very much aware that as young writers, we're almost expected to have a message. I remember sitting on a train ride back from summer school and wondered if I had one, or more so, if I wanted to have one. For me, when drama pushes a message it can become preachy. That's where I think E20 hit gold, it never pushes too much either way throughout the series, and in such a compact timescale, it's seeing those highs and lows which make you love the characters and empathise with what they're going through.
Our training came through our four week intensive course at the BBC's Summer School led by Peter and Debs. The summer school was where we learnt the forms of scriptwriting and developed our writer's toolkit. Getting onto it was through application, advertised through various other mediums. We had to send in a character we've always wanted to see in a drama and then a monologue/diary extract for them. We then had to introduce them to EastEnders in a short scene with a Walford resident, and had an interview at BBC Elstree.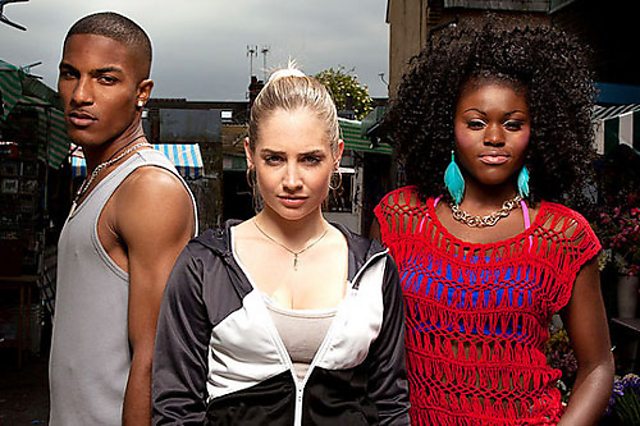 The new EastEnders: E20 characters for series 3 - Donnie, Ava and Faith.
All of our planning up to the point we started writing our episodes was done in a group. We had all come from different areas and all brought very different experiences to the table and it was a miracle we agreed on anything. However, it meant our characters were stronger, someone would always find the inconsistencies or ask the questions we hadn't thought of, throwing the characters into areas we hadn't considered and giving them more layers. In the end we turned out three main characters who were people we had all seen before in real life, but never on TV. On the surface you judge them, and we've played on that. But by the end of the series you know them far more, it's like the Tennessee Williams' quote, "I've never met one that I couldn't love if I completely knew him and understood him". At the end of the day in the series and in the characters, any form of hatred or criticism comes from the inability to empathise with each other and there's something satisfying when an audience member begins to get why your character makes the "bad" choice, but loves them anyway.
It became clear as we all shared our secrets to help contribute to our characters that tragedy is something that haunts us all. Despite this they still manage to have fun, and we made sure we never ever lost that. There was a general consensus that in TV there can be the assumption that because something bad has happened to a teenager, they have to live their life with a blue tinted lens, sad music playing whenever they enter and accepting they're going to die alone.
Our stories came from character diamonds we had made for everyone. We asked what they wanted and what they needed and then set about blocking steps, problems that would get in their way, and how we could really give a sense of change, without falling into the obvious. As available mainline characters changed, briefs changed and we were given more boundaries, it meant we could be planning a range of journeys to reach the character's need, which really opened my eyes to how, in a closed set from a series steeped in so much history, if your characters aren't strong, they will crumble.
E20 is different to a lot of online and teen dramas. It functions far more independently than other spin-offs from serial dramas yet contributes and receives a high amount of support from the mainline show. Because of this it has developed a following in its own right and the viewers expect a particular style and feel to the show. The characters in it are new, fresh and there's so much fun to be found in their run-ins with Walford residents and this series they will not be disappointed. Naturally with a change in the writers the series has altered, and I feel that the audience will get to see a lot more of the dynamic between our protagonists as this time not only are there three of them, but they are forced together.
After going through the entire process it's amazing to finally seeing it come into fruition. It's even more amazing to have people want to see. For me there's still an amount of vulnerability in knowing so many people will see it, I can't help but self edit everything I do and the perfectionist inside of me still hasn't gotten with the idea of a final draft. But as it approaches the public launch, I still haven't got over the fact that my episode will be opening and moreover, the fact I'm being paid to do something I love.
EastEnders:E20 Series 3 premieres online at 8pm on 20 September 2011, with new episodes every Tuesday, Thursday and Friday for five weeks.
Read a script from series 2 of E20 in our script archive.