Bob Servant Independent: From email address to BBC Four series
It's not a particularly qualified opinion but I presume most sitcoms originate in the premise before the fleshing out of characters and stories. If that's the case then Bob Servant Independent is a sitcom made backwards.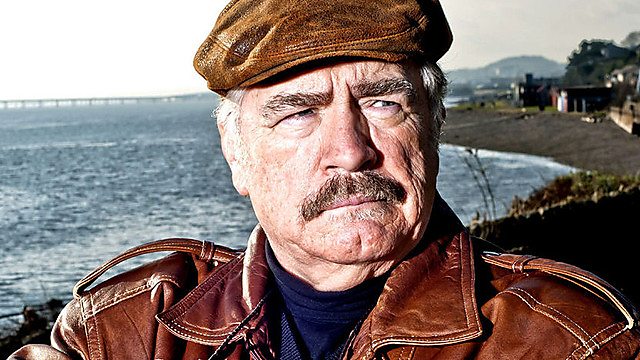 Bob Servant (Brian Cox)
When I created Bob Servant in 2006 he was solely an email address. In correspondence with Internet spammers I pretended to be an eccentric businessman (a "cheeseburger magnate with an Armada of vans") from my hometown of Broughty Ferry, Dundee. Bob was named so I could sign off emails "Your Servant, Bob Servant." The emails, through which Bob pestered spammers with unlikely business proposals and tales from the "troubled streets" of Broughty Ferry became two books – Delete This At Your Peril and Why Me? – to go with Bob's autobiography Hero Of Dundee.
When Owen Bell at BBC Scotland's comedy department asked me to develop the character for radio and, possibly, TV I wrote The Bob Servant Emails, a Radio Scotland (repeated on Radio 4) series that adapted the email exchanges and starred the brilliant Brian Cox (the real one) as Bob.  
So when BBC Scotland commissioned a pilot Bob Servant TV script it should have been easy. I had a fully-formed comic character, knew both his voice and the performance of the actor who would play him, and had three books worth of supporting material. All this did was to make me over-confident.
Not only is Bob Servant Independent the first sitcom I've written, Episode One Draft 1 was my first script. I'd written books, fiction and non-fiction, and briefly studied screenwriting, but sitcom was a new discipline that I had to be expertly introduced to by Owen.
And there wasn't a premise. The email exchanges wouldn't work on TV so I was left with a character with nowhere to go. I set off on various tangents but the more I wrote, the more the fledgling premise would wilt then collapse. Eventually I simplified the formula. Bob is over-ambitious, self-regarding and desperate for public acclaim so I needed a premise that offered him some form of platform. Secondly it had to offer high stakes but exist within the confines of Broughty Ferry, which is Bob's stage and its inhabitants his audience.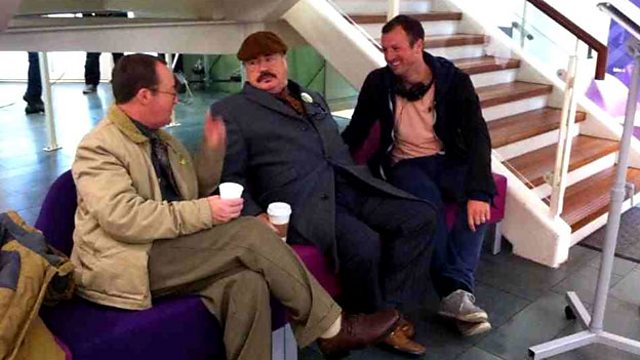 On set - Johnny Watson, Brian Cox and Neil Forsyth
I felt that sitcom viewers (like fiction readers) should probably feel they're joining the story at exactly the right time. They've not missed anything and, equally, they're not here too early. They should be with the hero/anti-hero when he/she is given their challenge and they should leave the minute it's concluded. That challenge, therefore, should somehow be both new and yet connect with a permanent need or desire in the protagonist. It should be life-defining but not lifelong.
This is an overly wordy way of saying I finally thought of something half-decent - a by-election. A short burst of story that could be spread in real-ish time over six weeks/episodes, and that gave the trifecta of a platform for Bob, high and life-defining stakes, and the summoning of the outside world to Broughty Ferry rather than plucking Bob away from his kingdom. This time, the more I wrote the easier it got. Whatever Bob was doing, the by-election ticked along in the background and granted a natural build in momentum through the series.
The other major factor on the writing was the protracted way that the series was commissioned and produced. From a pilot, to three episodes (shot in March), then the last three (shot in October). As the writer this was a Godsend. I watched the first half of the series be made before I even wrote the second half. I could see where the actors were going with their characters, what was working and what wasn't, and could reuse the odd joke lost in the edit.
This was invaluable and purely down to luck. As was having Owen to guide me brilliantly through the process, as was managing to snare Brian and have Johnny Watson arrive with a fully-formed, hilarious Frank (Bob's sidekick) who was so much more than the character that I'd written.
Hard work and luck then, and we can't be the only TV show with that backstory.   
Neil Forsyth is the creator and writer of brand new BBC Four comedy series, Bob Servant Independent.
Follow Neil on Twitter: @mrneilforsyth
Bob Servant Independent starts tonight at 10pm on BBC Four.