From Lapland to Being Eileen
Being Eileen is a spin off/sequel to Lapland – a comedy drama about a family escaping to Lapland for Christmas which was broadcast on BBC1 on Christmas Eve 2011. My aim in creating Lapland was to write a Christmas film for BBC1 and I was inspired by the 'Search for Santa' holidays which were really taking off at the time.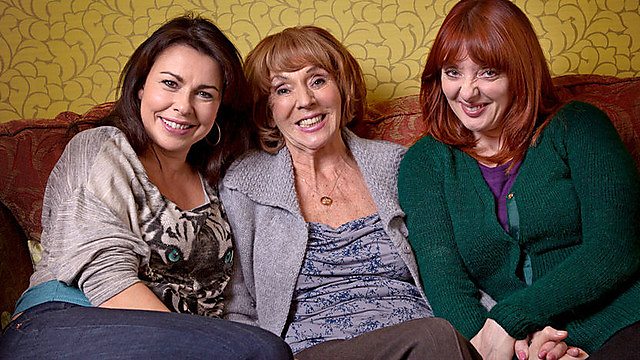 Being Eileen


I never thought of it going any further or having a future life. I just wrote it as a self contained Christmas film. It was Danny Cohen's idea to develop it into a series. He liked the Lapland script and asked if I thought there was any more life in the characters when they returned back home. This was even before Lapland was shot or screened.

At first I was unsure and wondered if it would work outside Lapland, as for me it was all about that place and time – a real fish out of water tale with so much being informed by what goes on in Lapland at Christmas – reindeers, huskies, Santa ... But when I watched Lapland back I felt the characters could have been anywhere - as it was about the dynamic of the family and their relationships rather than reindeers and snow - or lack of it, that I was interested in. I also felt that where Eileen was left at the end of Lapland – still missing her recently deceased husband but having found a new independent lease of life – could give me something different to play with at the heart of the series.

So I wrote an episode, all set back home in Birkenhead, they liked it and commissioned the series. 

As Lapland was a comedy drama and seventy five minutes long we did discuss how long each episode should be – whether it should be an hour or half hour. In the end we decided on half hours as most comedy tends to work well in this form. There's also some bizarre system at the BBC where the comedy department can't produce hour long shows – apart from specials like Lapland and Mr Stink -  similarly drama isn't allowed to produce half hour shows – outside of the soaps. I haven't a clue what that's all about.
Ray scares Liam in his pirate costume and Mandy worries that she might be pregnant.
It's a huge learning curve writing a whole series and it's only when it's all done that you can really see what worked and what I'd do differently next time. I've loved getting involved in all aspects of the production. From suggesting locations, to working with the composer and editor and even down to how the title sequence should look. It's been a great privilege.
I've really enjoyed exploring the characters much further than I normally would in a play or a single drama. For example, I discovered that Will Ash's overly enthusiastic and positive character, Ray, had a dark and depressing childhood. I'd never considered this when first creating Ray but it grew out of getting to know him more and wanting to make sense of his enthusiasm and childishness at times. It's been great to have the space to explore the characters over time. Especially when working with such wonderful actors. Many I've got 'previous' with. Will Ash, who was in my first ever TV script, in the second series of Where The Heart Is. Dean Andrews who was in my first film, My Summer of Love and Elizabeth Berrington, who was in my first play and who I, incidentally used to share a flat with. Julie Graham, I've know for a long time and always wanted to work with. As well as our wonderful kids, Connor, Georgia, Adam and Ellis – who grow – literally and as they're characters – in front of us. They've all been a joy to work with but I couldn't forget about Sue Johnston as Eileen who is the heart and soul of the production and programme. She even makes me feel like Eileen is a real person – and I made her up!
Michael Wynne is the writer of BBC One comedy, Being Eileen. The final episode in the series is on BBC One tonight at 10.35pm. 
 Watch the series back on BBC iPlayer.