We received an extremely high standard of entries for our Laughing Stock competition, so much so that the original shortlist had to be increased from 25 to 26 scripts. These are the writers/writing partnerships who were selected for the masterclass stage:
Sarah Seth
Jack Dickson
Sarah Glenister & Alison Jeapes
Mike Rampton
John Dorney
David Byrne
Nev Garven
Elliott Kerrigan
Louisa Fielden
Mathilda Gregory
Gini Woodward
Shazad Mohammed
Martyn Ford
Robert Goldsbrough
Andrew Parkhill
Joe Hodgson
Pete Jones
Joseph Glavey
Jo Walliams
Joel Slack-Smith
Amir Khoshsokhan
Jenni Armstrong
Daniel Calder & Rees Nicholls
Dom Woodward
Steve Hollbrook & Anna McQueen
Daniel Moulson
The masterclass took place yesterday at BBC Television Centre - it was an informative and creative day giving the writers an opportunity to pitch their scripts and put their questions to BBC comedy commissioner, Cheryl Taylor, comedy writer and performer Adil Ray, and The Thick of It's Rebecca Front.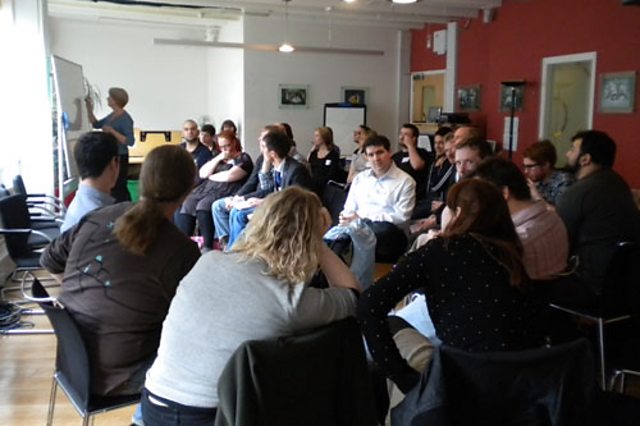 Stay tuned for the announcement of the winners, who will be attending a very special residential in June where they'll get to develop their ideas hand in hand with BBC comedy producers, and established comedy writing talent.