I'm running… Not really. But in addition to the sheer mass of things I learned doing the 2011/12 BBC Writers Academy I learnt to start with someone running. Obviously, they don't have to be running. They could be on a horse; cycling; doing stag leaps; or none of the above. The point is if they're running and the audience don't know why, then they're more likely to stay for an answer. Just a little something I learned. You're welcome.

Before doing the academy, I'd heard some people refer to it as the 'easy' route in. Well it's not. It's bloody hard work. It's harder than becoming The Apprentice - and given the option, I'm sure I wouldn't have been as terrified if they'd decided to test my literary nous by having me come up with new types of chutney; than the reality of a panel interview with the gatekeepers of BBC continuing drama. However daunting that was, it was worth it. "Getting in" was the first time I genuinely did an air punch - a real nails-in-palm-knuckles-to-the-sky air punch. I nearly hit a man. And no wonder – it's a downright honour to be given a chance to write the shows I grew up watching; TV that's part of the fabric of British life to the extent that I'm not really sure what my Mum's political stance is, but I'm pretty sure I know what she thought of the Eastenders Baby Swap.

And so it began. Monday 12 September 2011. Day one. They gave us croissants. We watched some vintage Eastenders. We saw Dr Valentine from Holby City in the car park. It was lovely. Day two. They gave us a lecture. Then another one. And another. We did a writing exercise then had its results projected on the screen for the whole class to see. And then they gave us homework. So much homework. Over the next thirteen weeks we learnt about the five acts; the ten questions; characterisation; dialogue; exposition, beginnings; middles; ends; and the paradigm of change. We had guest talks from people like Tony Jordan and Jimmy McGovern; workshops in scheduling, casting and editorial policy. I slept, ate and breathed continuing drama. I broke my life down in to five acts: the news, sex, mealtimes. I was exhausted. I was inspired. I loved it. I embraced it. I practically had a "doof doof" ringtone. I watched more television than I had ever watched in my life – and guess what, parents? My eyes are just fine.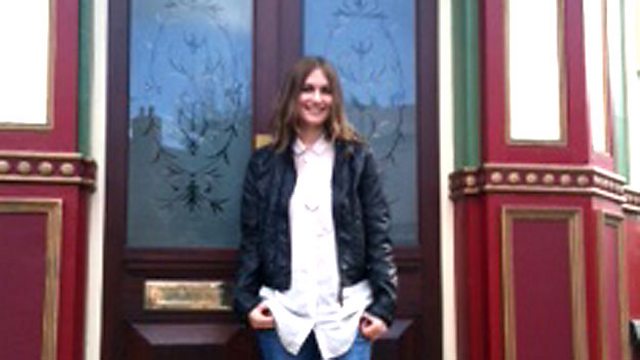 Then at Christmas it was over. We graduated. Five months later, I've got an episode of Holby City under my belt – and the beginnings of carpal tunnel syndrome in my right hand. Question: what's the worst thing you can give a hypochondriac? Answer: their very own medical advisor called Daren. Note: Daren is not for personal use. (Actually Daren, if you are reading this, I get a sore hip when I jog, so is it my flexors, or bursitis, or…..?) The first thing they told me at my commissioning meeting was that this was going to be a collaboration. And it was - a good one, like Mariah Carey and Boyz II Men or Salted Caramel ice-cream. So in the words of Vanilla Ice, "collaborate and listen" to your script editor and producer – because that relationship is one of the most important you'll ever have. Almost as important as the one you'll have with the father/mother of your children; or your dry cleaner. And, they don't mind if you can't talk about anything other than serial arcs and worst points. Their knowledge and passion for the show (as well as your own) is what you need when you're on the fourth draft and you're writing the same story for the third time in a slightly different way. You need them. Even on deadline day when it's noon and they ring with notes. Lots of notes. So many notes. They want the changes by tomorrow. 8am. I hang up. I stare at the notes. I shout at the notes. I have a bit of a cry. Then I sit down and write until seven am the following day. I hand it in. I fall asleep. I go and sit in a park. I wait. I wait some more. I fall asleep waiting for them to read it. Then they phone. They like it. They say thank you. And it was done - I'd just written an episode of Holby City. Series 14. Episode 42. Title: TBC. (That's not the title. I just don't have one yet.) It'll feel real when I see it on the telly on Tuesday 31st July: despite the fact it clashes with the men's Olympic Table Tennis quarter-finals.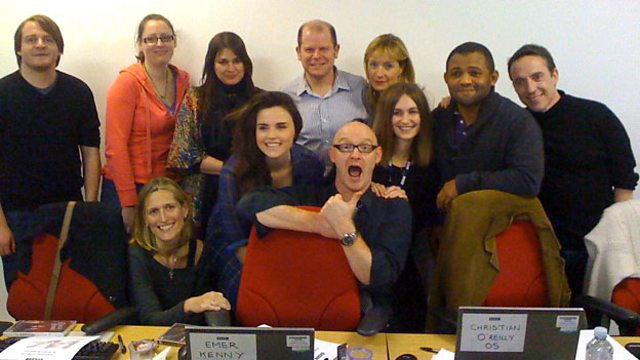 Writers Academy graduation 2011/12
I've never been as tired; excited; inspired or scared as I was on the BBC Writers Academy. It's not the "easy" route in. It's one of the hardest things but best things I've ever done. But it's not the hardest. That comes after – the being and surviving as a writer. I'm on Eastenders now, so in the spirit of that I'll end on a cliff-hanger. Mum, Dad – remember when I was twelve? Well, it wasn't the window cleaner who broke that window….
Kirstie Swain is a writer and graduate of the 2011/2012 BBC Drama Writers Academy.  Applications for this year's Writers Academy are open until May 3rd - find out how to apply.