Fresh Berries is a difficult listen because the story tackles a very difficult and distressing topic. I didn't realise how difficult until I went to the recording and realised exactly what I was putting the poor actors through. Although I always knew that this was a story that needed to be a hard listen, I never wanted to write a piece that was safe or easy or had any kind of soft edges. I wanted to write about love and what happens when young people don't get enough of it and aren't able to recognise it.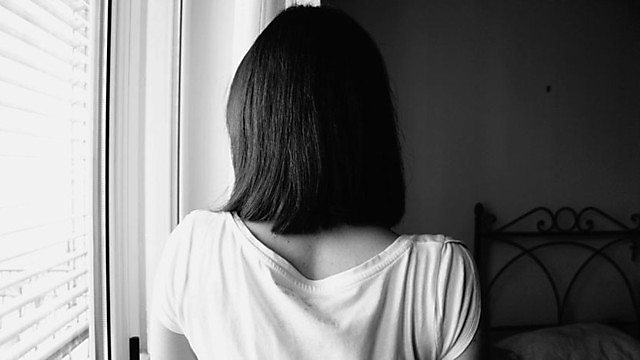 Fresh Berries - The Wire, BBC Radio 3
The script began life as my first ever TV commission. I was drafted in to write a drama aimed at young people for Channel Four's now defunct education department. I was a good fit, I'd just written Bullet Boy and had a long background in writing novels for young people. I talked to girls in a safe house in North London. I'd also worked in Holloway Prison as Writer in Residence and had worked with many young women who'd ended up exploited and abused by their so-called lovers. But this was very different and hugely eye opening. Of course the girls I met were just like all teenage girls, moody, needy, sometimes manipulative, but what struck me was that these girls desperately, achingly, wanted love but had no idea what it looked like.
That's when I knew I had Natalie, my protagonist. She misses her Mum and her Nan does her best. My Natalie's spent the first fourteen years of her life certain that no one will ever love her, really, completely love her, and then she meets Justin and suddenly every dream she's ever had seems to have come true.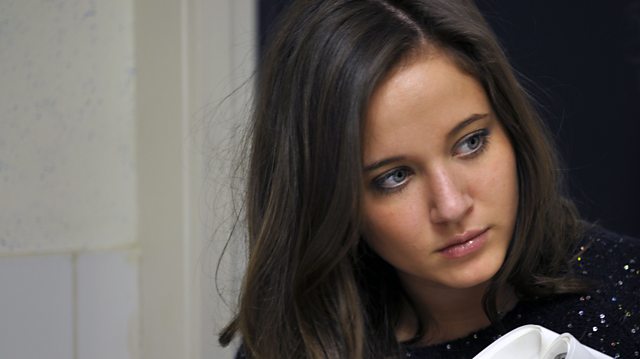 Madeline Duggan plays the role of Natalie.
When you are a young girl - when you've never had a boyfriend especially, you can never imagine anyone will ever love you sexually.  You can't imagine that anybody will actually want to see you with no clothes on.  At that time you think - look at the skin on my knees it's really hideous, you fixate on really stupid things.  When you are young, if somebody seems to love you they have a lot of power.  If you want to control someone - love them.
I think the saddest thing about this story is that although it was originally written close to six years ago, the facts the drama is based on have never been out of the news. It's the same story, the same thing happening to plenty of girls like Natalie – it's never not happening, the exploitation of one person by another.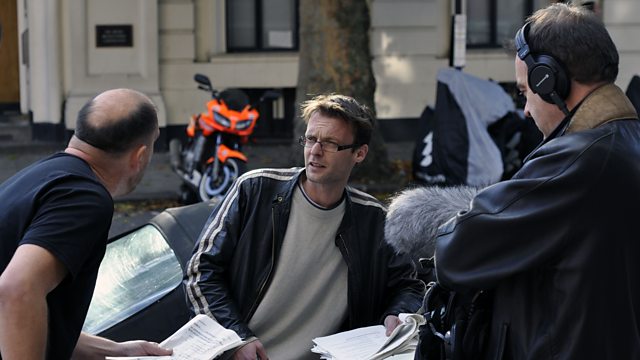 Justin (Carl Prekopp) and Vic (Ben Crowe) recording outside Maida Vale
I hope Fresh Berries will make people think about responsibility and about kindness.  I wanted to show how this sort of thing can happen without drink or drugs involved, and to demonstrate that when we are so vulnerable we do need protection - but it's not a physical protection, it's an emotional protection that people need at that age.
I was lucky with the script. Even though Channel Four didn't make it, one of the producers I'd worked with, Andrea Michell, kept faith with the story. At her suggestion I reworked it as a film, she found a director, but in the end that came to nothing too. However, it did mean I had a cracking calling card script, so when a mate suggested I apply for a writersroom residential (I was loathe to go, I was too busy, I was bound to be a hundred years older than the others – I am 50 – but it turned out to be a really good move and I didn't have to cook dinner for a whole week) it was picked up and suggested as a possible for The Wire on BBC Radio 3. And thanks to Kate Rowland and director Marion Nancarrow you can listen to it, this Saturday.
Listen to Fresh Berries this Saturday 9th February at 21.40 on BBC Radio 3 as part of The Wire series. This compassionate, uncompromising play looks behind the headlines at how vulnerable girls can be exploited and the effect it has on them.
Fresh Berries is Catherine Johnson's first play for radio. She has written for film and tv, including "Bullet Boy" and Simon Schama's "Rough Crossings". She enjoys writing novels for young teenagers: her books include "A Nest of Vipers" and "Brave New Girl" . Catherine spent a year as writer in residence in Holloway Prison and has also worked in Feltham Young Offenders Institute. She is currently on the BBC Writers' Academy and her next book 'Sawbones' is out in October 2013.