A long time ago in a galaxy far, far away (well Sheffield actually) the year was 2009, and Showcomotion (now The Children's Media Conference) was in full swing. As I wandered into the bar between sessions I had no idea how a chance meeting with my old chum Dave Ingham, would one day lead to me to writing this piece for the writersroom blog.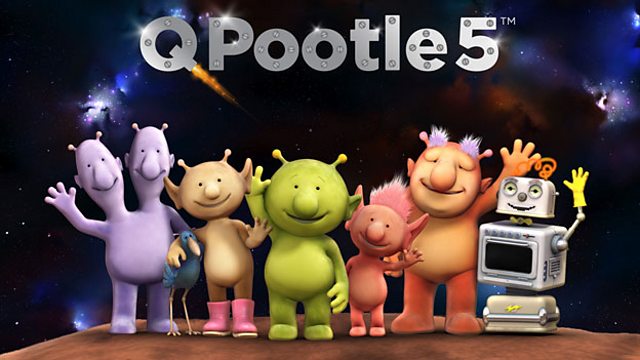 Q Pootle 5
So what exactly happened on that fateful day? Dave introduced me to the tall man drinking a pint next to him, Ben Butterworth, and explained that they were developing a cunning animation series based on two books by Ben's dad, Nick Butterworth. Now anyone like me (a parent and one time primary school teacher) couldn't have avoided coming into contact with the brilliant work of one of the country's most well loved author/illustrators – Nick Butterworth. I was immediately hooked.
Ben showed me some fabulous artwork featuring a cheerful little green alien called Q Pootle 5. He lived on Okidoki and had a friend called Planet Dave. What's not to like? The project looked and sounded delightful.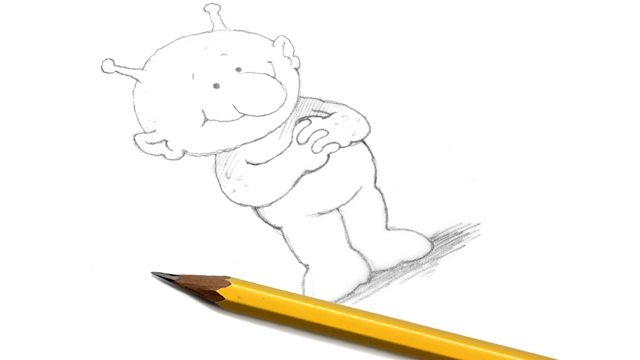 Q Pootle 5 - the first pencil drawing
And that was the last I heard of Pootle & Co until January 2012, when I received an intriguing invitation to a slap up tea at The Wolsely in Piccadilly. Over some delicious sandwiches and cakes I was introduced to Nick and Annette (Nick's wife/Ben's mum) and, between some serious munching, I got to hear how the Pootle project had moved on during the last three years. Ben and Nick had done most of the heavy lifting – creating Pootle's world, inventing some suitably quirky and appealing characters, getting the amazing Blue Zoo animation company involved, and raising the money to make the show! 
So when I was asked to be head writer and work on the series I was over the moon (Crumbly Moon that is). And all I had to do was help create fifty-two cracking episodes! 
Our first task was to work on the characters – the heart of the series. We needed to make sure that each of them was fully rounded, consistent, capable of highs and lows, quirks and insecurities, wild flights of fancy, curious habits – basically a group of loveable friends bumbling along and helping one another through a series of humorous adventures. 
Each story had to be special to the world of Okidoki. Not that every episode needed to have a  'spacey' theme and be based on space technology and weird gizmos, but there's no point in setting a show on an exotic planet if the stories could just as easily be told in a small Welsh village (other Earthbound locations are widely available).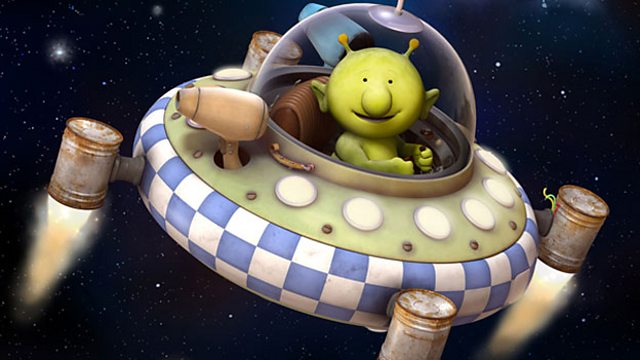 Q Pootle in space
I'm a stickler for structure and I really wanted each episode to have pace. Ben and I worked hard to shape the stories, making them full of ups and downs with some surprising twists and turns along the way, ending with a satisfying (and hopefully unpredictable) resolution. 
We also tried to make the show funny. Luckily Nick and Ben and I share a similar sense of humour, and the more we got to know this oddball cast of characters, the more fun we had with them. It was a joy to drop them into bizarre situations, create running gags and catchphrases, and soon we began to look upon each episode as a mini sitcom. 
And since we had a wonderful composer on board (David Schweitzer) it seemed natural to sprinkle the show with all manner of catchy songs. 
So to recap – all we had to do to make the show was start with a wonderful idea, put together a great team of writers, produce a whole load of entertaining stories, create some unforgettable characters, find a wonderful group of actors to bring the characters to life, engage some of the most talented animators in the business and, well, that's all there was to it really. 
But the best bit for me was working with Nick, Ben and Annette. It really was a family business and I was privileged to be part of an intimate group where every email, phone call and script meeting was a real joy rather than a chore. Keeping it small, keeping the production in The UK, and avoiding the tricky co-production conundrum helped keep the show focused and, hopefully, stay true to Nick's original concept. 
Lee Pressman is lead writer on CBeebies's animated series, Q Pootle 5 - originally based on a best-selling series of books by Nick Butterworth and co-written and produced by his son Ben Butterworth.
Read a blog from Writer and Producer Ben Butterworth
Watch clips and episodes of Q Pootle 5 on the CBeebies website.  Q Pootle 5 is broadcast on the CBeebies channel every weekday at 7.35am.