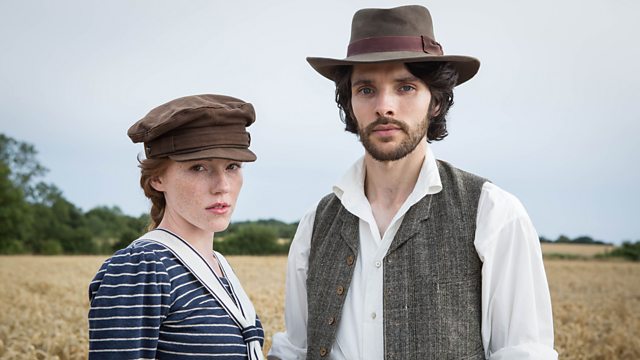 Last night BBC One aired the new supernatural drama series The Living and the Dead starring Colin Morgan and Charlotte Spencer, the series is created by Ashley Pharoah the man behind hit dramas such as Life on Mars, Ashes to Ashes, Where The Heart Is, Wild At Heart and Moonfleet.
"Eerie" is definitely one way to describe the series and that was the starting place for The Living And The Dead, to see the skull beneath the skin of English pastoral.
This new series is set in an isolated Somerset valley in 1894, a place where the implications of the industrial revolution are still being keenly felt, a place where centuries of living a certain way of life are coming abruptly to an end. A pioneering Victorian psychologist and his vivacious young wife played by Colin Morgan and Charlotte Spencer, are brought back to the family estate after the death of his mother, he is soon faced with one disturbing case after another.
Are all these strange events linked merely by coincidence, or is there something more sinister - more supernatural - going on at Shepzoy? If you can't wait to find out then watch the full series which is now available on iPlayer as a boxset.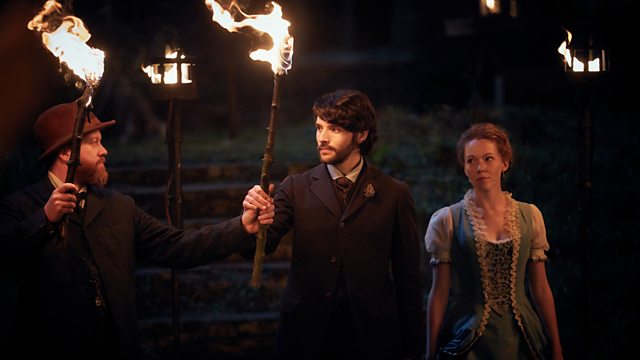 Nathan & Charlotte Appleby - played by Colin Morgan & Charlotte Spence
We caught up with Ashley to find out a little more about his inspiration behind the drama series, the writing and production process and his top tips for writers…

Can you tell us about the genesis of The Living and the Dead – how did the series come about?
Wales approached me about creating a Victorian ghost series. At first I couldn't quite see a way in. Then I thought if we set it in the middle of summer, in the sunlight, at that moment in our history when the Industrial Revolution collided with a way of life that hadn't changed for centuries, a post-Darwin world where God was dead. If ghosts and demons were ever going to rise up surely it would have been then and there?
What made you want to write a supernatural horror series?
I've always loved ghost stories. From reading MR James and Algernon Blackwood as a boy, to loving those English landscape films like "Witchfinder General" and "Vampire Lovers", right through to those brilliant BBC ghost stories for Christmas.
The drama is set at the time of the industrial revolution.
What sort of research did you have to do?
Not too much, in truth, because I've always been interested in that time, especially in the countryside. Probably comes from reading far too much Thomas Hardy! Mind you, for a man who doesn't drive and has no interest in things mechanical I did get very fond of this lovely Traction engine we had brought down from Yorkshire.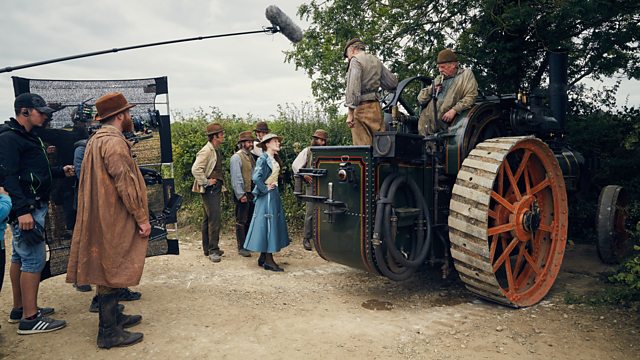 Cast and crew on location
You've co-written a lot with Matthew Graham (Ashes to Ashes, Life on Mars) and he was supposed to write The Living and the Dead too, is that right?
In the end I did this one my own. Matt was going to be working on it but he was pulled away to Los Angeles and Melbourne, where he wrote and show-ran "Childhood's End" for the SciFi network. We are working on something new, though, and it's great to have another writer to kick ideas around with. But it did mean that I got to work with three seriously talented writers, Simon Tyrell, Peter McKenna and Robert Murphy.
The relationship between Nathan and Charlotte is very much the centre of the drama. Can you tell us about their characters and how you went about developing them?
I wanted it to be an historically accurate series but I didn't want it the "period drama" to come between the audience and the characters. I remembered the character of Bathsheba Everdene from "Far From The Madding Crowd' and what an independent woman she was. And for Nathan to start as a man of science but not a cold, anti-life scientist. More of a healer through his knowledge of psychology. So I wanted Nathan and Charlotte's marriage to be modern, intimate, equal. In some ways the series is actually about their marriage, that's the main narrative question: will their marriage survive this supernatural battering?
How did the casting work? Did you already have a cast in mind when writing?
Not at all. When I was writing the early drafts I think the characters were in their 40s. That instantly takes you to a rather short list of in-demand actors. When Alice Troughton came on board she said "why don't we make them younger?" So I did. And then you open up a very exciting level of fresh acting talent. Alice had already worked with Colin Morgan and suggested him. I met him for a drink and we got on really well. I'd seen Charlotte Spencer in "Glue" and remember thinking she was brilliant. We put them in a room and crossed our fingers.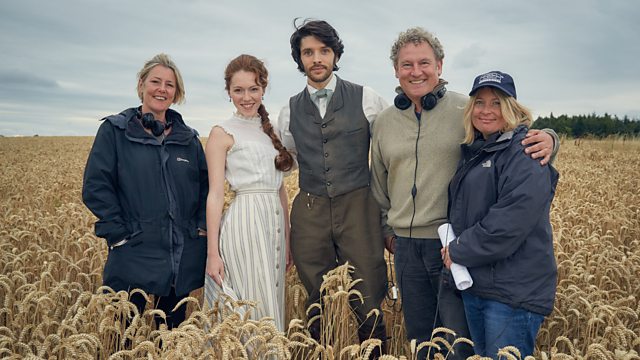 Ashley Pharoah on set - from left to right: Eliza Mellor (producer), Charlotte Spencer, Colin Morgan, Ashley Pharoah (writer) & Alice Troughton (director)
You were also an Executive Producer on the series. What does that role involve and were you conscious of this when writing?
I try not to think about it when writing or you start to censor yourself. It involved putting the creative team together - other writers, directors, HODs, producer, cast - and making sure they had the same vision for the show, that they could bring their talent and make the whole better. Reading scripts and giving notes. Being around on set if anyone needed me. Seeing edits, listening to music, looking at trailers, choosing poster.
What sorts of challenges were involved in the writing and production process?
It was a difficult writing process in many ways. It's period, it's a genre that is hard to do on TV, there is a high-concept twist that made people nervous. Different writers bringing slightly different voices. Lots of drafts, lots of arguments. But we got there in the end.
What can viewers expect from The Living and the Dead?
The word we used on set was "eerie" rather than horror. I hope it's unsettling, sensuous, surprising. A hymn to the landscapes and people of the south west. The skull beneath the skin of English pastoral.
Nathan Appleby & Charlie - played by Colin Morgan & Isaac Andrews
What are your top 3 writing tips?
1. At an early stage in your career, sit next to Tony Jordan at a story conference.
2. Be endlessly resilient. It's sometimes hard being a writer, your work constantly battered by notes and opinions and compromise. Be resilient. Remember that it's a glorious privilege to be a screenwriter.
3. Get your structure right. Deviate, of course, but knowing that you have a safety-net of structure gives you the confidence to experiment and go off-piste.
Have you got any advice for budding TV writers?
Write, write, write and have the confidence in your own life experiences, your own view of the world, your own passions. Nobody in the world can write like you.
If some catastrophe was going to wipe out the vast majority of television programmes and you could only save one episode of your output, which would it be?
Episode 4 of series 1 of 'Life On Mars', when Sam Tyler meets his mother as a young woman, goes to a club and meets Marc Bolan, and dances badly to The Sweet.
The Living and the Dead is available to watch on iPlayer
Scripts coming soon to our online script library for your reading pleasure!