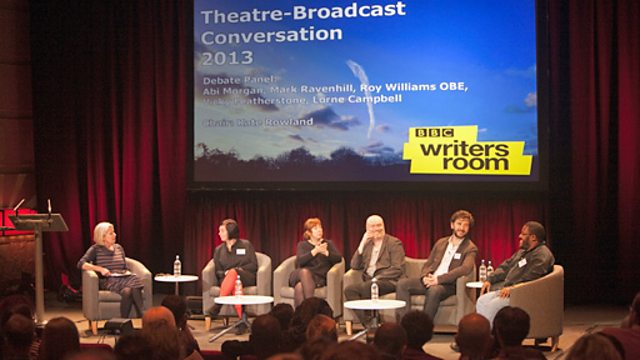 Here at writersroom it's been an extraordinarily busy time, we're thinking hard about the future and how to be the most creative, effective room in the land. Last Monday we hosted an event for theatres, writers and BBC Execs and producers – a conversation about the power of partnership, digital futures and how we can do more together. The bottom line for all of us, both theatres and broadcasters are our writers and with a panel including Vicky Feathersone (AD Royal Court), and Lorne Campbell (AD northern Stage) with writers Abi Morgan, Mark Ravenhill and Roy Williams to challenge and provoke a lot was aired. Tony Hall the Director General launched the conversation and Peter Manuira from The space highlighted what had been done in its pilot phase. More on all of that as it develops and you can read full details of the day on the 'About the BBC' blog.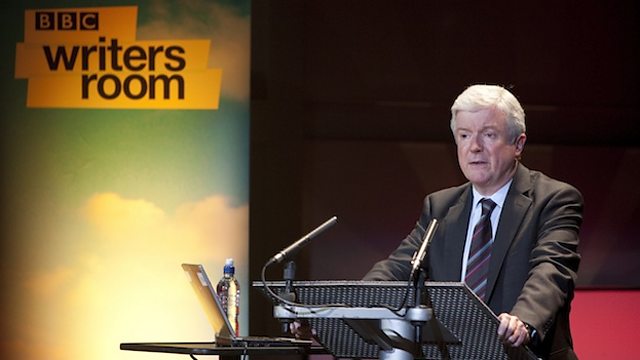 What we know is that a lot of the strongest scripts we read at Script Room are stage plays and maybe that's because that's when the writer is their truest. I know we have fed back in the past, one of the problems of the TV scripts we read is it feels that people are second guessing, writing what they think might we want, rather than digging down into something that matters to you.  And   bringing me neatly onto Scriptroom. When you ask? Well VERY SOON I reply.
The next Script Room opens November 18th and closes December 16th. And finally after an enormous amount of work from all the writersroom team we have a system that enables you to submit work without the beloved brown envelope, expensive stamps and lets you see and build your own profile. I have to admit I have let those with the greatest understanding makes this system work for you.  Fiona says it's just another post-box, a delivery mechanism but it should make your life easier and it seems to do a lot more than a solid lump of red on the pavement. We welcome your feedback when it goes live, and of course if you need to we will accept your script by post. And we're not selling shares in it!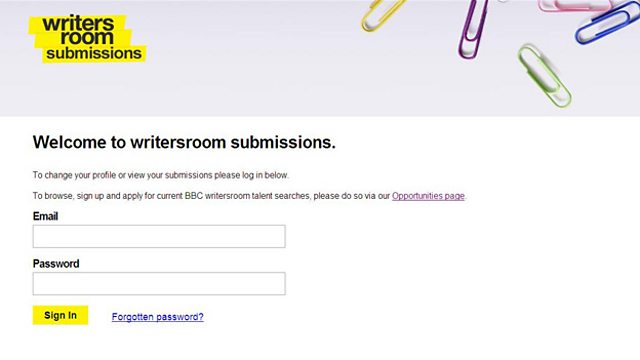 A sneak peak of the new online submissions system.
The day after, on the 19th we  are meeting writers with Development Execs from across the BBC from the Spring Script Room 13, so I look forward to putting faces to names and on November 18th Abigail Gonda our new Development Producer starts,  so an exciting time.  The Bruntwood is to be announced shortly, and the Tony Doyle and Alfred Bradley Award have just launched so lots to keep you busy. The next season of The Wire starts soon so watch this space for the dates. Lots of new talent, first dramas from some truly original voices.
And what else has been happening – a daytime Drama Lab down at Bore place in Kent to develop new series, last week Tim prager one of the lead writer's on Silent witness lead a fascinating crime masterclass and of course writersroom 10 has gone live for theatre submissions.  Heads up we will be doing a big open session with Ollie Kent, Executive Producer of Casualty and Holby, sometime late November on writing medical dramas.
So good luck with your script submissions but make sure it's the best it can be- no rush.