I write about things that anger me. I write because I have I have stories nagging me that I need to put down: scenes, words and characters that won't leave me alone until I've written them into existence.
Some time ago, I submitted a screenplay called 'One More Unfortunate' to the BBC Writersroom. This is the story of how that submission eventually (and I really mean 'eventually') led to my first TV commission.
'One More Unfortunate' examined how having a loved one sectioned under the Mental Health Act changes a relationship. I was fortunate enough to receive a full read and some incisive feedback. The reader was appreciative of how the script dealt with the various strands without tipping into melodrama and positive about the characterisation and handling of the subject matter. Perhaps more importantly though, there was constructive criticism around my tendency to overwrite and lead the reader, particularly in the final third when the narrative was struggling to stay on top of its material. Food for thought then.
I set about getting rid of the long stage directions that provided windows into souls and belong only in novels, before banging the resultant re-write in for the Red Planet Prize. It didn't make the shortlist but it progressed through the first two rounds. This encouraged me.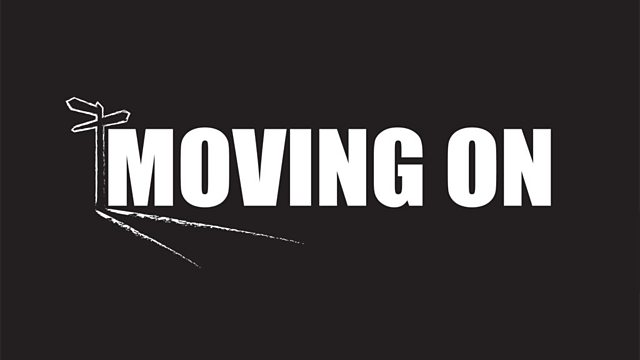 Moving On on BBC One - Adam Simpson has written an episode of the latest series
So I had this single TV drama, One More Unfortunate which, having been buoyed by the BBC feedback which facilitated the re-write and the response from Red Planet, I was pleased with. Though I had some naïve notions of contacting agents, I knew it'd be pointless until I had more spec scripts, my reasoning being if an agent did deem my solitary unsolicited effort worthy of response, they'd probably ask me to send something else. I wouldn't have anything. I'd be exposed as the fraud I was, blacklisted throughout the industry and that would be the end of that.
So partly in the interests of learning but mainly in the interests of engineering a situation I knew would force me to write, I enrolled on the Screenwriting for TV and Film course at Liverpool University, taught by BAFTA winner, Steve Lawson (The Cops, Hollyoaks, Holby City). Whilst there I wrote a ridiculous feature-length script called 'I'm Johnny Proudfoot', about an OCD film buff floating around the London media scene trying to fulfil his lifetime's ambition of becoming a stuntman. 'I'm Johnny Proudfoot' went on to progress well in the BBC Writersroom's Script Room 12 (December 2016). I'd also come across the incredible true story of Felix Sparks, who led the first US infantry regiment into Dachau concentration camp and liberated its prisoners. Despite the undoubted bravery, there were violent reprisal incidents during which members of the German SS were allegedly tortured, lined up against a wall and shot. I've always loved stories that examine the duality of humans and found it fascinating when that heroic, sanitised role of 'The Soldier' became clouded. This eventually became a two-part screenplay entitled 'The Dead Don't Cry'. Nobody was going to make it but it would serve as another calling card.
Around this time, I thought I'd try to approach some agents. I trawled the Writers' and Artists' Yearbook, highlighting every agency who'd accept unsolicited submissions. Then I stuffed loads of envelopes with a script and a short covering letter, sent them off, and waited.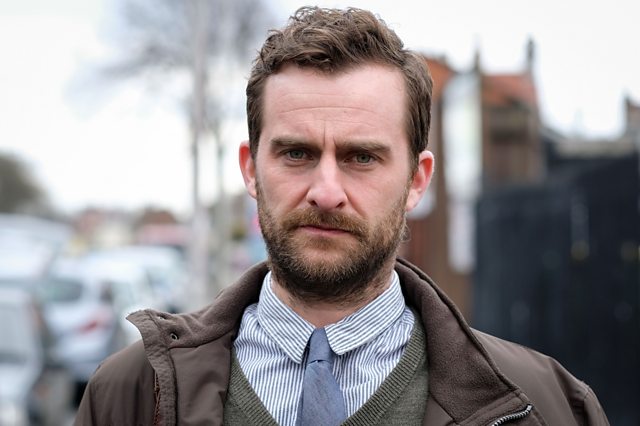 Moving On: Series 10, Episode 2 'Beaten' written by Adam Simpson (Mark Stobbart as Sean - Image Credit: BBC/LA Productions/Tony Blake)
During this impasse, I'd joined a writers' group at the Lantern Theatre, headed by Artistic Director, Margaret Connell. I'd never really written for the stage before because I didn't know how. I respected the medium but was intimidated by it. I had this idea about re-writing 'One More Unfortunate' as a sparsely staged, one-act play with a cast of two. I had the basic plot – someone makes the torturous decision to have their spouse sectioned – and wanted to tell this couple's story with simplicity and economy, making sure the enormity of such an event – and how it affects the dynamic of a marriage – was up there on the stage. I didn't want to play it as a misery-fest though, and tried to capture those inside jokes and 'shared mind' moments of joy that long-term couples experience.
It was after a reading of the first draft one summer's night at the Lantern that I received a phone call. Rather than an agent scrambling to sign me up, it was my wife telling me our house had burned down owing to an electrical fault with the dishwasher. Well, not quite burned down as in to the ground but burned to the extent we wouldn't move back in for nearly a year.
I finished the stage adaption of OMU hunched over a desk at the Premier Inn which my family and I lived in for six weeks until the insurance company rented us a house. Despite the frustration, I couldn't help but think the writing Gods were smiling on me. It's not that I believe trauma and frustration are particularly admirable. Nor is it that I think writing and suffering are synonymous; that would exclude certain people from having the right to write, which would be wrong. Personally though, I don't find comfort and ease to be useful writing tools. I poured myself into that script. I wanted the characters to reflect the jarring emotional shifts I was experiencing – relief that my daughters, whose bedroom was directly above the fire, were unhurt, anger at everything we'd lost, the levity in expressing your relief at being rid of the 1970s artex ceilings. I hope it's all in there.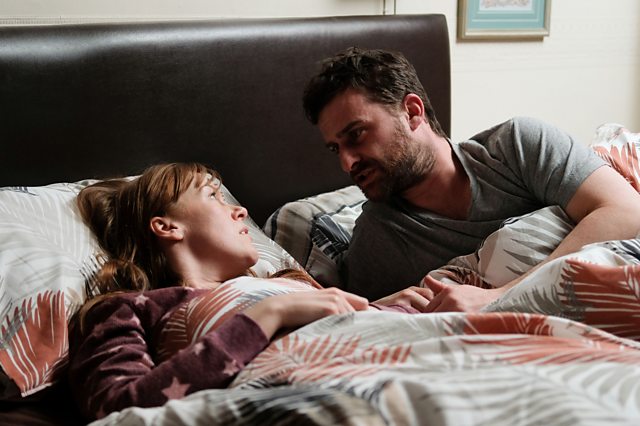 Kelly (NIAMH McGRADY), Shaun ( MARK STOBBART) in Moving On: Beaten (Image Credit: BBC/LA Productions/Tony Blake)
'One More Unfortunate' was longlisted for the Bruntwood Prize for Playwriting and subsequently scratch produced at the Lantern. After lots of hard work from lots of people and the support of Matthew Linley, then Artistic Director at the Unity Theatre, a full-scale professional production was performed at the Unity under the direction of Samuel Erskine and featuring two local actors, Jessica May Buxton and Duncan Crompton. Sam allayed any of my naïve apprehensions about working in theatre. He brought the story to a whole different level. For me, he represents everything that theatre should be: creativity, vision and, most importantly, complete and utter lack of pretension. Sam's a graduate of the Young Everyman and Playhouse Directors Scheme, Artistic Director of Glitch Theatre and has recently taken up a role at the Leeds Playhouse. He deserves all the success I know will come his way.
I'd finally started to hear back from agents. Well, one agent to be precise. From loads, remember.
Another script was requested. And another. Then I was asked down to London. Off I went, William Goldman's advice from Adventures in the Screen Trade at the forefront of my mind: 'the note to strike is a mixture of shy, self-deprecating intelligence and wild, barely controllable enthusiasm'. Sadly, such a combination is not something I was born with but I'm pleased (grateful) to say Alexandra Cory at Berlin Associates agreed to represent me.
Having an agent isn't some gateway to a prosperous writing career but it shows you're serious. If you've gone through the grind it can take to get one, potential employers will know you mean business. An agent and a few decent spec scrips might get you through the door and into the office. And that's what happened. Alex had sent a couple of my scripts to Andrew Morrissey, then Script Editor at LA Productions, the Liverpool production company founded by Colin McKeown, known for such dramas as Reg, Common and Broken, all written by the inimitable Jimmy McGovern. Andrew was positive, invited me in for a chat, and asked me to submit some ideas for the next series of Moving On, Jimmy McGovern's contemporary daytime drama.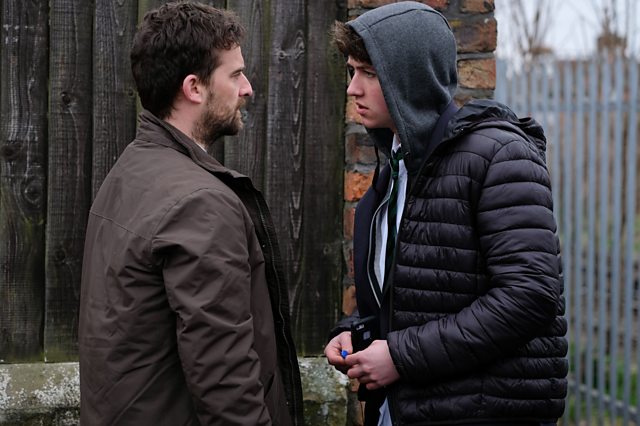 Shaun ( MARK STOBBART), Connor (SAM HATTERSLEY) in Moving On: Beaten (Image Credit: BBC/LA Productions/Tony Blake)
How it works is as follows: writers are asked to submit short outlines which are then read by the team at LA Productions, Jimmy and the team draw up a longlist which then goes to the BBC, shortlisted writers are invited to formally pitch their idea, and a decision on the final choice is made.
I didn't make it through that year but Andrew was kind enough to email to tell me I'd come close. I was heartened to be given the chance to submit stories for the following series by Sarah Deane, who'd succeeded Andrew Morrissey as Script Editor.
I'd had this idea for a while. The premise was a school teacher being slowly broken down.
Beaten tells the story of a teacher, Shaun Lawrenson, who makes a snap decision to remove an unruly student from his classroom. When the boy slips and cracks his head, a chain of events is set in motion which threatens not just Shaun's job but his entire life as he knows it.
It's a simple idea. But even with a structured format, there's room for the Trojan horse. So Beaten is also about failure to beat a drum in the face of institutional indifference. It's about society's obsession with measuring every aspect of human endeavour and how corruption happens when institutes become solely target-driven. I hoped Beaten had that ethical murkiness – that ability to make people question their moral certainties –which Jimmy McGovern and Moving On does so brilliantly.
But understand this: what comes first is the story. The story has to engage from the outset.
After several revisions and the unwavering support of Sarah Deane, I received an email on 25th September telling me I'd made the shortlist. I was asked into LA Productions to pitch to Sarah, Colin McKeown, Jimmy McGovern and Donna Molloy as well as a team from the BBC headed by Dan McGolpin, Controller of BBC Programming and Daytime.
Moving On is a show I love. It's reminiscent of a golden age of TV drama which included Play for Today, Armchair Theatre and the Wednesday Play. It's an important show too; how many dramas allow you the privilege of telling your own story in your own voice? It also represented an opportunity to work with Jimmy McGovern. I worked feverishly.
I'm paraphrasing Graham Greene here but I think having any success as a writer is less to do with some idealised concept of innate talent and more to do with having a willingness to put in the time. It's about graft is what I'm saying. If I didn't get the commission, it'd be because other writers' stories appealed more than mine or because I wasn't good enough. It wouldn't be because someone else had worked harder than me. But that fear I think all writers feel – fear of not being good enough, fear of being exposed as the imposter it's easy to convince yourself you are – can be a great motivator. Maybe to get better as a writer you need to keep yourself scared.
Anyway, it went alright.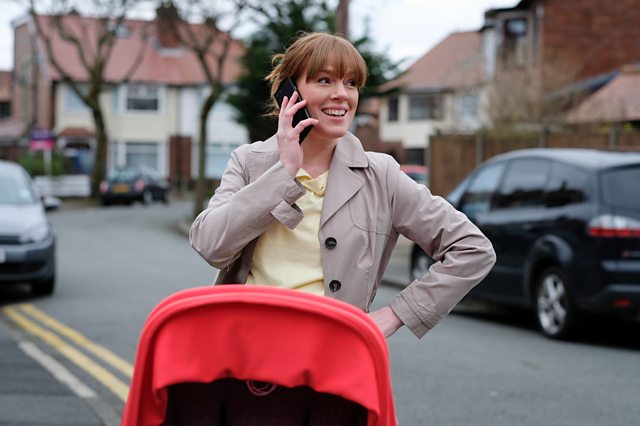 Kelly (NIAMH McGRADY) in Moving On: Beaten (Image Credit: BBC/LA Productions/Tony Blake)
On 9th October, Sarah called to say I could go straight to script. This meant I was a contracted writer on the show and had a deadline for the delivery of the first draft. The really hard work began.
I delivered the first draft, which I think ran to forty-seven pages. An episode of Moving On is forty-five minutes so I felt a little pride in how expertly I'd resisted the urge to over-write; how disciplined I'd been in avoiding any digression; how dedicated I'd been in telling my story with economy and simplicity. If anyone thinks they can pare this down further, I thought, good luck to them.
Jimmy promptly cut about fifteen pages. And so began the steepest, most illuminating learning curve of my life.
Jimmy is an inspiration to work with and an incredibly generous mentor. His advice is invaluable and I internalised it. He will constantly spur his writers on to be better and I will use the stuff he's taught me for as long as I'm writing. He would stress that nothing he said was prescriptive; it was my episode and I had to own it. The process is supportive and encouraging but there's no hand-holding. You're a paid writer on their show, a show whose past writers include luminaries like Alice Nutter, Nick Leather, Shaun Duggan, and Andy Lynch to name a few and a show which, in my opinion, is responsible for raising the bar of daytime drama in the UK. It's on you and you're rightly expected to come up with the goods.
I cut. The dialogue was a bit preachy in the early drafts. I made it less preachy. I cut some more. The character of Mulvaney was coming across a bit 'pantomime villain' so I needed to make him more sympathetic – to be his 'ideal barrister' so that his side of things was put across too. In a sense, Mulvaney is also a victim of the system, but he's sold his soul and succumbed, whereas Shaun won't. I know from experience that English teachers can be the bane of a head teacher's life because they see themselves as rebels and they're idealists. They can be a pain in the arse for the senior leadership of a school. I re-wrote some of Mulvaney's lines near the end so that this came out – the idea that he wants Shaun to grow up.
I cut even more. I restructured. I re-wrote the ending. After putting my kids to bed, I'd decamp to my parents' front room. For writing to feel like the job it is, I've always felt more productive leaving the house and going to a 'place of work' to do it.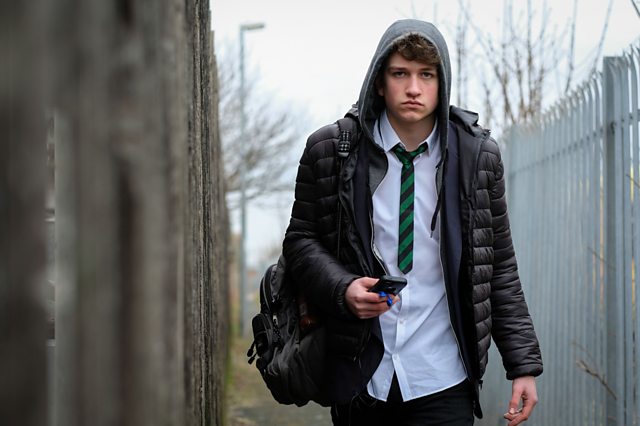 Connor (SAM HATTERSLEY) in Moving On: Beaten (Image Credit: BBC/LA Productions/Tony Blake)
On the December 19th, the scripts were sent to the BBC. There followed another period of re-writing. Then, on the morning of February 14th 2018, I received the phone call from Sarah to tell me it was being made. Filming was to begin mid-March and Reece Dinsdale, whom you may know better as an actor, was to direct. I worked so hard and learned so much.
Beaten will be the second episode of the series which begins on Monday 4th February and runs all week in the afternoon on BBC One.
I hope this story shines a light on the work the BBC Writersroom does to support new writing. I also hope it encourages other writers like me to keep chipping away.
I don't consider myself qualified or experienced enough to offer advice but if anyone ever asked here's what I'd say:
What I've written about here are the highlights rather than the too-many-to-mention rejections, knock-backs and nearlys which are, of course, inevitable. Knowing this, it's best not to hang your long term ambitions or self-confidence as a writer on any one platform's acceptance of your work.
As much as I'd love to write full-time, I don't indulge in any romantic but unrealistic notions of what it means to be A Writer. Even if I wanted to, I couldn't afford to; I've got three kids and I wouldn't be able to guarantee paying the mortgage. I still teach English full-time in a big secondary school. I'll be at work when my episode is broadcast. It might ruffle a few feathers but what sort of a writer are you if you don't do that? One hour after pitching at LA Productions, I was back in my classroom stood in front of thirty-four year 11 students. It's hard to keep all the plates spinning. But that's alright. I mentioned how I didn't find comfort and ease useful tools before. Perhaps the comfort zone is the enemy of productivity. Or maybe that's just what I tell myself when I'm staring at a screen at 2am changing 'that' to 'which' in a stage direction because I'm avoiding the big stuff.
It doesn't matter. Just write. Then keep writing. Ideas are one thing but writing and finishing a script is another matter entirely. So finish it. Don't send it out straight away though. Be at peace with the idea that it might be rubbish. Accept that your official 'first draft' will probably be something more like your seventh draft. Re-write. Stick it in a drawer for a week. Read a load of great scripts. Annotate them. Learn from them. Then re-write again. The oft-quoted admonitions are true: writing is re-writing. It's application of backside to seat.
Keep writing. Get it finished. Keep yourself scared. See what happens.
Good luck.
Moving On is on BBC One at 2,15pm from Monday 4th to Friday 8th February 2018 and on BBC iPlayer
Adam Simpson wrote Episode 2 'Beaten' which is broadcast on Tuesday 5th February or watch now on BBC iPlayer
We're currently in the reading stage of our latest open submission window for Drama scripts. We received 3634 scripts of which around 100 will make it to full read and receive a script report.