The seed idea for Wild Blood came one South London night. I was walking home, trying to cross a busy street but none of the cars would slow down for me. A fox came to stand a few meters from me, also attempting to cross. It misjudged the timing, stepped into the traffic, thought better of it and turned back but the driver of the white van speeding towards it slowed, beeped his horn and the fox understood this meant it was safe to cross, did so, and the driver accelerated past me. I was gobsmacked that A) the fox and the driver knew and communicated instinctively through the language of traffic and B) that the driver didn't slow down for me to cross. Initially, I just told this as a crazy anecdote to friends but the more I thought of it, I imagined it was somehow symbolic of the values we place on life.
I pitched a play called 'PETS'. It would be about an older Nigerian businessman who comes to visit his son in London but finds it difficult to digest the western obsession with domesticated animals. He goes to great lengths to 'safeguard' his grandson from this culture. It was to be a comedy and the first draft was a simple father/son conversation that began when the father picked up his weedy son up from school, and the son explained how he had been in a fight and wanted a dog for companionship and protection. On the second draft, Abigail the director explained about the potential for the idea and the subject matter. That is when the real writing process began.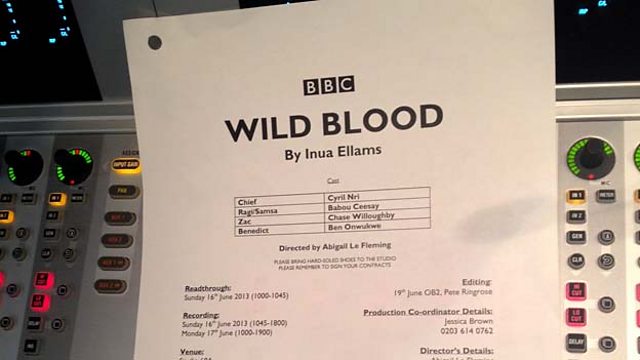 I researched to death human-animal relationships, from early cattle rearing to modern competitive dog-breeding. I came across quite alarming theories and stories about the effects this had had on a physical and evolutionary level (for animals and humans) and what it might mean for our collective futures. I found some crazy sh*t: a woman who breastfeeds her puppy in America, doggy hotels, boutiques and relaxations centres in Japan, decorated animal war-heroes here in the UK and a really dark side of the pornographic industry. The next step was to select and filter these tidbits into plot points, into the characters that would play out the topic, and to do all this from a specifically Nigerian cultural point of view. 
Chief lays out his plans for the family.
I came from a performance poetry background. These days I tend to focus more on lyric poems/page poetry and save my performance batteries for the one man shows I write and perform. The poetry I write is imbibed with soft, scattered and nuanced rhyme taken from everyday language which I heighten by employing strong imagery and intense detail. This is difficult to emulate in a typical play where the story unfolds in conversation, where characters interject and interrupt one another. I needed to create a frame work for my characters to speak at length, so they could be 'poetic' and for this to be natural to the world of the play. Plays that are commissioned for The Wire must be unconventional in one way or the other and it perfectly suited the style I settled on: the characters would separately attempt to create a chronology of events which they'd piece together and share with the mother on her return. The grandfather writes with pen and paper, the father on his laptop, the son speaks into his mobile phone and the mother's imminent arrivals adds a time constraint to the story.
The story unfolds from three different points of views, sometimes in agreement with one another, more often than not countering a point. They reference one another, one leaves to interrupt another: the story unwinds through the house from room to room, penman to typist to speaker, flashing back and forth in time. It was difficult to hold the whole story in mind when editing and without a shred of doubt Abigail Le Fleming who directed the piece was vital to its coherence and well... to its everything. I learnt a dissertation's worth of stuff from working with her. Not only was she thorough in editing and cross referencing the story, she challenged my views in places where I had refused to push the characters, lines I did not want to cross, hesitations I had with adding to the negative stories of black men in British Media. Above all, I learnt lessons in where the writer ends, the story begins, and what must be sacrificed for the play.
Listen to Wild Blood by Inua Ellams on BBC Radio 3 this Saturday 30th November as part of The Wire series of radio drama.
The Roundhouse are holding a special Listening Party for Wild Blood to tie in with the broadcast this Saturday, followed by a Q&A with Inua and the cast - get a FREE ticket here.  Tweet Inua with your questions to ask the actors: @inuaellams
Inua Ellams is an award winning poet, playwright and performer.