Creating and writing 'Eve' for CBBC
In January, 2010, David Chikwe sent me an email. Attached was the pitch document for a show called Eve, a drama about a humanoid, sentient robot. Five years, a lot of work and a lot of luck later, January 2015, Eve made its debut on CBBC.
When David sent me that email, I'd been a full-time writer for eight years. Aspiring writers are always keen to know one thing - how to break in to the industry. Everyone's story is different, but there's usually one thing in common with every screenwriting success - an element of "right place right time". So, when I started writing, I tackled the overwhelming odds in the most pragmatic and least romantic way possible - by putting myself in as many hopeful-looking places and times as I could, in order to increase the chances that one of them might be the mythical "right" one.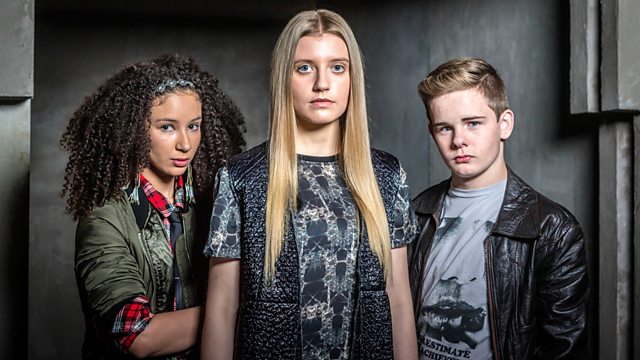 Eve - Lily (Eubha Akilade), Eve (Poppy Lee Friar), Will (Oliver Woollford)
I started out in the late 90s by applying to theatres as a script reader. I managed to get some unpaid gigs for fringe theatres, then graduated to paid ones (I think Soho was paying £10 a script at the time). For that money, they got a synopsis, my (naïve but heartfelt) views on the strengths and weaknesses of the scripts and my (naïver and heatfelter) advice as to what would make the scripts better. I also started reading for a charity called the New Playwrights' Trust, which became writernet - a charity dedicated to helping professional writers for performance develop their careers.
As the occasional cheque for £10 was not enough to live on, even in 1998, I did a bit of temping and bit more signing on. Then New Labour brought in a job creation initiative, which subsidised employers taking on full time employees to get them off the dole. I persuaded my boss at writernet to take me on full time for £150 a week. I ended up staying, full time and later part time, for several years, during which I learned a lot about the realities of the business.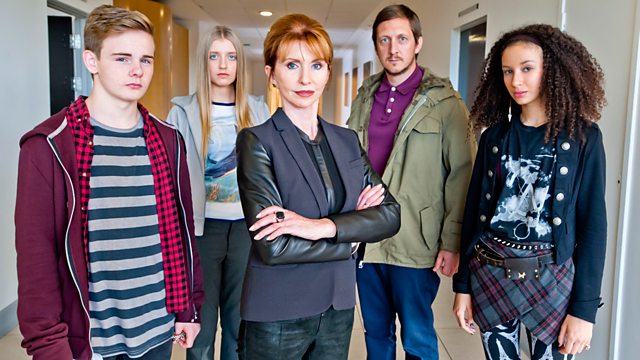 Eve - Will, Eve, Mary Douglas, Nick, Lily (Photo: BBC/ Leopard Drama Ltd/Alan Peebles)
I also learned that (in 2000-2001) there were full bursaries available from the Arts and Humanities Research Board (now the Arts and Humanities Research Council) which would cover the fees for an MA in Screenwriting, and also provide a living grant. It was a competitive application process, but it was there. I got the bursary, and did an MA course at UEA.
Having graduated, I kept working. I wrote and co-produced theatre adaptations, I sent out CVs and scripts all over the place. I got more script reading work - this time for TV companies such as Granada and Working Title TV, which paid more. I became assistant script editor on Mile High, a flight-crew drama made by Hewland International. My sister and I wrote a radio sitcom together and became finalists in a BBC competition. We didn't win. But BBC Wales asked to see more of my work; I sent them a script and was invited to take part in a writer development group. This group provided some wonderful opportunities - thanks to the doors it opened, I got to write an episode of Doctors, some radio plays - and I got my first ever job on a children's show, The Story of Tracy Beaker. This led to various other children's shows - Young Dracula, Half Moon Investigations, Chuggington, My Almost Famous Family, Spirit Warriors, Sadie J and Tracy Beaker Returns. So, by the time I met David, I'd been writing freelance for CBBC for five years, whilst also working on other writing projects including West End adaptations, Radio 4 plays, Welsh TV drama Belonging and its radio spin-off Belonging Still, and a TV movie for Lifetime, promisingly entitled The Murder of Princess Diana.
Still, it would take another five years, a lot more CBBC episodes and a lot of pitching, drafting and redrafting before I got to see my name up on screen with David's as co-creators of a new show.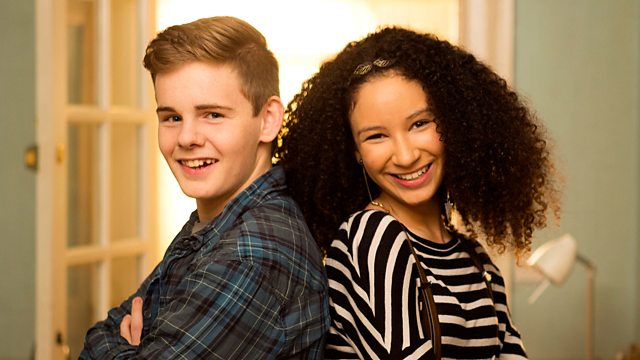 Eve - Will (Oliver Woollford), Lily (Eubha Akilade) (Photo: BBC/ Leopard Drama Ltd/Mark Mainz)
None of this, of course, tells you anything about Eve. But BBC Writersroom asked me about my "writing journey", and I decided to tell the truth. Overnight success could not have been further from my experience.
The truth is, creating a new children's TV show is hard. There are many, many writers and production companies competing for a very few slots. And there's a great demand for long, returnable series - usually 13 episodes, made over a short time frame which demands multiple writers, rather than a single authorial voice. In British comedy, for example, 6 episode series with every episode written by the same writer, or writing team, are standard. This model is not seen as economically viable at CBBC. Russell T Davies and Steven Moffat both started off in Children's, writing every episode of their respective shows, but those days are long gone.
Bad news for aspiring auteurs, but good news for the jobbing writer. So I wrote on a lot of CBBC shows, and was asked to pitch ideas for my own shows. And I did, a lot. Some of my pitches sparked interest - I got called in for quite a few meetings, but in the end, there was always "something too similar already in development." Of course, the similar development somethings didn't always make it to the screen…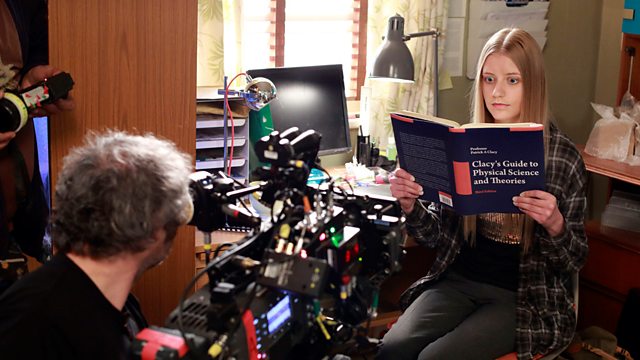 Eve - Filming with Eve (Poppy Lee Friar) (Photo: BBC/Leopard Drama Ltd/Anne Binckebanck)
David, meanwhile, was working as a script editor for the drama department at Leopard, an independent production company. We'd met when we'd worked together on a previous unsuccessful pitch to CBBC ,about a teen girl detective. He said he had an idea for a science fiction drama and wanted me to work on it with him.
The idea was Eve - a drama about a robot teenage girl. A modern, female Pinocchio. I loved it. Obviously.
People are never neutral about robots. If you say there is a robot in your show, they will either like it more or like it less. There is no in between. David and I, obviously, were robot people. (I can't think of a show that couldn't be improved by the addition of a robot.) We just had to hope that enough people at CBBC felt the same.
We submitted our initial document to CBBC in November, 2010. By December, we knew that they were interested and wanted us to pitch in a face-to-face meeting. We met with Sue Nott from CBBC in February, 2011. As a result of that meeting, Eve entered paid development - we were given a small sum of money to flesh out our pitch into a prototype bible.
From this point onwards, Sue says, she knew that robots were about to get zeitgeisty because she kept being inundated with robot pitches. Finally, we were the "something similar in development." But we still had a long way to go to turn a drama in development into a show.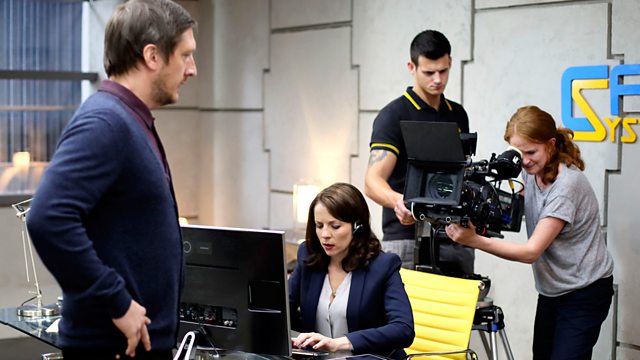 Behind the scenes on Eve - filming Katherine Calvin (Rhona Croker) (Photo: BBC/Leopard Drama Ltd/Anne Binckebanck)
Luckily, the head of CBBC, Damian Kavanagh, was keen on the pitch. Obviously, a robot person. In October, 2011, a script was commissioned. Then Damian left and Cheryl Taylor took over as head of CBBC. We were in that horrible limbo - a development project associated with the previous boss. Fortunately, Cheryl was also a robot person. Her support would prove crucial in developing "Eve", and taking it in a new and interesting direction.
When Cheryl arrived, it seemed that what CBBC wanted from "Eve" was a fairly sitcommy approach. At this early stage, we were very much encouraged not to tell it as a serial story but to make each episode stand alone – for example, not to tell the origin story of Eve's creation, but to include a summary in the title sequence. Then David and I met Cheryl at a Writers' Guild event in Birmingham and Cheryl started talking about her vision of our show - big stakes, big jeopardy. David and I were delighted to re-jig the show in that direction - it just felt right. We got a further, later steer along those lines as well, which ended in us creating a series of mini-arcs which give a distinct shape to series 1. Funnily enough, the final direction of the show was, we felt, closer to our original vision than some of the versions we'd tried in between. Or maybe I'm deluding myself. But as far as the tone of the show goes, I do find myself looking at it and thinking, yes, that's what I meant all along…
When it comes to influences, David and I are both big sci-fi geeks; I'm an old-school, scarf-wearing Who fan, and a big of a smeghead on the side. To my eternal bafflement, David prefers Star Trek. But there are plenty of classic shows and films that we both appreciate - Star Wars, the Terminator films, the Alien films, Blade Runner, Blake's Seven, Quantum Leap, Hitchhiker's Guide to the Galaxy etc - and adult viewers may spot a few, er, loving homages to our favourite shows in Eve.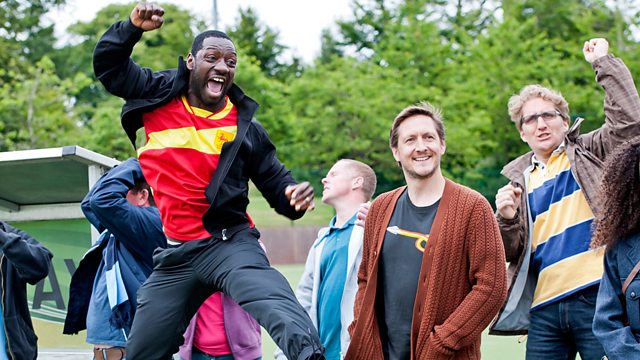 Eve - Viv (Richie Campbell), Nick (Ben Cartwright) Photo:BBC/Leopard Drama/Alan Peebles)
Leaving the sci-fi references aside, the big question that drives Eve has always been; what does it mean to be human? What is life, and what is consciousness? As we approach the Technological Singularity, when artificial intelligence will outstrip that of humans, these questions are becoming ever more relevant. But even if our audience never encounter a fully sentient machine, we still hope Eve will encourage them to ask interesting questions about human life and customs. Eve looks like a 16 year old girl, but in most ways she is much more naïve than our audience. She has to learn about life from a much less informed starting point than our viewers do - which gives us both the opportunity for humour and for exploring quite complex questions in an accessible way.
Having said all that, although the show is aimed at 6-12 year olds, when I'm writing, I mostly try to entertain myself. If I'm interested in something, I believe there must be a way to make it interesting to other people, whatever their age.
And writing for the CBBC audience is a joy and a privilege. They are incredibly engaged, understanding, empathic and passionate about the shows they like, and it's such an amazing feeling when they take your characters to heart. The shows I watched when I was their age have stayed with me all my life, and I really hope that Eve can pass on a tiny part of that flame to a new generation.
Watch Eve on BBC iPlayer and Mondays at 5.30pm on CBBC and CBBCHD
Find out more on the Eve website