I had written about kids before (most notably in Kid in the Corner) but never before given them the central driving narrative. What was also new to me was the notion of writing 'for' kids as opposed to writing about them. To be honest, this was a distinction I was never entirely comfortable with (it might even have been a distinction i put in my own head) save for making sure that you didn't put unlikely words in the mouths of 13/14 year olds or have them over expressing their thoughts.
Ultimately the rule of thumb of good writing is authenticity and portraying the kids as accurately as possible in the way the spoke to each other. Needless to say, a 50 year old man writing London patois for teenagers needed a bit of help - and the young cast refined and improved my 'ear'. I realized that writing 'for' and 'about' kids is the same thing. The audience will overwhelmingly be children but again i didn't want to make 'allowances' for them i.e. animation or aliens - just rely on good storytelling and hope that would command keep their attention.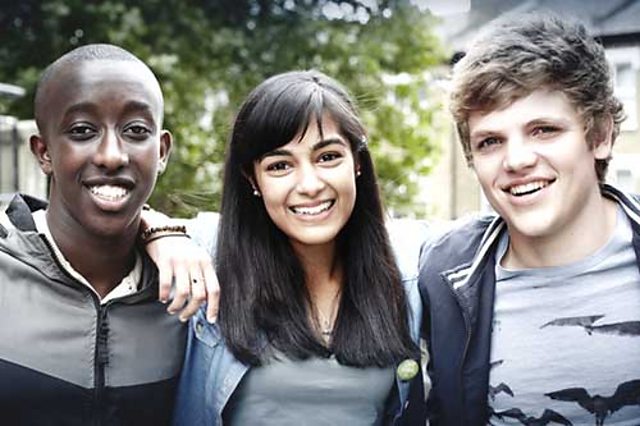 POSTCODE is ostensibly an ensemble piece about young Londoners living parallel lives in the same area ( Middle class independent-school-going kids living in Victorian villas, contrasted with the lives of kids on the nbeighbouring council estate). Ultimately however, it's the story of an unlikely friendship between a 'posh un' and a 14 year old son of a Somali asylum-seeking family. This friendship had to be funny, tricky and true. While I wanted to explore themes of class and cultural segregation, poverty and opportunity, it couldn't feel preachy. that's a turn off for anyone - adults or children.
I was attracted to the idea of writing a 'children's drama' simply because I had a son who was 13 at the time and whose default viewing was the Inbetweeners and Waterloo Road. Beyond comedy or soap, there semed to be very little in the way of drama for and about a generation easily overlooked-too old for Tracy Beaker , too young to watch SKINS and find it anything other than aspirational rather than biographical.
Post riots, a drama exploring the disparate lives of young City dwellers making connections across the 'divide' should hopefully be heartening viewing for anyone.
BAFTA-winning screenwriter, Tony Marchant has written the brand new CBBC drama, Postcode.
Watch the first episode of Postcode today on CBBC at 17.45.