Exile is without a doubt one of my proudest moments as a writer. It is a show that sets out with serious themes in mind and explores them through character, whilst utilising a thriller motor to forward the narrative.
So where did it come from? Well, having worked with Paul Abbott on three previous shows - Clocking Off, Linda Green and Shameless - we were keen to work together again. After thrashing through a few different ideas, Paul produced a short six page document from his bottom drawer and asked me to read it. It was entitled Exile and was the premise for an independent feature film. It was set in America and involved a sex scandal in US politics. But at the heart of it was a father /son story, which really interested me. So we set about reconfiguring the narrative and it kind of took on a new life. I brought in a lot of themes that excited me and took it into the politics of local Government. But I always tried to remain truthful to Paul's original idea.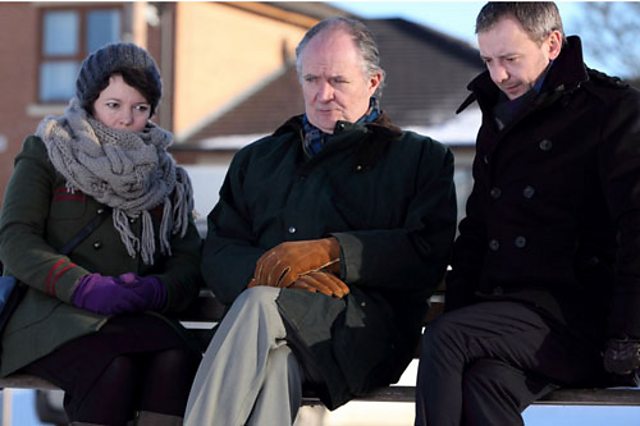 The first draft of episode one I wrote very quickly, and we then did subsequent drafts with various changes, especially to the opening ten minutes. Previously the opening was set in London and showed how Tom screwed up his life, before finally setting off back up North. The BBC, in their wisdom, said the story started when he got in his car and drove away from that life. So we made the decision to show the way he messed things up in very brief flashbacks as he progressed towards his childhood home. It is a decision I now know was the right one.
I worked out the whole story in advance and when the show was greenlit, I set about writing the other episodes. Some writers like to work out story as they go along, but personally I need a road map. I have to have my destination worked out prior to setting off.
I wanted to write a truthful, moving father/son story. Exile is dressed up as a thriller, but for me it's a story about fathers, sons and how difficult those relationships can sometime be. I love stories about families because all kinds of secrets are contained there. We all have families and we all understand how endlessly fascinating those relationships can be. Our parents give us our formative view of the world and we, in turn do the same for our kids. We battle with our siblings and we rage at our offspring. The home should be a place of harmony, but often it becomes a battleground or a place of lies and half truths.
They say write about what you know, but that is only half true. If writers only wrote about what they know, drama would be very dull indeed. You have to try and capture the truth of emotions you recognise and place them into a dramatic context. I understand heartbreak, because it has happened to me, but I can apply that same feeling to all kinds of different people who - in that moment - feel as if their world is falling apart. This is what writers do when they are writing at their best. For me, drama fails when it fails to emotionally engage, when writers refuse to put a piece of themselves into their work.
I was lucky enough to be mentored by Nicola Shindler and Paul Abbott, two of the best in the business, and I now feel the pressure to do good work, because I want to reach their standards. And that's not a bad motivating force. But I'm a particular kind of writer; I could never do sci-fi or something vampires, because that stuff just doesn't interest me. I want to grapple with contemporary lives. My other favourite writer is Tony Marchant - if I could get close to some of the stuff he's done, I'd be a very happy man.
Read the script for Episode 1 of Exile in the writersroom script archive.
Danny Brocklehurst will be speaking at this year's TV Drama: The Writers' Festival which takes place on 6th - 7th July at Leeds College of Music. Apply now for your ticket to the festival.