Adapting Watership Down for BBC One
Tom Bidwell is an Oscar-nominated and Bafta-winning writer, who adapted Rae Earl's novel 'My Mad Fat Diary' for E4 and Jacqueline Wilson's 'Katy' for CBBC. He has written the new adaptation of Richard Adams much-loved novel Watership Down, which comes to BBC One and BBC iPlayer on Saturday 22nd and Sunday 23rd December.
Watch the trailer for Watership Down
Tom, how did you get started in scriptwriting? Was it something you were doing even as a young child?
I've always been a bit of a fantasist. I remember when I was pretty young I convinced myself that I was a spy (probably the youngest person working in MI6 at the time). I wrote my first script in the playground at the age of 8 and got my friends to perform it in front of the class. It was a vignette about the dangers of eating too much chocolate - a message which still holds true to this day.
I've always found something very satisfying about structure too and gravitated towards form. I wrote quite a lot of sonnets at university because I enjoyed the puzzle of making the meter and rhyme fit. Later on I realised that when these two elements came together, the freedom of creativity and the form of structure, I found my work flowed more easily.
I went to the University of East Anglia where I had a couple of great professors (Jonty Rea and Jonathan Hyde) who really believed in me. They gave me the confidence to make the transition from student to practitioner. I entered a short play I'd written into the NSDF (The National Student Drama Festival) and got picked up there to do a play for BBC Radio 4.
Have you had any involvement with BBC Writersroom in the past or was it influential in your development?
I love the BBC Writersroom. It's an unbelievable resource. I went to a lot of seminars and workshops when I was first starting out. I also used the various calls for scripts as deadlines which helped me focus and made me feel like a proper writer. The feeling of being a proper writer is so important, knowing that someone is reading your scripts, taking you seriously. I'm not sure there's a more valuable gift you can give a new writer when they're first taking on the blank page.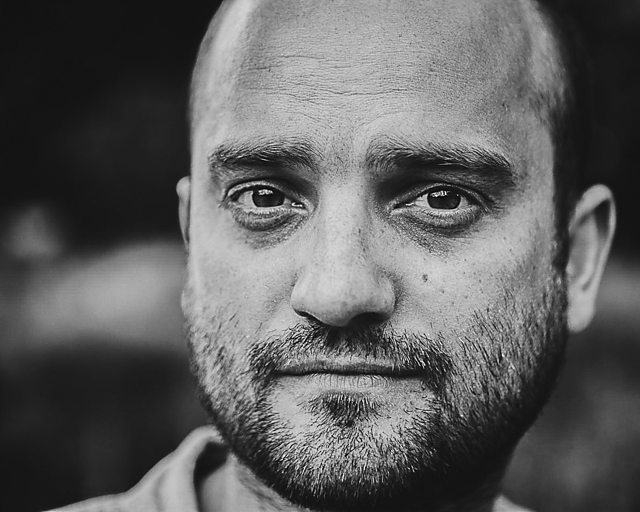 Tom Bidwell
Did getting an Oscar nomination (for short film Wish 143) mark a defining moment in your career? Did things change for you after that?
The Oscar nomination was a really strange, unexpected moment. I don't think it affected my career trajectory too much. I was still a pretty new writer, fresh out of the BBC Writers' Academy* so I was still learning and developing. In many ways I wasn't ready to showrun a major series because I needed experience. I remember having a general meeting at Dreamworks while I was out there for the Oscars and they asked whether I'd like to pitch anything to them. I said - no, I'm just enjoying being out here and meeting you guys. I'll come back and pitch when I'm good enough.
You have written across many different genres including children's (Katy), comedy drama (My Mad Fat Diary), Continuing Drama (Holby City, EastEnders, Casualty, Doctors). Is there a link between your approach to them?
I approach every script in much the same way really - through story rather than through any expectations of genre, medium or theme. In the first instance I just focus on the narrative and the characters and trust that they will take me where I need to go.
Much of my approach to story comes from my time at the BBC Writers' Academy with John Yorke which had a profound effect on my writing. Rather than teach you how to write it showed you how you are already writing, how everyone writes, and that understanding allows you to make better story decisions and make them more quickly.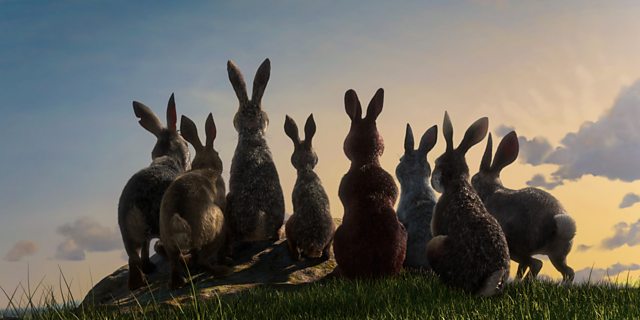 Hazel and his gang survey the view from Watership Down
How did you become involved with Watership Down?
My agent passed the offer on to me from 42 Productions. I'm a huge fan of the novel and had read it a few times so I went in and talked to the guys about it and our ideas seemed to chime. Six years later it's about to be on TV. I've aged terribly.
Were you also a fan of the 1978 animated film? Why do you think this was a good time for a new version of Watership Down? Are the issues in the story of particular relevance?
I think the film lives long in the memory because it's so visceral and because of its famous song. I like the film and I think it's a great piece of work in its own right but it's only 90 minutes long (the novel is over 600 pages). As such it doesn't really go deep enough into Richard Adams' wonderful story and characters. My vision for our version was to show how much of a fantastic world builder Richard was - to give it the scale and time it deserves and hopefully introduce his work to a new generation.
The issues of environmentalism, despotism and fear are as relevant now as they ever were, if not more so. Because the themes are so exigent I decided to hit them pretty hard in certain areas of the story as there are certain things I'd rather be too on the nose with than too subtle.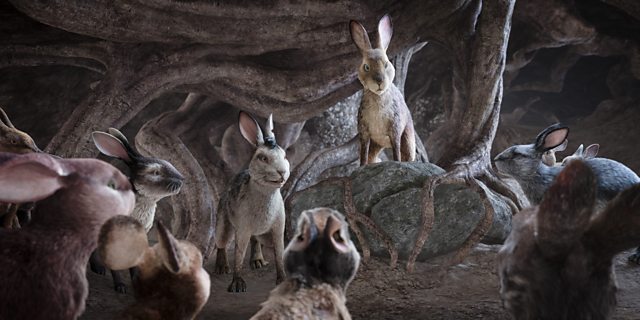 Hazel prepares the rabbits for battle against Woundwort's army
Were there changes you wanted to make from the previous adaptations, or that were possible in this new version?
I didn't reference the film at all in our adaptation as it's not a remake. My job in this instance was to adapt the novel. The major changes I made from the original story were that I added more female characters and gave them more agency. I also cut down the core cast of rabbits to add clarity and reduce overlap of character archetypes. Richard Adams was a brilliant storyteller and this work in particular has a very classical structure. My job here was mainly one of preservation. If I did change things in terms of narrative it was usually just because the demands of good drama and good prose aren't always the same. If people watch it and think something that I've added was in the book then that is the win for me. That's the major win of this kind of adaptation. The goal is to become invisible.
Do you listen to any of the chatter online, the social media and memes about Watership Down being too scary for children – or conversely that the new version might tone down the violence and sanitise it?
It's hard after working on something for so long not to feel attached to it. Your ego takes it on as part of yourself so it can feel very personal when it's criticised. That aside I've worked on this project with the team for six years so I care deeply about them as creatives and friends. It really does take a monumental amount of effort to create any amount of drama let alone nearly four hours of animation. I couldn't be more proud of what we've achieved with the show. A lot of people said that on our budget it was simply impossible.
Did you get to meet Richard Adams or discuss your vision of the story with him or his family?
I did meet Richard. He was a true gentleman. I had tea and cake with him in his home near The Down then went on a tour of the places featured in the novel with his illustrator and daughter, Ros. He was very excited to know that this new adaptation was on its way and his family have been so supportive and positive. When you adapt something like this for so long, when you live in the world of it, a connection or understanding forms that is hard to put into words. I suppose you begin to understand a person's spirit. It's been a real privilege to have it as part of my life.
John Boyega: How Do You Prepare to Play a Rabbit?
Did you have any involvement in the casting? It's an incredible cast.
No, but they are incredible! One of our stylistic choices was to make the rabbits look rather real and as such we didn't want to use the same anthropomorphic distinctions other animations may use (different, more vivid colours or perhaps even items of clothing). The voice cast is so incredible that even though the rabbits look similar, like they would in real life, they are immediately very distinct. It's very surreal looking through the list of people who are in it. It's a testament to how loved and highly respected the source material is. Of course the best thing about it all is that I'm now only two degrees of separation away from Kevin Bacon.
What's the best piece of writing advice you've been given?
Jimmy McGovern gave me the best piece of advice I've ever had - "You might not always be the most talented writer in the room but you can always be the hardest working". He made me realise that writing is not about waiting for moments of inspiration it's about the unbelievable amount of hard work that allows those moments to happen.
I've been lucky enough now to work with a few big stars but I've never been so star struck as when I met Jimmy McGovern. I completely froze and all I managed to say was "I bought the Cracker box set". Then I got so embarrassed that I just walked off. It was like I'd just walked over to boast about buying his series for some reason and then had nothing more to add. It was awkward even by my own high standards. I still have that Cracker box set sitting on the shelf in my office staring down at me.
What have you got coming up next?
I'm currently working on a Netflix Original series called The Irregulars. Sherlock Holmes had a group of street kids he'd use to help him gather clues so our series is what if Sherlock was a drug addict and a delinquent and the kids solve the whole case whilst he takes credit. It's my dream project and my oldest idea (I've been pitching it for ten years) and I couldn't be more thrilled to be working on it with the team I made My Mad Fat Diary with at Drama Republic. Netflix are incredibly supportive for our vision for the show and it's allowing us to be very ambitious with the way we're telling our stories.
Watch Watership Down on BBC One on Saturday 22nd and Sunday 23rd December 2018 and on BBC iPlayer
Watch an interview with Tom Bidwell from our 2014 TV Writers' Festival
*The BBC Writers' Academy was set up by John Yorke in 2005 and ran until 2013. It trained writers specifically to work on the BBC's Continuing Drama shows - Doctors, Holby City, Casualty and EastEnders.